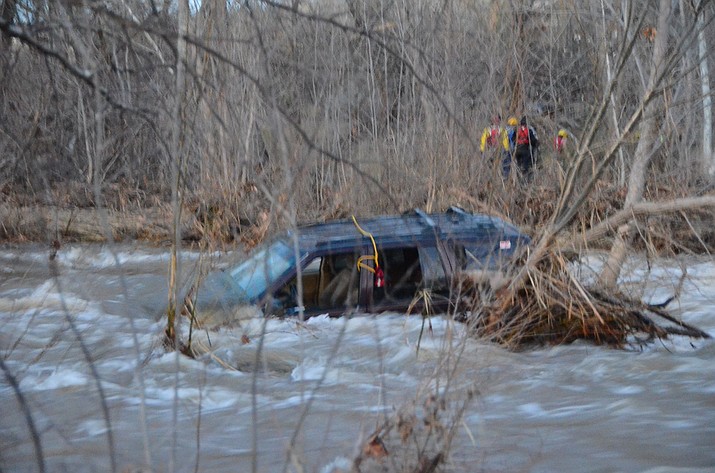 Originally Published: January 7, 2017 11:03 a.m.
For the second time in three weeks, the Copper Canyon Fire and Medical Authority, along with the Sedona Fire and Verde Valley Fire Departments, rescued motorists attempting low-water crossings in flooded rivers.
This time it was 4:30 Friday afternoon when three motorists tried a low-level crossing in Camp Verde, but the water was too high and their SUV started down the river, explained Copper Canyon Battalion Chief Dale Duns.
Their location was where the Verde River and the Beaver Creek meet just off Montezuma Castle Highway.
He spoke at the scene as it became dark and a helicopter hovered above providing a spotlight for rescuers,
No one was injured and they were "doing well," said Dun.
The car was stabilized in the river by the swift-water rescue crew while they remained in the SUV and later they were on top, Dun said, adding that this is important if the river is flowing as swiftly as the Verde was today.
It took rescue workers about an hour to respond to the scene which was close to Montezuma Castle Highway and to complete the rescue of the three individuals, said the chief.
In another swift-water rescue on the flooded Dry Beaver Creek on Dec, 22 in nearby McGuireville, the driver of a truck was also rescued by the swift-water rescue team, firemen and ambulance attendants from the same three departments.