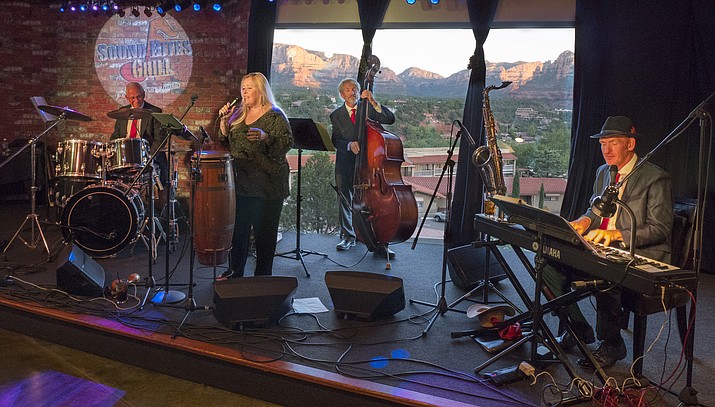 ---
---
Sound Bites Grill an entertainment restaurant located in uptown Sedona at the Hyatt has an eclectic line up this week. The venue offers music most nights and this week has some great variety. The featured finale for the week is Sunday Night Jan. 15th with "The Classics" presenting an evening of romance.
Music by the Classics features Jeannie Carroll (vocals), Eric Williams (vocals and keyboard), Steve Douglas (upright bass) and George Bein (drums). The band presents classics and standards. Jeanie Carroll will sing mostly the slower, dance-able songs that many of us are familiar with from the 60's, 70's and 80's. Also included with be some great up-tempo and Latin tunes to get you moving. So, bring your dancing shoes or just come to listen to and enjoy the music.
You will definitely want to be on the dance floor when you hear "When I Fall in Love", My Funny Valentine", "Moon River", "Over the Rainbow" and "Besame Mucho." And that's just a hint of the beautiful music planned for the evening.There is no cover for the evening. Show time is 6-9 p.m.
Speaking of music from the 60's, 70's and 80's something new for January is "Flashback Fridays". Robin Miller, Troy Perkins and Eddy Barattini will be performing rock n roll hits from those eras. This dance band is a great evening out. You will enjoy dinner if you choose and a night of singing along and dancing to your favorite hits. There is an $8 Cover unless you purchase an entrée (then it is waived).
The Robin Miller Trio will be performing Friday Jan. 13 from 7-10 pm and every Friday after that in January. Robin, famous for his piano playing, is an incredible guitar player as well.
Saturday night, Jan. 14, Robin's son Eric Miller will perform with the same band members Troy Perkins and Eddy Barattini for a night of Latin influenced dance music. Samba Saturdays! The band will play from 7-10 p.m.
There is live music Wednesday Jan. 11 from 6-9pm with Eric Miller solo and on Thursday Jan. 12 Phil Rossi performs from 6-9pm on the baby grand (a new addition to the venue).
Wednesday evenings there is also a wine tasting in the music room from 5-7p m. It is a great way to meet new people and socialize with friends.
Sound Bites Grill is located at the Hyatt Shops in uptown Sedona. For more information and reservation you may call 928-282-2713 or visit SoundBitesGrill.com.