---
---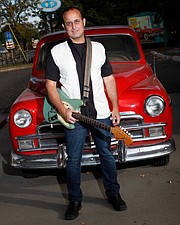 Nothing beats a Wednesday night at Vino Di Sedona with rock and country tunes by Rick Busbea, January 11, 7-10 p.m. Rick is known for his outstanding covers of favorite songs by Kenny Chesney and Jimmy Buffett.
"Rick adds his own flavor to the songs that he covers, and is one of Sedona's favorite entertainers," says Vino Di Sedona owner Wes Schemmer. Rick performs covers by other well know singers, and also performs originals songs he has written. Check the Vino Di Sedona calendar for Rick's dates, he's there a few times every month!
Rock n' Roll with KB Bren at Vino Di Sedona on Thursday January 12, 7-10 PM. KB is a Sedona resident with a life-long music career. In the 1990's and early 2000's KB played with well-known bands, such as Grateful Fred and Cold December. KB will be playing his new originals, and old favorites with a few covers mixed in.
Randy J takes the stage at Vino Di Sedona on Friday January 13, 7-10 PM. Randy is famous for his 50's and 60's style surf guitar. Born in Orlando, Florida, Randy J moved to Los Angeles in 1987 and shortly thereafter began composing music for film trailers and TV spots. He returned to Orlando and formed his band the Tarantulas in 1995; now a Sedona resident, Randy performs as a solo artist and with The Tarantulas as the guitarist and lead singer.
Saturday's double dose of music at Vino Di Sedona on January 14 features two local Sedona favorites, Paolo, and Alex Ogburn. Paolo's jazz classics accompany afternoon wine tasting, 3:30-6 PM, his favorite song is always the one he is performing at the time, and he really puts himself fully into his music. Ogburn takes over for night-time entertainment with rock and authentic blues, 7-10 PM. Ogburn's music career has taken him from Birmingham, AL to Orlando, FL to Sedona. In Birmingham Ogburn began playing in pubs and restaurants at the age of 19. The years in Birmingham contribute to Ogburn's fiery and soulful Southern blues. Ogburn's show will include unique interpretations of a wide range of choice covers, and eclectic originals.
Yarrow returns to Vino Di Sedona on Sunday January 15, 7-10 PM. Yarrow was formed in 2011 when three musicians, Patty and Tom Hoisch and Patricia Fonseca, shared a desire to push the boundaries of the familiar. Recognizing how diversity in their backgrounds could allow their collaboration to become larger than the sum of its parts, they began to cross folk and rock music with classical music and poetry.
The result is a continually evolving mix of electric cello, acoustic guitar, djembe, harmonized vocals and poetic lyrics in the Indie genre, offering many original songs and a few familiar favorites with unexpected twists.
Songwriter and musician Patty Hoisch learned how to read and play music in early childhood and has been writing original music ever since she discovered how to break the rules. Her versatile voice, guitar playing and touching lyrics flow throughout Yarrow's works.
Music has always been essential to Patricia Fonseca. She has a long history of singing and a rich imagination. Patricia brings her clear voice, instinctive harmonies, and percussion to the trio. Her literary background and poetic heart manifest in profoundly illustrative lyrics.
Cellist Tom Hoisch is currently a member of the Arizona Opera Orchestra, and has played in orchestras across the U.S., including the Nashville Symphony, Pasadena Symphony, Denver Symphony, and Colorado Music Festival (Boulder). He has also performed as a soloist with three orchestras in California, as well as in Denver and Boston. Tom's ability to blend his classical proficiency with electronic effects brings distinctive sounds, depth and color to the trio.
Music Monday features 2016 Prescott Idol winner D.L. Harrison! D.L. is an Arizona singer-songwriter who delivers a high-energy rock and blues show, and was recently named Prescott Idol! Music on Monday on January 16 starts at 6 PM.
Sedona's Open Mic night, hosted by Dan Rice is every Tuesday, 6-10 PM, at Vino Di Sedona. Each musician is allotted an amount of time, or number of songs, and every week brings a variety of new talent along with regulars like KB Bren, Jim French, Rick Busbea, Randy J, Lisa Hart, Vickie Moyer, and Dave Rice who frequently play at Open Mic.
Vino Di Sedona Fine Wine and Craft Beer, is located at 2575 W SR 89A in West Sedona. For more information or to see the full calendar of events, visit www.VinoDiSedona.com. 928-554-4682