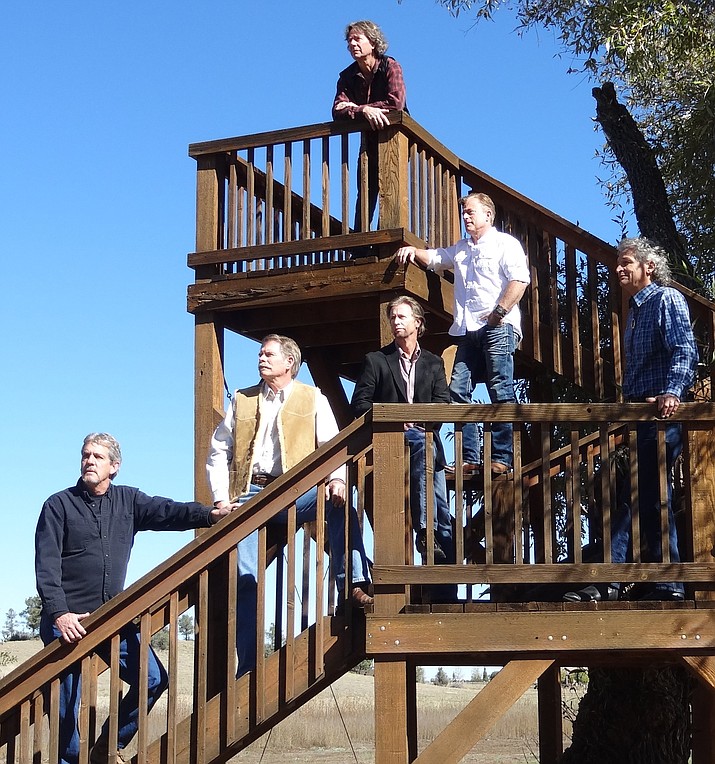 ---
---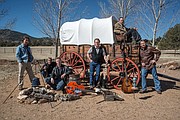 Old Town Center for the Arts is pleased to announce, South of Winslow, Eagles Tribute Band, in concert, Saturday, Jan. 14, 7 p.m. The original Eagles Band is one of the most popular iconic American rock bands ever, recognized for over 40 years of making music, albums and touring.
A year ago, the Eagles were scheduled to receive a Kennedy Center Honoree Award for "Lifetime Artist Achievements" at the annual awards event in Washington DC. Unfortunately, due to Glenn Frey's health concerns, the award was delayed, and was given to the group this past December after Glenn's passing. South of Winslow wishes to dedicate their Jan. 14 performance at Old Town Center for the Arts in Cottonwood in honor of the Eagles recent award, and to the memory of Glen Frey, a singer-songwriter without equal.
South of Winslow, based in Prescott, is a collection of six talented and seasoned musicians that perform Eagles music exclusively. The band formed five years ago when the six musicians discovered their mutual love for the Eagles. Arguably the most universally known and loved band of the last 40 years, Eagles' music strikes a chord with all ages and musical persuasions. South of Winslow's dedication to vocal and musical mastery places them second-to-none with their replication of the Eagles experience.
After perfecting their sound for a long time, the band has been busy performing locally, and as far as Honolulu. They are often mistaken for the Real Eagles. While performing to a crowd of nearly 18,000 concert attendees, in Honolulu last year, South of Winslow shared the same stage (different night) with the legendary rock groups Kenny Loggins, Steve Augeri of Journey and Mickey Thomas of Jefferson Starship.
Band member Tim Glidden said the name of the band, South of Winslow, comes from the song "Take it Easy,' which has the town's name in the first verse. He said it's a play on words that was leveraged to their advantage, living so close to Winslow, and south of it.
The band is made up of Bill Yates on drums and vocals, Bruce Gustin on lead guitar and vocals, Marc Dimmer on rhythm guitar, Mark Myers on lead guitar and vocals, Tim Glidden on bass guitar and vocals and Vance Swope on lead vocals. This group has been together for about a year and a half, involved in hard practice.
"The Eagles are a tough band to cover because of their precise vocals, their musicianship, and they are perfectionists," band member Bill Yates said, noting the difficulty of getting instruments, parts and vocals just right. "So we have to strive for perfection too. That's what took the time." Yates also commented that he enjoys performing Eagles music because of the group's musical variety. He said in counting the number of songwriters for the Eagles songs, South of Winslow plays, they came up with 15. "That's why their music is so varied, because of all the songwriting influences," Yates said. "Many folks have contributed to their styles."
Get your tickets early for this special event. The South of Winslow Concert will be at the Old Town Center for the Arts, Saturday, Jan. 14 at 7 p.m..

Tickets are available online at www.showtix4u.com.
Tickets are also available in Cottonwood at Desert Dancer and Mount Hope Natural Foods; and in Sedona at Local Juicery. Old Town Center for the Arts is located at 633 N. Main Street (5th Street & Main St.) in Old Town Cottonwood. For more information please visit oldtowncenter.org or call Elena Bullard at 928-634-0940.
If You Go ...
• What: Celebrating the Eagles - South of Winslow, Eagles Tribute Band - Concert

• When: Saturday, January 14th, 7 pm
• Where: Old Town Center for the Arts, 5th Street & Main, Cottonwood
• How Much: $25 advance, $30 door, $35 priority
• More Info: (928) 634-0940 www.oldtowncenter.org