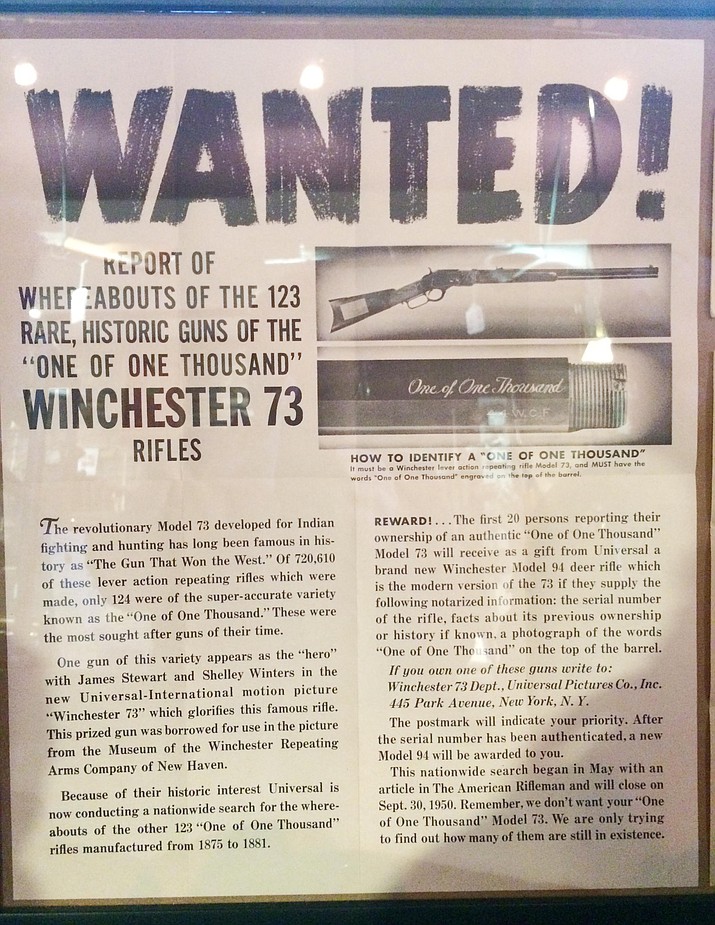 Originally Published: January 10, 2017 2 p.m.
VERDE VALLEY – It wasn't so long ago that retired Police Officer Tony Turner gave a rather sentimental gift to his friend Rob Wager, the "gun guy" at Cottonwood's Pawn Palace.
And his friend responded by giving it back – to its originally intended owner.
The gift was a framed letter from a publicity company in New York, as well as an advertisement seeking "One of One Thousand Winchester 73 rifles" manufactured from 1875 through 1881.
As the story goes, the folks at Universal Pictures, Inc. were interested in contacting owners of any of the gun owners and hearing their stories. Universal was willing to give "a brand new Model 94 Winchester deer rifle – the 'modern' version of the Winchester 73 – to the authenticated owners of the first 20 genuine One of One Thousand that [were] reported.
"I would like to make it clear that we don't want the guns," stated Steve Hannigan of Steve Hannigan Publicity, Park Avenue, New York in a letter he sent on June 5, 1950 to the "Chief of Police, Camp Verde, Ariz."
But the letter never found its way to the Chief of Police for Camp Verde – until recently.
At a garage sale, Turner found the sealed envelope with the letter and the advertisement as Universal was in the process of making the film Winchester 73, which was directed by Anthony Mann and starred James Stewart and Shelley Winters.
In the spirit of regifting, Turner said he received the envelope and its contents "as a Christmas gift three or four years ago." Though he gave the envelope and its contents to his friend Wager, the retired police officer and Verde Valley resident "figured that it belongs in a museum – or the Marshal's Office."
So he called the Camp Verde Marshal's Office. In one of her final acts as the department's commander, Jacqui MacConnell picked up the framed piece of Camp Verde history just before the new year and brought it back to where it once belonged.
-- Follow Bill Helm on Twitter @BillHelm42 and on Facebook at @CampVerdeBugle