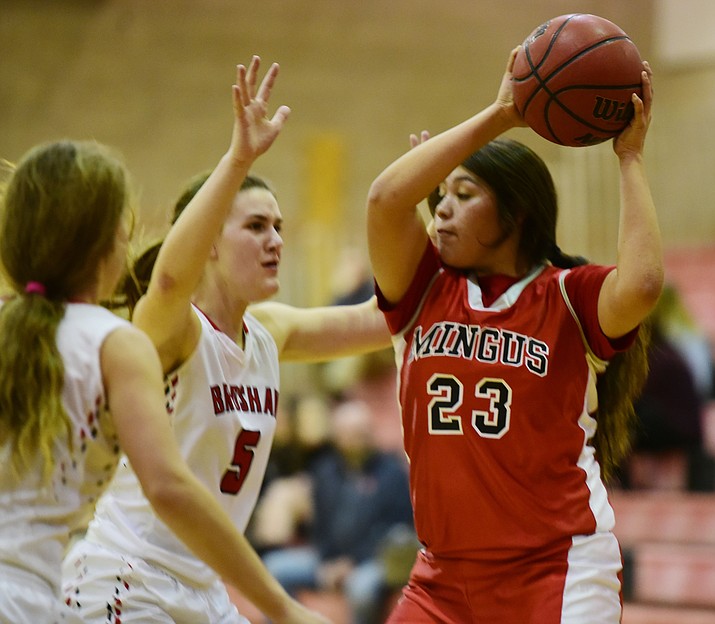 Originally Published: January 12, 2017 10:13 a.m.
COTTONWOOD – Excepting the college game, basketball is a four-quarter affair.
Had only two periods been necessary for the Mingus Union girls basketball team Tuesday against Lee Williams, the Marauders would have walked away with a win, 21-10.
But that pesky third quarter that saw Mingus surrender 16 points and only score six helped thwart the home team, as the Marauders lost 41-37. Says Mingus head coach Frank Nevarez, his girls simply "lost their focus."
"It's interesting how we play well in the first and second quarters," the Mingus head coach said. "But in the third quarter, we just don't do well."
It never helps when two of a team's five starters don't complete the game.
For Mingus, juniors Stephaney Esqueda and Nikki Zielinski fouled out in the fourth quarter, leaving the bench two players short as reinforcements took the court to finish the game.
Sophomore Darian Loring led Mingus with 13 points and three assists, Zielinski finished the game with 12 points, five rebounds and six steals, and Esqueda finished with five blocked shots.
Senior Emily Bauers also chipped in five rebounds for the home team.
Mingus Union's next game is Jan. 17 in Prescott. Nevarez says if his team can "stay focused" both offensively and defensively, they can win.