Three-Car Crash in Cottonwood
Originally Published: January 14, 2017 1:49 p.m.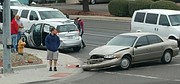 Cottonwood police and fire responded to a three-car crash Friday, 3:43 p.m., at the intersection of Mingus Avenue and West SR 89A. Police said the accident was a result of one of the drivers failing to yield while making a left turn, resultuing in an angle collision with one of the vehicles then being redirected onto Mingus Avenue and subsequently colliding with a truck. Emergency services personnel responded but there were no injuries requiring medical attention and there were no transports. Two of the vehicles were towed while the truck was drivable and was driven away by the owners.
More like this story
SUBMIT FEEDBACK
Click Below to: