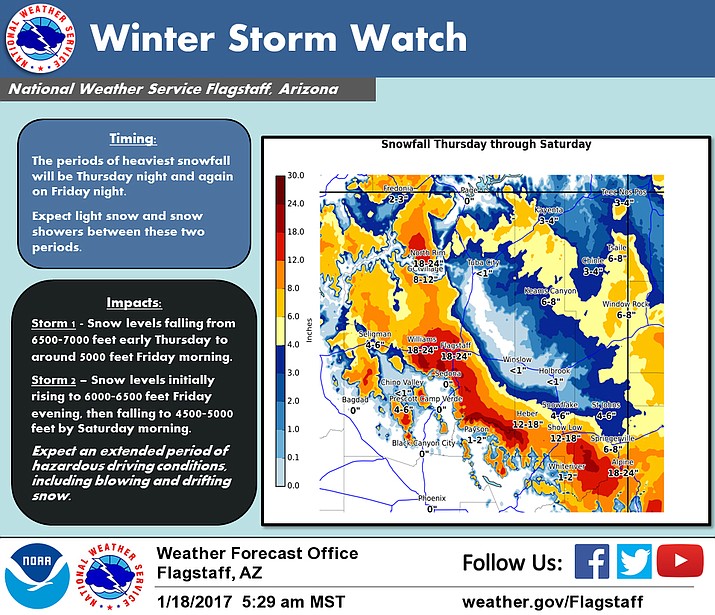 Originally Published: January 18, 2017 12:31 p.m.
A series of winter storms are approaching northern Arizona over the next few days, starting Thursday afternoon, primary concerns are loss of heat, power and telephone service and a shortage of supplies if storm conditions continue for more than a few days. Areas of concern are in the higher elevations of Yavapai County such as Groom Creek, Potato-Patch, Walker, Highland Pines, Breezy Pines, and communities along Senator Highway, Thumb Butte Road, and Copper Basin Road.
Be Prepared - Yavapai County Road crews will be working around the clock to keep main roadways passable. It may be three to four days before crews are able to clear residential subdivisions and outlying areas. Please prepare accordingly.
Residents in higher elevations by adding additional items to your emergency kits, rescheduling travel plans, and staying off the road as much as possible.
Some additional items that you should stock up on are listed below as well as listed on www.ready.gov:
Food, at least a three-day supply of non-perishable food
Sufficient heating fuel. You may become isolated in your home and regular fuel sources may be cut off. Refuel propane tanks before you are empty; fuel carriers may not reach you for days after a winter storm Store a good supply of dry, seasoned wood for your fireplace or wood-burning stove.
Adequate clothing and blankets to keep you warm.
Water, one gallon of water per person per day for at least three days, for drinking and sanitation
Battery-powered or hand crank radio and a NOAA Weather Radio with tone alert and extra batteries for both
Flashlight and extra batteries
Rock salt or more environmentally safe products to melt ice on walkways. Visit the Environmental Protection Agency for a complete list of recommended products.
Snow shovels and other snow removal equipment.
Current medical conditions, plan ahead to stay closer to medical facilities. Emergency services may not be able to respond in a timely manner if access is restricted.
Make a Family Communications Plan. Your family may not be together when disaster strikes, so it is important to know how you will contact one another, how you will get back together and what you will do in case of an emergency.
Listen to a NOAA Weather Radio or other local news channels for critical information from the National Weather Service (NWS). Be alert to changing weather conditions.
Minimize travel. If travel is necessary, keep a disaster supplies kit in your vehicle. Stock up on food & supplies beforehand so you don't have to travel during a storm.
Bring pets/companion animals inside during winter weather. Move other animals or livestock to sheltered areas with non-frozen drinking water.
Preparing for Loss of Power:
Primary concerns are loss of heat, power and telephone service and a shortage of supplies if storm conditions continue for more than a day.
Extra food and water such as dried fruit, nuts and granola bars, and other food requiring no cooking or refrigeration.
Flashlight and extra batteries
Extra prescription medicine
Baby items such as diapers and formula
First-aid supplies
Heating fuel: refuel before you are empty; fuel carriers may not reach you for days after a winter storm
Emergency heat source: fireplace, wood stove, space heater, properly ventilated to prevent a fire
Extra pet food and warm shelter for pets
Snow can be melted for an additional water source.
If you lose your heat, seal off unused rooms by stuffing towels in the cracks under the doors. At night, cover windows with extra blankets or sheets.
Battery-powered NOAA Weather Radio and portable radio to receive emergency information
Fire extinguisher, smoke alarm; test smoke alarms once a month to ensure they work properly.
Winterize Your Home
Insulate pipes with insulation or newspapers and plastic and allow faucets to drip a little during cold weather to avoid freezing. Running water, even at a trickle, helps prevent pipes from freezing.
All fuel-burning equipment should be vented to the outside and kept clear.
Keep fire extinguishers on hand, and make sure everyone in your house knows how to use them. House fires pose an additional risk, as more people turn to alternate heating sources without taking the necessary safety precautions.
Learn how to shut off water valves (in case a pipe bursts).
After an Outage
Be extra cautious if you go outside to inspect for damage after a storm. Downed or hanging electrical wires can be hidden by snowdrifts, trees or debris, and could be live. Never attempt to touch or moved downed lines. Keep children and pets away from them.
Do not touch anything power lines are touching, such as tree branches or fences. Always assume a downed line is a live line. Call your utility company to report any outage-related problem such as downed wires.
Throw away any food that has been exposed to temperatures 40° F (4° C) for 2 hours or more or that has an unusual odor, color or texture. When in doubt, throw it out!
Vehicle checklist
Plan your travel and check the latest weather reports to avoid the storm! Fully check and winterize your vehicle before a winter storm.
Carry a Winter Storm Survival Kit:
• Mobile phone, charger, batteries
• Compass and road maps (don't depend on mobile devices)
• Full tank of gas
• New wiper blades
• Top off antifreeze levels

• Blankets/sleeping bags
• Flashlight with extra batteries
• First aid kit
• Cutting device
• High-calorie, non-perishable food
• Extra clothing to keep dry
• Small can and waterproof matches to melt snow for drinking water
• Sack of sand or cat litter for traction
• Shovel
• Windshield scraper and brush
• Tool kit
• Tow rope
• Battery booster cables
• Water container
For more information visit: www.regionalinfo-alert.org
It's Too Late, When Told To Evacuate!
Yavapai County contact for questions regarding this press release:
(928) 771-3321 marcie.slay@yavapai.us
More like this story