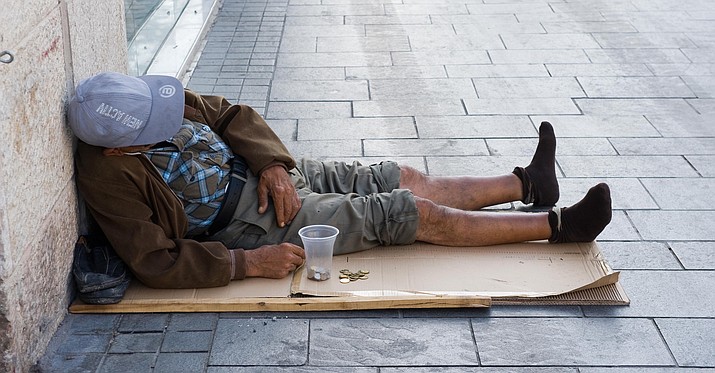 Originally Published: January 19, 2017 1:14 p.m.
One Person One Night is a program that provides a warm nighttime place for the community's homeless when the temperature drops below 38 degrees.
Eighty-five people were sheltered last winter during the program's initial year.
Joy Mosley, a community volunteer for the Verde Valley Homeless Coalition, said she and her friend, Cynthia Strom, unsuccessfully worked with different agencies for two years to get a shelter facility going during cold weather.
They found themselves paying for some nights for some people to stay in hotel rooms.
"Why don't we consider asking the community to consider doing this one person paying for one night? So that's how we began," explained Mosley.
A proposal was ordered, and the program became a 501 (C )( 3 ) to receive and distribute funds. It qualifies for the Arizona Tax Credit.
Last year 'a success'
Catholic Charities was the program's fiscal agent last year.
Former Cottonwood mayor Diane Joens suggested that the program be discussed before City Council, and $2,000 was given out of their discretionary funds.
This year, the Old Town Mission agreed to administer the program, as Catholic Charities did not receive funding this year to support it.
Mosley and Kellie Wilson, the general manager of the Old Town Mission, were encouraged to go before the Council again this year, and Dec. 6, they were approved for a $2,500 donation.
This year, One Person One Night began Nov. 28. There was a bit of a balance left from last year, which gave them a good start, said Mosley.
The first year was very successful, and that was through the generosity of local hotels and the community to make that possible, she said.
So far, shelter was provided for 83 nights, with 20 of those being free nights from local hotels.
Participating hotels include the Pines Motel, Little Daisy Motel, and Verde Valley Inn. The program also works directly with Angie's house.
Those who need a helping hand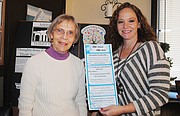 At times, judgment calls are made on nights that aren't exactly below 38 degrees.
Wilson said right before Christmas, a mother with her two small sons suddenly found herself homeless. They were able to be housed, even though the weather criteria wasn't met.
Because it was Christmas, a deal was made with the hotel, and the family was able to spend the holiday in shelter.
"I think a lot of people might have the idea that it's just helping people that are purposely being homeless by choice," said Wilson, when asked what the community may not know about the program.
Those who are homeless by choice typically refuse the program, she said.
What Wilson does see are people who are blown away by being homeless and the life circumstances that put them into that situation.
So far, there have been three people who've received help finding permanent housing, said Wilson.
One Person One Night also has helped those who work full time, work nights, and just want to find somewhere to sleep when they get off work, said Wilson.
She said it was shocking to find out so many people were struggling.
Wilson said a woman had been volunteering for a few weeks before it was discovered that she worked nights and lived in her car. The woman still volunteers.
In another category are the homeless elderly who are also aided by the program.
Sometimes those who have been hospitalized will be brought to the Old Town Mission, where they receive assistance getting into hotels, explained Wilson.

The homeless elderly live in their cars trying to get back on their feet, she said.
"But when it gets so cold, they just come in," said Wilson.
A temporary solution
One Person One Night continues to need contributions, and $50 will ensure a room for one night.
The program focuses on helping people in the community (and doesn't allow people from other cities such as Flagstaff or Prescott to be put up in a hotel).
"It's really the support of the community that really makes this possible," said Mosley.
"The city council gives us like a jump start," she continued. "But the only way it continues is through the generosity of the community."
Mosley will be reaching out to the faith community next.
A lot of people take for granted being able to sleep in a warm bed, said Wilson.
"Because if you look it, there are so many of us that live paycheck to paycheck. We're all just really one situation, one bad situation that puts us right where everybody else is," she said.
"This isn't a permanent solution to the problem that we have, but this is a temporary solution to help people to not freeze during these times," Wilson continued.
"So it's a step forward in the right direction," she added, "but just know that we are still needing ideas and permanent solutions."
"It's a compassionate effort to house our homeless neighbors," expressed Mosley.
About the program:
The goal of One Person One Night is to provide a warm nighttime place for the community's homeless when the temperature drops below 38 degrees.
Donations help to fund motel rooms which will keep those in need safe and warm during freezing weather. Donations of any amount are welcome; a $50 contribution ensures a room for one night.
Donations to One Person One Night would be made payable to Old Town Mission. Clearly mark your check "One Person One Night." Drop off or mail to:
Old Town Mission, 116 E. Pinal St., Cottonwood, AZ, 86326.
If you are in need of a warm place to sleep tonight, please contact the Old Town Mission at 928-634-7869, Monday through Friday from 9 a.m. to 3 p.m. After hours, contact 928-254-1719.
More like this story