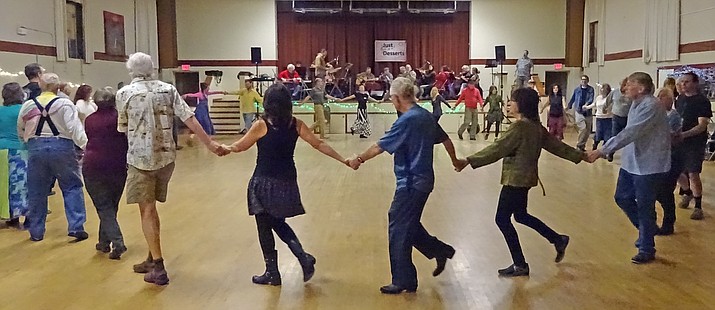 Originally Published: January 19, 2017 1:33 p.m.
January Contra Dance at Cottonwood Civic Center
Warm your toes and have some fun at the next Cottonwood Contra Dance, Saturday, Jan. 21st, at the Cottonwood Civic Center, 805 N. Main St. in Old Town. Our live band features Sonja Whisman and Terry Samples on fiddle, Ron Barton on guitar, and Laura Sherin on Piano.
John Sweeney will teach the dances and call the tunes. Check out contra dancing on Youtube for a peek at this fun dance form.  
No partner or experiences is required -- wear comfortable clothes and shoes.
Those new or needing a refresher should be sure to arrive at 6:30 PM for the half hour lesson; the regular dance is 7-10 PM. Cost is $10/dancer and $7 for students.  Bring a snack to share if possible.  For more information, call (928) 634-0486 or email sandy@ringsforever.com.
Cottonwood Planning Commission meets Monday
The Cottonwood Planning and Zoning Commission will meet Monday, January 23rd, at 6 p.m. at the Council Chambers, 827 N. Main St. The following topics will be discussed: Approval of minutes, PCU 16-004E Terre Bene, PCU 16-005E Vetraplex, DR 16-024 Central Arizona Masonic Lodge and General Plan Annual Update.
A verbal comment period will be provided during each hearing item. The Chair may impose a time limit on each speaker. The Commission will not consider written materials submitted less than three working days before the meeting.
OLLI Lunch and Learn Jan. 25
Bring your lunch (there will also be complimentary coffee, tea, water, and a little snack) and join the conversation at 12:30 in room 34 of Yavapai College's Sedona Center (on Cultural Park Place, across Rt. 89A from Red Rock High School) or come 1:00-2:00 and listen to Sedona resident, Greg Lawson, Landscape and Wildlife Photographer, creator of a spacious gallery and several coffee table books, a radio program called The Wake Up Show and a book of philosophy, called One for All: An Introduction to The Principle Movement.  
Hear why this world traveler came to settle down in Sedona and use it as a base for his existing enterprises and for fulfilling a grand dream he has for his, and our, future. Learn how he captures outdoor images vastly more immersive than the billions of snapshots taken by tourists every year, why thousands of listeners tune in to his radio program in Phoenix and Seattle, and what experiences inspired him to found The Principle Movement. You will find out how an affinity for photography discovered as a teen in New York City took Greg on many odysseys around the planet to experience the natural world in all its exquisite variety and how he concluded that, underlying all the diversity are some innate, universal, underlying principles that, when honored, can guide us in healing the wounds that so divide our world today.
OLLI Brown Bag Brain Buzz Jan. 26
Bring your lunch to Room G-106, Yavapai College Clarkdale Campus, 601 Black Hills Dr., and hear Laura Nagle, an adult autistic, viewing autism from her perspective. She has long conducted an honest introspection while wondering just who she is and why the world refuses to move along with her.
She has also long pondered that external world, so foreign and so frightening. Autism may not be exactly what people think it to be. In the past several decades, autism has grown from a thing perceived as simple to a spectrum, and from a rare phenomenon affecting perhaps one in ten or twenty thousand to approximately one in eighty, depending on whose statistics you believe. Everyone now has autism in the family or among friends. Autism now affects everyone in the United States. Unfortunately the effects of autism are generally less than positive.
The person who is autistic faces life in the world from a position of disadvantage; the family of an autistic child are less likely to share the joys and more likely to feel the pains of parenthood than would be if their child were to be normal. But what is autism anyway? And perhaps more importantly, what is life with autism like? Come to this talk and get some truth from someone who lives with autism.
Cottonwood American Legion Post 25
Legion Members, Auxiliary, SAL , ALR & Guests come enjoy a Delicious Steak Dinner, Baked Potato, Green Beans, Salad, Roll & Dessert for a $ 15 Donation, 5 PM to 7 PM, Saturday, January 21, and the next morning, Sunday, January 22, a Breakfast of 2 Eggs to Order or 3 Egg Omelette, with Home Fries, Sausage or Bacon and Biscuit and Gravy for a $ 6.00 Donation, Dinner and Breakfast both by SAL. See you there.
Post 25 is at 480 S. Calvary Way. Phone: 634-3004. 
Watercolor Society to meet Jan. 27
The Northern Arizona Watercolor Society will meet on Friday, January 27th, beginning at 9 A.M. at the Sedona United Methodist Church, located on Rt. 179.  There will be a short business meeting, a presentation by the critique group Uptown Aristocrats of their recent work, and possibly some work that was created in our January NAWS watercolor landscape workshop taught by Japanese artist Keiko Tanabe. 
After a refreshments break, snowbird Linda Sherman (Colorado/Flagstaff) will present a program.   As Chairperson of this year's Spring Exhibition, she can answer all of your questions regarding the requirements and deadlines.  Come to find out all the news of art ventures in the area in the new year - guests are always welcome - and check out the website at www.naws-az.org/.
Verde Valley Computer Club Event
Questions on Windows, Mac, iOS (iPhone, iPad), Android, etc. will be answered at the General Meeting, Saturday, Jan 21, at 9:30 a.m. There is no charge. Public invited so bring a friend. Free Will donations accepted to defray costs. Verde Valley Computer Club, Clemenceau Building, Willard Street at Mingus Avenue, Cottonwood. Dave 639-0106
Artists' Coalition offers scholarships
The Sedona Visual Artists' Coalition is offering two scholarship grants in the amount of $1,000 each, to graduating seniors from Sedona Red Rock High School (SRRHS), Mingus Union High School (MUHS) and/or Verde Valley School (VVS) this spring.

Applicants must have had a minimum of two semesters of high school art courses, and have plans to pursue higher education in the 2017-18 school year, anywhere in the United States, in any of the visual arts.

The scholarships are available for two-year, and four-year colleges and universities, as well as vocational and technical schools.

Applicants will be evaluated on: Presentation of the application, technique, originality, composition and design. Scholarship awards for tuition costs will be paid directly to the schools that have accepted the student. Recipients will receive a one year free student membership in SVAC and will be encouraged to participate in SVAC's annual fall exhibition at no charge.
Founded in 1996, the Sedona Visual Artists' Coalition is a community of artists in the greater Sedona area, who create in 2-Dimensional and 3-Dimensional art.

The membership of 125 artists encompasses many mediums, including oils, acrylics, watercolor, fiber, wood, glass, clay, metal, film and mixed media.
The Coalition fosters an interest in the visual arts by nurturing artists and our community through education, exhibition and exploration of the arts. Funds for the scholarships are generated by membership fees, fees for art exhibits and donations. Interested parties can visit www.sedonaartistscoalition.org for more information or to apply for membership.

Students wishing to apply may get an application and instructions from the SRRHS, MUHS, or VVS counseling offices.

Submissions must be postmarked or submitted to the respective counseling offices by March 1, 2017.

Scholarship winners will be announced on April 15, 2017.

For more information or questions, please contact Sue Haan at redrockfusion@gmail.com
Local First Arizona invites business owners to mixer at JT Bistro in Camp Verde
Start the year off strong by meeting with business owners and community partners to brainstorm creative ways toward greater success. All business owners and regional Local First Arizona (LFA) members are invited to JT Bistro, Wednesday, Feb. 8, 5-7 p.m. Meet LFA's founding director, Kimber Lanning, and learn how to spread the "support local" message to grow your business. Find out about exciting new opportunities, test your marketing skills and local trivia knowledge, sample JT's delicious menu, and win raffle prizes. This event is sponsored by Local First Arizona, the Camp Verde Business Alliance, and the Town of Camp Verde. JT Bistro is located at 349 S. Main Street, Camp Verde. Register for free at: https://www.localfirstaz.com/events/news/northern-arizona-business-mixer-jts-bistro Call Sebra at (928) 554-0008 for more information.
BeneVET bowling fundraiser Jan. 28-29
Mark your calendars for Jan. 28-29 for the 8th annual BeneVET bowling fundraiser at Cliff Castle Casino's Shake, Rattle and Bowl. All proceeds will go to the Prescott VA Hospital Rehab Centers and Northern Arizona Veterans Organization. Three separate competitions will take place during the Fun Fest, including two four-person team events each day and a singles handicap competition on Saturday night. Saturday and Sunday team bowling events are scheduled for 10 a.m. and 2 p.m. Singles competition is on Saturday, beginning at 5:30 p.m. Cost is $20 per person to compete on a four-person team, $80 per team, or $25 for the singles tournament, with $5 of the singles competition fees to go into the cash prize fund. Register online or for more information, visit www.benevet.azmine.com or call 928-567-9125.
Dinner at the VFW Jan 21
  The Veterans of Foreign Wars Post 7400, at 705 E Aspen St., will be serving their monthly dinner on Saturday, 5:00-6:30pm. For your donation of $8, you will get our special meatloaf, salad, veggies, dessert, coffee or iced tea. And, we do the dishes!
  You can visit with valley veterans, view our extensive collection of military memorabilia, or just enjoy a healthy meal, knowing you are helping us provide for veterans in need of assistance.
Sacred Scarlets monthly demonstrations at Tuzigoot
For over 1000 years, Scarlet macaws have dazzled people of the southwest. Their brilliantly colored plumage and large size inspire curiosity in all who gaze upon them. Remains of macaws have been documented in early archaeological excavations at both Montezuma Castle and Tuzigoot National Monuments. Many visitors are impressed when they learn these exotic birds were traded into the Verde Valley, and farther north, from hundreds of miles South into modern day Mexico. It is the intent of the National Park Service to increase visitor awareness of this unique part of history in the Verde Valley. In partnership with Sacred Scarlets we hope to leave an impression on visitors, allowing them to make a meaningful connection to our sites.
Sacred Scarlets will be hosting monthly demonstrations at Tuzigoot National Monument on the last Sunday of each month at 10am, beginning January 29th, 2017. Sacred Scarlets presents lectures and demonstrations featuring a young, beautiful captive-bred scarlet macaw. These lectures and demonstrations address conservation as well as the scarlet macaw's fascinating history in American Southwest culture.
Kelley Taylor, Founder of Sacred Scarlets, presents these amazing birds as ambassadors for their protection in the wild while sharing their long, rich, sometimes mysterious and often unknown history in the American Southwest. To learn more, please visit www.sacredscarlets.org.
There is no additional fee to attend the demonstration, regular entrance fees of $10 per adult 16 and older apply. Entrance fees are good for admission and reentry to Montezuma Castle, Montezuma Well and Tuzigoot National Monuments for 7 days.
Tuzigoot National Monument is located at 25 W Tuzigoot Rd, Clarkdale, AZ 86324. For more information, please call 928-634-5564 or visit www.nps.gov/tuzi. For the latest information on events and programs, follow us on Facebook, Twitter, and Instagram.
A Course in Life and Faith: A Bahá'í perspective
The Cottonwood Bahá'í community will host a Course in Life and Faith to be held at the Cottonwood Public Library, free to the public. This course will explore the existence of God, the need for religion, the oneness of Mankind, equality of the sexes, economic stability through spiritual solutions and more in 12 monthly sessions.
If you are wondering about the path our world is taking, the causes of political strife and economic instability, this course may be for you.
The first class will be held on Saturday, January 28, 2017 at the Cottonwood Public Library from 12:30-1:30pm and will be titled: Proofs of the Existence of God.

The Baha'i Faith teaches "the well-being of mankind, its peace and security, are unattainable unless and until its unity is firmly established." Baha'u'llah
Sponsored by the Cottonwood Bahá'í community.  No fees, no homework, all are welcome. For further information, please call (928) 649-5845 or (928) 274-6289.
First Responders Appreciation Dinner set for Jan. 21
Every first responder of the Verde Valley and a guest are invited to a complementary prime rib dinner at the third annual First Responders Appreciation Dinner.
The dinner is sponsored by the Verde Valley Moose Lodge.
Social hour is scheduled for 5 p.m., with dinner being served at 6 p.m., followed by an awards presentation at 7 p.m.

The Moose Lodge is located at 1051 S. Broadway, in Clarkdale.
RSVP to cmarx@swiftwireless.com or call 928-301-4485.
Religion and Science Lectures at Spirit of Joy Lutheran Church
You are invited to free Religion and Science Lectures at Spirit of Joy Lutheran Church, 330 Scenic Way, Clarkdale.
The lectures will be held 2:30-4 pm on Sundays in February.
Feb 5:  Dr. Fritz Lampe, prof.of anthropology at Northern AZ University, "Climate Change and Vulnerable Populations."
Feb. 12:  Dr. Matt Pearcy, Prof. of chemistry and microbiology, Yavapai College,"The Long and Winding Road to the Year of the Genetically Modified Human."
Feb 19:  Wayne Ranney, geologist, lecturer at NAU, the Museum of Northern AZ, "Grand Canyon: Monument to an Ancient Earth."
Feb. 26:  Dr. Jeff Hall, director of Lowell Observatory n Flagstaff, "The Uncertain Universe."
These lectures are a participation in the Clergy Letter Project, an association of religious leaders and scientists who believe that there is no necessary conflict between religion and science.
Call 634-4102 or see www.sojaz.org   
Fund raiser for Verde Valley Military Service Park
Verde Valley Military Service Park is hosting a fundraiser for Phase 2, Jan. 28, beginning at 5 p.m. Prime Rib Dinner with all the fixin's. 
Moose Lodge, Clarkdale. Cost is $30.  Live auction, silent auction and raffle.  Come on out and support the VVMSP.  Tickets will be available at door.
Sacred Scarlets to visit library
A beautiful, exotic and endangered Scarlet macaw will visit the Cottonwood Library on Saturday, January 21 from 12:30 to 1:30 p.m. in the Library Meeting Room.
Marine shells from the Sea of Cortez, copper bells, and cacao from Central Mexico have been recovered in the desert southwest as evidence of an extensive trade system used by the ancient native cultures.
The Scarlet macaw, a parrot native to the subtropical lowlands 1,500 miles away, was among those trade items. Several were found at the ancient Sinagua site known today as Tuzigoot.
Were these magnificent creatures revered as gods, used in ritual, objects of social status, possibly even a beloved pet?
We will never know the complete answer, but we can look to the native cultures of today such as the Hopi, Zuni and other Pueblo tribes for clues to the macaw's past and cultural significance of today.
The Scarlet macaw's range extends from the Southeastern coast of Mexico through Central America over to the Amazon. Their numbers are estimated at less than 50,000 and believed to be in decline (2008).
Sacred Scarlets, a 501(c)3 organization, is dedicated to promoting the protection of endangered Scarlet macaws through programs that enhance awareness of their cultural significance in our modern world as well as the ancient desert Southwest.
Join Scarlet macaw Sedona Rose, and her person, Kelley Taylor, for an intimate look into the mysterious and fascinating world of Sacred Scarlets.
Taylor will also be giving a children's program on Saturday, February 25 from 11 a.m. to 12:30 p.m. The Library is located at 100 S 6th St in Cottonwood.
Homeless Veteran Outreach at Cottonwood Library
On Friday, January 20 a case manager from the Veterans Resource Center will be at the Cottonwood Public Library to assist veterans who might be experiencing homelessness or veterans who are in jeopardy of losing housing.
The meeting will be held in the Library Meeting Room from 11 a.m. to 1 p.m. Please contact Angela at 928-237-3420 for more information.
Cottonwood Chamber Dinner Dance Jan. 27
The annual Cottonwood Chamber of Commerce Western Theme Hoedown is scheduled Friday, January 27, at the Verde Valley Fairgrounds, 800 E. Cherry St., Cottonwood
The event will be catered by Verde Valley Moose Lodge: Steak dinner and all the fixin's.
Tickets $35 each
Social Hour: 5 p.m.
Dinner: 6 p.m.
Awards: 7 p.m.
Music. Live Auction. Silent Auction. Fun Games RSVP: Online www.cottonwoodchamberaz.org
More like this story