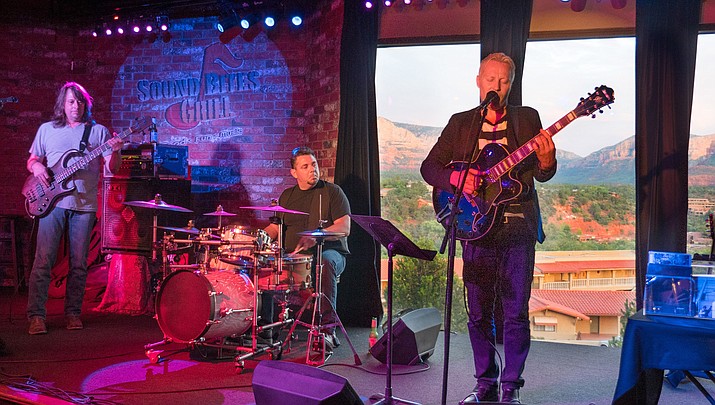 ---
---
Looking for some fun on the weekend? Dance yourself over to Sound Bites Grill in Uptown Sedona adjacent the Hyatt Pinon Pointe Resort! Friday and Saturday evenings the venue has two great bands that will have you up and dancing from 7-10 p.m. each night.
Friday night Jan 27th is Flash Back Fridays with the Robin Miller Trio. The band performs classic rock from the 70's and 80's. The evening is full of fun ad you sing along to your favorite tunes, have dinner and dance the night away. Sound Bites Grill is set up like as a supper club so you have your dinner table for the evening if you choose. If you are having dinner there is no cover. If you just want to enjoy some music the cover is only $8
Performing artist, composerand song-writer Robin Miller has surrounded himself with music since he was a child. Born and raised in Detroit, Michigan, Robin began playing the guitar at the age of 7, started his first band at age 14, and composed and recorded his first album before he turned 18.
Robin Miller has recorded albums with various artists for labels such as A&M, MCA, and RCA.
Proficient on guitar, keyboards, bass, and mandolin, Robin loves to demonstrate his versatility through rock & roll, blues, new age, and many other types of music. Music runs in the family and on Saturday Night his son Eric Miller will be performing.
On Saturday Night Jan 28th another great local musician "Eric Miller" performs with his trio .. and the evening is themed as Samba Saturday.
Eric Miller is mostly known for his Latin Jazz but as a very talented singer/songwriter he can play an eclectic mix of music. Eric will be playing with Troy Perkins and Eddie Barattini from 7-10 p.m.
Eric has studied and played all over the world and fell in love with Bossa-Nova, Flamenco and World Music. Today Eric has found his own voice, emerging with an interwoven cultural style that is unique unto him. His music is diverse, and he continues to travel and play, collaborating with many great musicians around the world. You will hear originals and covers, but you will definitely feel like dancing.
Come to Sound Bites Grill for a great dance weekend this Friday and Saturday Night. If you are interested in live music any other night of the week, check out their calendar at www.SoundBitesGrilllcom. Wednesday Night they always have music on stage for their Wineaux Wednesday Event which is a great place to socialize and meet new people. For $10 you get to taste over a dozen wines. Thursdays Phil Rossi performs on their baby grand.
Sound Bites Grill is located at the Hyatt Shops in Uptown Sedona. Call 928-282-2713 for reservations or visit www.soundbitesgrill.com.
If You Go ...
• What: Flash Back Fridays with the Robin Miller Trio
• When: Friday, Jan 27th, 7-10pm
• Cost: $8 Cover, No Cover with Dinner Purchase. Reservations Suggested: 928-282-2713
• What: Samba Saturday with the Eric Miller Trio
• When: Saturday, Jan 28th, 7-10pm
• Cost: $8 cover, No Cover with Dinner Purchase. Reservations Suggested: 928-282-2713