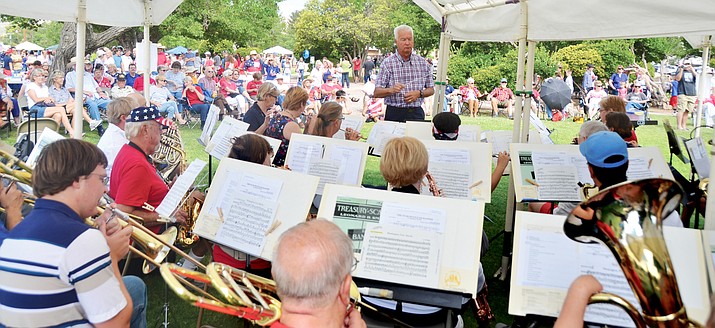 Originally Published: January 24, 2017 2:25 p.m.
Time once again to strike up the Community Band
Yes, folks, your Cottonwood Community Band will begin spring rehearsals starting on Monday, February 6. Rehearsals are held every Monday evening from 7-9 PM at Cottonwood Middle School, Room 301.

All Verde Valley wind musicians are invited to participate as long as they can read basic high school level musical literature! Even if your skills are rusty from time away from your instrument there's no better way to work yourself into playing shape than playing on a regular basis!

If this sounds good to you, but you don't have an instrument, please get in touch. The band has several instruments to loan that have been donated by members of the community. Perhaps we have one for you!
Our theme for this season will be Cottonwood Community Band Goes to the Movies, and we'll be playing music from well known movies like James Bond, Disney, the Sound of Music, Lawrence of Arabia, and many more!
The band especially needs people for the percussion section, an oboe, a bassoon, and trombones, but players are welcome on any wind instrument as well.
If you are interested or if you need additional information, please contact the band via email at CottonwoodCommunityBand@Gmail.com. This truly is YOUR community band and we'd like for you to be part of it.
Four Chaplains Memorial Service Feb. 5
The annual Four Chaplains Memorial Service will be held at the American Legion Post 93, 286 S 3rd St, Camp Verde on February 5th. At 1p.m. This is a moving interfaith service honoring these four men who gave up their life jackets and their lives so others could live. This occurred in the icy cold waters off coast of Greenland during WWII.
This service is held yearly to help us understand and remember the heroes of our nation's military. The public is invited and encouraged to attend. It is free of charge and refreshments will follow the service.
Free health care screenings during National Heart Month
Northern Arizona Healthcare joins the American Heart Association in celebrating National Heart Month by offering free Non-Fasting Health Screenings for Cholesterol – Diabetes - Blood Pressure in the following locations across the Verde Valley
Camp Verde Community Library, 130 Black Bridge Rd, Camp Verde Friday, February 3, 9 am to 2 pm
Sedona Public Library, 3250 White Bear Rd, Sedona Wednesday, February 8, 10 am to 4 pm
Verde Valley Fire District, 2700 E. Godard Rd, Cottonwood Thursday, February 16 1 pm to 6 pm.
Montezuma-Rimrock Fire Station, 3240 E. Beaver Creek Rd, Rimrock Saturday, February 18, 8 am to 1 pm
Survivors of Suicide Support Group
Survivors of Suicide Support Group for those who have lost a loved one to suicide. Jan. 31, 6:30-8 p.m. Christ Lutheran Church, 25 Chapel Rd., Sedona. Group meets last Tuesday of each month. For information call Barbara Litrell 928-649-0135
Support group for caregivers of Alzheimer's patients meets Feb. 1
According to the Alzheimer's Association, one in eight older Americans suffers from Alzheimer's disease. It is the sixth leading cause of death in the U.S. and the only cause of death among the top 10 in the nation that cannot be prevented, cured or even slowed. As the disease becomes more prevalent as people live longer, their caregivers often find themselves in need of support and resources. The free support group program addresses such issues. These meetings for caregivers of Alzheimer's patients are held the first Wednesday of each month from 10 to 11 a.m. (please arrive by 9:45 a.m.) The next meeting will be held on Wednesday, February 1, 2017.

This will be the first meeting at the new location – Verde Valley Medical Center in Cottonwood, Meeting Room A. Enter the hospital at the Outpatient Services Entrance. The organizers are excited to host this support group at VVMC as it is a more central location. And, experts from the hospital will be asked to speak periodically. This support group is open to everyone, and we are extending an invitation especially to people who have not been able to attend before. Vast amounts of information is available, so if you have ANY interest in memory disorders, please come check us out. Bonnie Shimko from AZ Care Management Solutions is an official facilitator and will be making as many meetings as she can. For information, call Bonnie at (928) 300-0172 or Barbara at (928) 634-2638 or Fran at (928) 301-3852.

Gospel Truth Seminars at New Hope Christian Fellowship
Join us at Gospel Truth Seminars each Friday at 6 pm at New Hope Christian Fellowship 1760 Villa Drive in Cottonwood located near Cork and Catch. Seminar topics covered will be: What does it mean to be born again, learn how to hear God's voice, learn how to receive peace, joy and health, and how to live without fear. Audience participation with question and answers will follow the one hour presentation. For more information contact ty@cornerstoneranchaz.com
Quail Country Quilters to meet Jan. 26
Quail Country Quilters meeting will be held, January 26, 9 am, at the Cottonwood VFW, 705 E Aspen.  Janet Washburn will share her double oven mitt pattern to be made at the meeting.  Check your January newsletter for the supply list.  Visitors are welcome.
Safety day and pancake breakfast Feb. 18
Sedona-Verde Valley Firefighter Charities & KC's Family Tae Kwon Do will have a safety day and pancake breakfast fundraiser hosted by the Verde Valley Fire District Feb. 18, 8 a.m. to noon, at the fire station located at 2700 East Godard Road in Cottonwood. Suggested donation of $5 per plate. Car Seat Technicians will be on hand to check car seats! Performances by KC's Family Tae Kwon Do's X TEAM! CPR Demonstrations & MUCH MORE!
Loven Family Run set to take place at Blazin' M Ranch March 25th 
Lace up your shoes and start training for the 6th annual Loven Family Run happening on March 25, 2017, in Cottonwood, Arizona. Hosted by the Northern Arizona Healthcare Foundation (NAHF), proceeds from this annual event benefit Northern Arizona Healthcare's assisted living facility, Valley View Care and EntireCare Rehab & Sports Medicine. The Loven Family Run is open to all ages and includes a family 2K run/walk, 5K run/walk and 10K run. Following the race, registered participants will receive a good-old-fashioned country breakfast at the Blazin' M Ranch.
To register online visit: LovenFamilyRun.com  
10K Run: $35  
5K Run/Walk: $30
2K Run/Walk: $20 or $50 for a family of four        
Additional breakfast for spectators: $8
Race start time is 8 a.m.
For more event information including volunteer and sponsorship opportunities, contact NAHF Special Events at 1-877-527-5291 or email Ashley Hammarstrom Ashley.Hammarstrom@nahealth.com.
Celebration of Easter Casting Call
EF Productions presents the 18th annual Celebration of Easter. This spectacular Easter production is a festive musical drama that takes the audience back to Jerusalem to Jesus' final days here on earth. The Triumphal entry, The Last Supper, Judas' betrayal in the garden, and many more scenes are portrayed including the crucifixion and resurrection of Christ; and as the grand finale, the glorious ascension of our Lord! It is the largest theatrical Easter production in Northern Arizona.
Produced by Mikel Swank, Celebration of Easter requires a cast and crew of nearly 100 people.
There will be an open casting call to the community for anyone interested in being in the cast or crew. Auditions include speaking parts, non-speaking parts for extras, singing, choir, and dance/choreography. Participants should come prepared for their audition for acting, singing, and dancing. Script and music can be downloaded online as well as registration. For those interested in participating in the many technical crews, they should also stop by during the casting call times to meet with the directors and producer.
Casting call will be Friday, February 3 from 5pm-10pm and Saturday, February 4 from 10am-8pm and will be held in the auditorium of Emmanuel Fellowship. Participants should stop by anytime during the hours listed for an audition.
The official kickoff event for the production will be on Sunday, February 19 at 2pm. This is a mandatory meeting for all cast and crew. The cast will be announced and scripts and rehearsal schedules will be issued. Rehearsals will begin that week.
For more information please call the production office of at (928)-634-3034 ext 102 Monday through Thursday 9am to 3pm. Emmanuel Fellowship is located at 1580 East Fir Street in Cottonwood (1 block west of Mingus Union High School).
Heart to Heart Women's Conference Feb. 4
Celebrating it's eighteenth year, Heart to Heart is a Women's Conference that is always held in February. This year's Conference will be held on February 4, 2017, and this year's theme "Changed Lives" will feature inspiring Women in our Community whose lives have been changed, and now they are impacting the lives of others! Each presenter will inspire and encourage you...no matter what you are facing in your own life, or in the lives of your family or friends.
You are invited to join us to come to know this vibrant and delightful group of Heart to Heart Speakers: Michelle Parker, Linda Busuttil and Savannah Sanders, Iam Joy Cherry, Andrea Kadar, Barbara Prats, Lynne Crowe, Cindy Cunningham, Stephanie Richey, Corina and Kaitlynn Taylor, Beth Tortorello and Young Life Leaders. Also speaking will be Kellie Wilson and Jill Sweet, Jo Gilbert, and Patricia Garitson. Musicians will be Hannah Parker and Wendy Hudson.
Topics include: Living in Community, Human Trafficking/ Innocence Robbed, Catastrophic Loss and How To Cope, Young Lives Matter, Celebrate Recovery, Surrendering the Secret, How does Poverty Affect our Community...and many more.
There will be eight afternoon workshops from which to choose. Register now at www.h2h2017.org. Reserve your space in the workshops of your choice in advance. Tickets are $22.00, lunch included, or $25.00 at the door, lunch included. Let us come together to encourage each other! The Conference location is Sedona United Methodist Church, 110 Indian Cliffs Road, off Hwy. 179, Sedona.
OLLI Brown Bag Brain Buzz Jan. 26
Bring your lunch to Room G-106, Yavapai College Clarkdale Campus, 601 Black Hills Dr., and hear Laura Nagle, an adult autistic, viewing autism from her perspective. She has long conducted an honest introspection while wondering just who she is and why the world refuses to move along with her.
She has also long pondered that external world, so foreign and so frightening. Autism may not be exactly what people think it to be. In the past several decades, autism has grown from a thing perceived as simple to a spectrum, and from a rare phenomenon affecting perhaps one in ten or twenty thousand to approximately one in eighty, depending on whose statistics you believe. Everyone now has autism in the family or among friends. Autism now affects everyone in the United States. Unfortunately the effects of autism are generally less than positive.
The person who is autistic faces life in the world from a position of disadvantage; the family of an autistic child are less likely to share the joys and more likely to feel the pains of parenthood than would be if their child were to be normal. But what is autism anyway? And perhaps more importantly, what is life with autism like? Come to this talk and get some truth from someone who lives with autism.
Watercolor Society to meet Jan. 27
The Northern Arizona Watercolor Society will meet on Friday, January 27th, beginning at 9 A.M. at the Sedona United Methodist Church, located on Rt. 179.  There will be a short business meeting, a presentation by the critique group Uptown Aristocrats of their recent work, and possibly some work that was created in our January NAWS watercolor landscape workshop taught by Japanese artist Keiko Tanabe. 
After a refreshments break, snowbird Linda Sherman (Colorado/Flagstaff) will present a program.   As Chairperson of this year's Spring Exhibition, she can answer all of your questions regarding the requirements and deadlines.  Come to find out all the news of art ventures in the area in the new year - guests are always welcome - and check out the website at www.naws-az.org/.
Artists' Coalition offers scholarships
The Sedona Visual Artists' Coalition is offering two scholarship grants in the amount of $1,000 each, to graduating seniors from Sedona Red Rock High School (SRRHS), Mingus Union High School (MUHS) and/or Verde Valley School (VVS) this spring. Applicants must have had a minimum of two semesters of high school art courses, and have plans to pursue higher education in the 2017-18 school year, anywhere in the United States, in any of the visual arts. The scholarships are available for two-year, and four-year colleges and universities, as well as vocational and technical schools. Applicants will be evaluated on: Presentation of the application, technique, originality, composition and design. Scholarship awards for tuition costs will be paid directly to the schools that have accepted the student. Recipients will receive a one year free student membership in SVAC and will be encouraged to participate in SVAC's annual fall exhibition at no charge.
Founded in 1996, the Sedona Visual Artists' Coalition is a community of artists in the greater Sedona area, who create in 2-Dimensional and 3-Dimensional art. The membership of 125 artists encompasses many mediums, including oils, acrylics, watercolor, fiber, wood, glass, clay, metal, film and mixed media. The Coalition fosters an interest in the visual arts by nurturing artists and our community through education, exhibition and exploration of the arts. Funds for the scholarships are generated by membership fees, fees for art exhibits and donations. Interested parties can visit www.sedonaartistscoalition.org for more information or to apply for membership.

Students wishing to apply may get an application and instructions from the SRRHS, MUHS, or VVS counseling offices. Submissions must be postmarked or submitted to the respective counseling offices by March 1, 2017. Scholarship winners will be announced on April 15, 2017.

For more information or questions, please contact Sue Haan at redrockfusion@gmail.com
Local First Arizona invites business owners to mixer at JT Bistro in Camp Verde
Start the year off strong by meeting with business owners and community partners to brainstorm creative ways toward greater success. All business owners and regional Local First Arizona (LFA) members are invited to JT Bistro, Wednesday, Feb. 8, 5-7 p.m. Meet LFA's founding director, Kimber Lanning, and learn how to spread the "support local" message to grow your business. Find out about exciting new opportunities, test your marketing skills and local trivia knowledge, sample JT's delicious menu, and win raffle prizes. This event is sponsored by Local First Arizona, the Camp Verde Business Alliance, and the Town of Camp Verde. JT Bistro is located at 349 S. Main Street, Camp Verde. Register for free at: https://www.localfirstaz.com/events/news/northern-arizona-business-mixer-jts-bistro Call Sebra at (928) 554-0008 for more information.
Sacred Scarlets monthly demonstrations at Tuzigoot
For over 1000 years, Scarlet macaws have dazzled people of the southwest. Their brilliantly colored plumage and large size inspire curiosity in all who gaze upon them. Remains of macaws have been documented in early archaeological excavations at both Montezuma Castle and Tuzigoot National Monuments. Many visitors are impressed when they learn these exotic birds were traded into the Verde Valley, and farther north, from hundreds of miles South into modern day Mexico. It is the intent of the National Park Service to increase visitor awareness of this unique part of history in the Verde Valley. In partnership with Sacred Scarlets we hope to leave an impression on visitors, allowing them to make a meaningful connection to our sites.
Sacred Scarlets will be hosting monthly demonstrations at Tuzigoot National Monument on the last Sunday of each month at 10am, beginning January 29th, 2017. Sacred Scarlets presents lectures and demonstrations featuring a young, beautiful captive-bred scarlet macaw. These lectures and demonstrations address conservation as well as the scarlet macaw's fascinating history in American Southwest culture.
Kelley Taylor, Founder of Sacred Scarlets, presents these amazing birds as ambassadors for their protection in the wild while sharing their long, rich, sometimes mysterious and often unknown history in the American Southwest. To learn more, please visit www.sacredscarlets.org.
There is no additional fee to attend the demonstration, regular entrance fees of $10 per adult 16 and older apply. Entrance fees are good for admission and reentry to Montezuma Castle, Montezuma Well and Tuzigoot National Monuments for 7 days.
Tuzigoot National Monument is located at 25 W Tuzigoot Rd, Clarkdale.
More like this story