Mingus' Behlow bows out with victory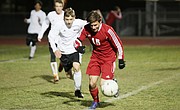 KINGMAN -- Mingus Union soccer coach Calvin Behlow had this gnawing feeling at the pit of his stomach for more than a year.
A feeling that wouldn't go away. He found himself asking, when was enough, enough? After all, he was living his dream coaching his son Ezekiel, yet the guilt of not being there enough for his daughter Jaiden, a freshman soccer player at Mingus, tugged at him.
On Tuesday of this week after practice, Behlow made it official and answered that feeling in his stomach telling his team when the season concluded he would no longer be the coach of the soccer team. His team sent him out with a 4-2 win at Lee Williams on Thursday night.
"I talked to the AD," Behlow said. "My daughter played varsity this year like I was kind of expecting, and my son is going to be a senior next year. I just want to be a fan for a bit. I hope to do some skill days with the kids, I don't want to leave the program, but I just really want to put family first for a bit."
With 27:06 remaining in the first half, his son scored the team's first goal on a direct kick to give the Marauders a 1-0 lead. Mingus played an up-and-down game forcing the action in front of the Vols' goal until with 14:27 remaining in the half when Devyn Spitzke scored on a shot right in front of their goal to give the Marauders a 2-0 halftime lead.
"It was nice to have the execution," Behlow said. "When you watch us you can see that sometimes we are great, and sometimes we don't execute well. I think that is the hardest thing is the kids see the pass, and they just don't make it."
Lee Williams had Senior Day, and it led to Mingus not being properly warmed up, and the Vols scored a goal in the first minute of the second half to make the score 2-1.
At the 36-minute mark in the game, Mingus' goalie was given a red card for tackling a Lee Williams' player. It forced coach Behlow to make an adjustment in strategy as he put Victor Armenta-Lopez in to play goalie the rest of the game. While making that move it forced Gustavo Olmedo to move from outside mid to a stopper, while Dylan Finger applied high pressure as the team's lone striker.
"Devyn (Spitzke) ran all over as the leader that he has been all year," Behlow said. "I got big performances out my key juniors Ezekiel (Behlow), Eric (Samano), and Kevin (Ornelas)."
With the score tied at 2-2, Spitzke broke the tie with a goal at the 20-minute mark, and Ornelas made the final goal with 10-minutes remaining in the game to give the Marauders their second victory of the year.
It was a disappointing season for the Marauders (2-7-1, 2-2 4A Grand Canyon Region) in so many ways. With five seniors and nine juniors, the high-ranking teams the Marauders had to play called for Marauders to execute perfectly all the time to have a chance to win, and that didn't happen.
At one point, the Marauders had to win out just to make the playoffs, They had to defeat Bradshaw Mountain and Mohave. When that didn't happen, their focus changed to trying to get better and having fun.
"Marauder soccer has always been about friendship," Behlow said. "When I post something on Facebook, I've got 250 likes because they kind of come back. It is a family. When I first started, I was asked by the newspaper (Verde Independent), 'If I had to get to state to be successful?' I said, No, No. Success means I have another 25 kids who want to come out and play soccer next year. We look for a group of kids that are laughing and joking and having a good time."
This year Behlow answered to the name of coach.
Next season he will answer to his favorite name of all, Dad.
More like this story
SUBMIT FEEDBACK
Click Below to: