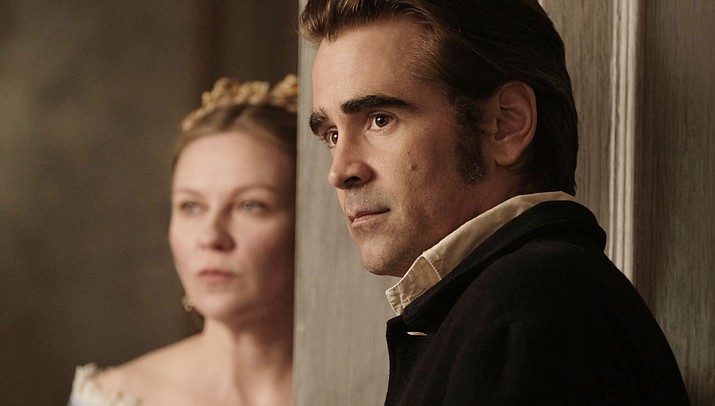 ---
---
The Beguiled is not like so many current films with heavy concentration on action, destruction and massive shootouts. There are many scenes with lots of suspense but that is founded more on personalities and the plot is loaded with mostly quiet sexual tensions.

The setting is a girls' boarding school in an isolated area of Virginia during the Civil War. This is Confederate country. The student body is a sparse five girls. They range in age from young teenage to about 16 years old — Amy (Oona Laurence), Jane (Angourie Rice), Marie (Addison Riecke), Emily (Emma Howard) and Alicia (Elle Fanning). The teacher, Edwina Dabney (Kirsten Dunst), and the headmistress, Martha Farnsworth (Nicole Kidman), are the adults in charge.
One of the younger girls, Amy, is walking in the woods, gathering mushrooms for the dinner table. She is shocked to find a soldier lying on the ground, unable to get himself onto his feet. He has a severe wound in one of his legs. Corporal John McBurney (Colin Farrell) is a Union soldier, but that does not affect Amy's urge to help him. She manages to get him up and serves as a crutch to get him back to the school.
Miss Farnsworth, the headmistress, also ignores his Union affiliation and they carry him in to one of the bedrooms. She treats his wound and cleans him up while he is unconscious. After a few days, he is able to move about with a cane and even attends meals at the table with all the females. He is friendly to them and there is a pervasive air of attraction from each of the girls and women to the handsome fellow. A special mutual attraction is felt with the teacher, Edwina.
There is a constant flow of the girls, finding excuses to visit him, dressed in finery, to bring him little gifts and flirt a little.
Miss Farnsworth is more grounded and though she is intent on having McBurney recover from his wound and leave, she is also taken with his charm and good looks. But it begins to look more and more that he is playing the group to garner as much kind attention as he can, and that might not exclude sexual activity. A major conflict occurs and changes the entire scenario.
Farrell does well in his role. As much as he charms the girls, he imparts a bit of suspicion with us. Nicole Kidman is excellent as usual. She is in charge at the school and there is no question about her authority. Kirsten Dunst as the love-struck teacher is good displaying her pain at the restrictions imposed upon her by her position. An outstanding performance is given by Elle Fanning as Alicia, one of the older students. She is swooning over McBurney, but is frustrated when she can't get more than some nice words from him.
The Beguiled has this undercurrent of tension throughout. How far will Edwina go to satisfy her feeling for John? Will any of the girls succumb to their youthful crushes? What is John after? He doesn't seem anxious to leave. The Beguiled presents these issues and keeps us wondering, until there is a resolution. That was the only problem with The Beguiled. The resolution was presented as if the film maker, Sofia Coppola, was running out of allotted time. With the events in the film moving slowly, deliberately, the ending just happens and it's done! That closes the movie, but leaves open a question of morality for us to ponder. The Beguiled is at Harkins Sedona 6 Theater.