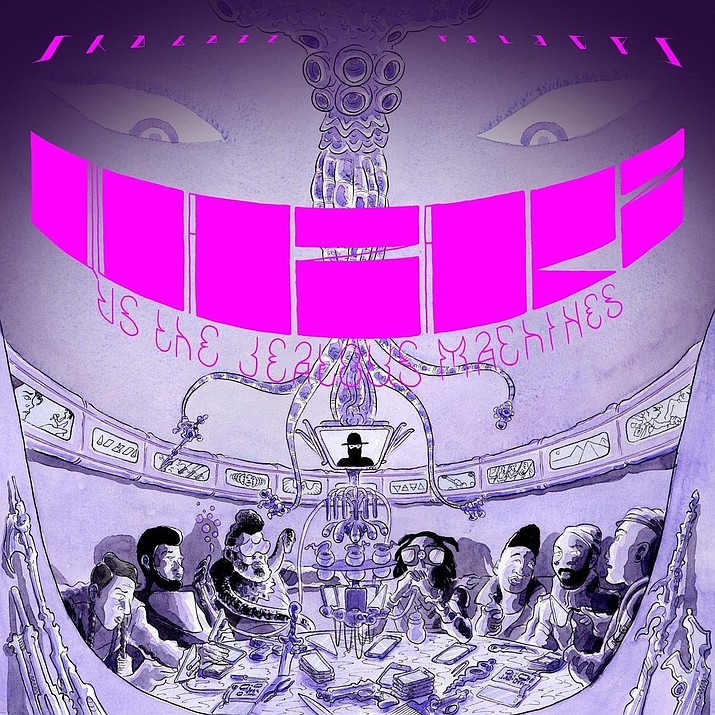 ---
---
Shabazz Palaces – Quazarz vs. The Jealous Machines
Sub Pop Records
Quazarz vs. the Jealous Machines, and its companion, Quazarz: Born On a Gangster Star, were both produced by Knife Knights (i.b e.b.) and mixed by Blood. Quazarz came to the Earth from somewhere else, a musical ambassador from his place to ours.
Tracks include: Welcome to Quazarz, Gorgeous Sleeper Cell, Self-Made Follownaire, Atlaantis, Sabonim in the Saab on 'em, Quazarz on 23rd.
Shabazz Palaces – Quazarz: Born on a Gangster Star
Sub Pop Records
… speaking of air and darkness, Born on a Gangster Star came into the world in a big damn hurry, like nightfall on an island. You can see it happening, but then again it's so gradual that the next thing you know — it's dark. Imbued with the energy and ideas from all the creative embers floating in the atmosphere like fireflies, Shabazz Palaces recorded this entire album over the course of two weeks with Blood in Seattle. (One of two releases)
Tracks include: Since C.A.Y.A., When Cats Claw, Shine a Light, Dèesse Du Sang, Eel Dreams, Parallax, Fine Ass Hairdresser, The Neurochem Mixalogue.
Silverstein – Dead Reflection
Rise Records
Silverstein are one of those rare artists that have found a way to stand the test of time. Their formula is no secret: they have been going at full speed, nonstop for the past 17 years. They've taken no breaks between touring and recording, and have consistently produced quality albums and played sold out shows across the world.
Tracks include: Last Looks, Retrograde, Lost Positives, Ghost, Aquamarine, Mirror Box, Demons, The Afterglow, Cut and Run, Secret's Safe.
Japanese Breakfast – Soft Sounds From Another Planet
Dead Oceans
Japanese Breakfast's Soft Sounds From Another Planet is less of a concept album about space exploration so much as it is a mood board come to life. Over the course of 12 tracks, Michelle Zauner explores a sonic landscape of her own design, one that's big enough to contain her influences.
Tracks include: Diving Woman, Road Head, Machinist, Planetary Ambience, Soft Sounds from Another Planet, The Body Is a Blade, This House.