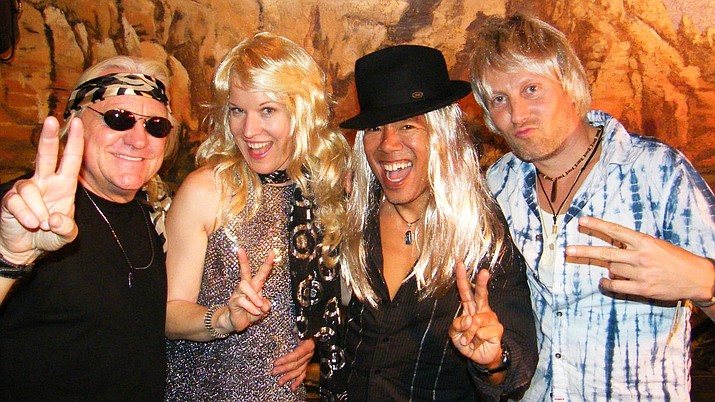 ---
---
On Sunday, July 16th, Sedona's popular classic rock & Latin grooves band, 3MKi, presents the first of a series of fabulous nights of Dinner-Show-Dancing in the Collective Sedona's beautiful and spacious Vista Hall.
It will be a fun-filled musical evening with live show, delicious food & drink catered by the Heartline Cafe, and dance floor (open all night).

The much-loved 3MKi Band (comprised of Robin Miller, Eric Miller, Susannah Martin & Patrick Ki) mixes it up with rockin' 60s&70s classics, bluesy originals, sexy Latin grooves, soulful singing, ridiculous humor and burning guitar licks during their "Rockin' Blue Grooves" Show. Doors Open/Dinner Buffet 5PM, Dinner Music 6PM, Show & Dancing 7-9PM.
Future 3MKi Dinner Shows at the Collective Sedona are Sun. Sept. 17th and Sun. Nov. 19th.
Tickets range from $24 (Live Show&Dancing-Only), a $34 Ticket (add Table Seating & Beverages) to an 'All-Inclusive'$49 Ticket (guests will enjoy Heartline Cafe's delicious Buffet Dinner with Drinks & Show).
Pre-Purchase Tix online and receive a $2 discount plus premium reserved seating!

For Full Event & Ticketing Details and Advanced Purchase, go to SusannahMartinMusic.com. Tickets may also be purchased at the Door, by Cash, Check or Credit Card.
The Sedona-based 3MKi band thrills audiences with three virtuoso guitarists, powerful lead male and female vocals, rich harmonies and a groovy beat.
Along with each of their individual music careers, the members of this quartet (consisting of father & son Robin & Eric Miller, Susannah Martin and Patrick Ki) come together to create a music group high on fun & creative synergy. Their exciting performance blends rock, jazz, blues, flamenco, Brazilian and crowd-pleasing hits from the 60-90s.
Their fun attitudes, catchy originals and unique versions of songs by artists such as the Eagles, the Beatles, Fleetwood Mac and Sting are a real treat for fans to experience.
Robin Miller (guitar/mandolin/vocals) brings a powerful blues and rock-based guitar and vocal sound to the group, honed by over forty years of professional experience.
Many of his own bluesy rock tunes are featured in the band.
Equally excellent in Latin, pop and rock styles, Eric Miller (guitar/vocals) burns on the guitar, while delivering classic hits and jazzy originals with his velvet tenor voice.
Patrick Ki (guitar/ukulele/vocals) is a formally trained jazz & classical guitarist & ukulele player with a Hawaiian-influenced, lyrical-based sound.
He also drives a strong and deep rockin' guitar groove to propel the group.
Just watch out for the zingers he delivers as the group's sly and silly emcee!
Pop, Latin & jazz vocalist, Susannah Martin (vocals/percussion) warms the band with a sweet and sassy feminine flair.
From Aretha Franklin to Joni Mitchell, Susannah loves to wail on the timeless hits. She also adds a groovy back beat on the Cajon/beat box.
The Collective Sedona is an ideal venue for entertainment and is conveniently located on Highway 179 at the gateway to Sedona in the Village of Oak Creek.
The property features more than 30 shops, galleries, restaurants from casual to fine dining, culture studios, a Welcome Center, a luxury spa and salt room, an indoor/outdoor multi-use banquet facility and community events.
The Vista Hall banquet room, located upstairs, features elegant, luxurious interiors, a musical stage and dance floor and spacious terraces with beautiful Sedona views.
For venue information, please visit www.thecollectivesedona.com.