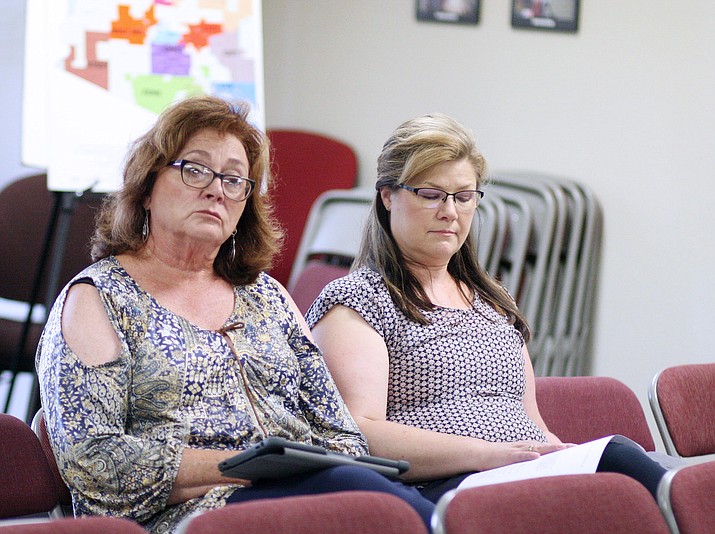 Originally Published: July 12, 2017 2:17 p.m.
COTTONWOOD – Representatives from Mingus Union attended Monday's meeting at Valley Academy. "A bit disappointed" is how Mingus Union governing board President Anita Glazar left the meeting.
Less than a month ago, representatives from Mingus Union, Camp Verde Unified, Sedona Oak Creek and Valley Academy collectively brainstormed – then put together an IGA it felt comfortable taking to its collective boards.
Monday's agreement – approved 5-to-0 by the Valley Academy board – had two major changes: funding for satellite course programs, and who owns satellite program equipment should either V'ACTE or one of the partnering schools end the agreement.
"We all came up with something that was agreeable," Glazar said Monday following the V'ACTE board's unanimous vote. "They have two changes. They may see them as minor changes. Good faith would have been to work with everybody again. Maybe they think the changes are good for their district."
Split
The prior agreement called for Mingus Union, Camp Verde Unified and Sedona Oak Creek to each receive a 70-percent payout of Valley Academy funding on direct classroom spending for the new fiscal year.
The new agreement calls for the satellite district to be funded "for the approved CTE course cost above the supplanting limit up to 70 percent of Maintenance and Operations funding attributable to Satellite Average Daily Membership, including any monies attributable to additional weights in the student count.
The new agreement adds that should the satellite district incur "higher costs for approved CTE programs than the 70-percent limit, the satellite district may apply to Valley Academy for supplemental funding to help offset the cost.
Stated Valley Academy Superintendent Bob Weir in a June 29 email to representatives from Mingus Union, Camp Verde Unified and Sedona Oak Creek school districts, V'ACTE has approved "all supplemental requests this year and are willing to look at them for the enhancement of the CTE programs in the future if V'ACTE funds are available."
Admitting to strained relationships with past Valley Academy leadership, Camp Verde Unified School District Superintendent Dr. Dennis Goodwin said he has "a problem with up to 70 percent."
"Who defines up to 70 percent?" Dr. Goodwin asked. "V'ACTE does. We're trying to represent our students, and V'ACTE is representing V'ACTE. And I have a hard time with that. That 'up to' phrase means they can give us whatever they want."
Revised? Or renegotiate?
Former Mingus Union interim superintendent Dr. Jack Keegan, now a negotiator for the district, said Tuesday he will recommend that the board elect to not sign the revised Intergovernmental Agreement as it currently reads.
In separate conversations, both Dr. Keegan and Dr. Goodwin said they would recommend that all parties return to the negotiating table to again negotiate.
"We'll work together, the districts, to put together a common contract," Dr. Keegan said. "I don't think the 'up to 70 percent' is going to fly. They can give us less. They could go back to the old way they were doing it."
The next scheduled meeting of the Mingus Union High School District governing board is not until July 25.