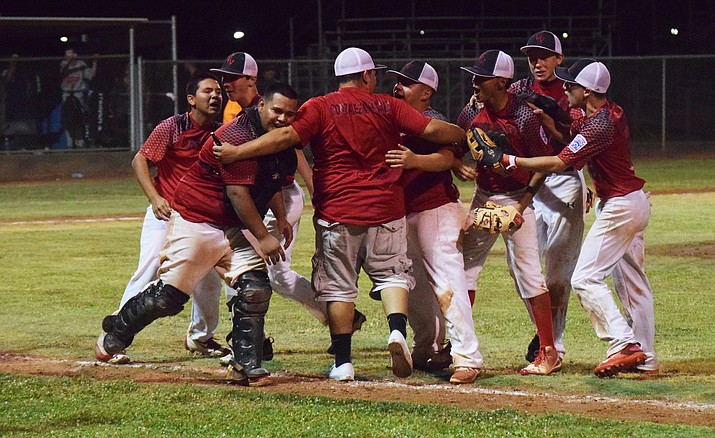 Originally Published: July 13, 2017 2:39 p.m.
Verde Valley Little League won the District 10 Juniors Baseball All-Star tournament with an extra innings win and a perfect record.
Verde Valley beat Williams 12-9 in the first championship game on Tuesday night in Camp Verde. VVLL moves on to the state tournament next week in Phoenix.
"It was a heck of a baseball game, a little bit closer than we would have liked it, but I'm proud of the boys," aid Verde Valley head coach Jeff Lynch. "The whole tournament they never gave up and handled adversity very well and it made all of them grow for the trip to state, so I'm glad they got a run for their money, I'm glad they saw some tough competition to prepare them for state."
Although Verde Valley had a one game cushion over Williams, which would have had to beat VVLL twice, the championship game was filled with drama.
Verde Valley jumped out to a 9-3 lead but in the sixth an seventh innings, Williams rallied to tie it at 9-9 and force an eighth inning. Williams scored five runs in the sixth and then one in the bottom of the seventh on an error.
However in the eighth, Verde Valley scored three runs to finish off Williams, despite a weakened pitching staff.
"We had to dig deep pitching wise," Lynch said. "One of our pitchers had emergency surgery on Friday night, so it kinda put us in a bind pitching wise and we had some guys really step up and fill those shoes and I proud of them."
Late in the Williams game, VVLL coaches had to juggle who would pitch when a second and winner take all championship game seemed likely. This came after a rain delay postponed the end of the game they started on Sunday.
Lynch estimated the Sunday rain delay as 1.5 to 2 hours.
"The rain definitely makes you have to think a lot because if the kids throw over 40 pitches and you get a rain delay, they can't throw the next day," Lynch said. "There's a lot of strategy that goes into rain delays and trying to plan around one .The kids, they're all pumped up going into a rain delay and then have to sit for 30 plus minutes to an hour, you never know how they're going to come out and they got to get ready again So yeah mentally it's a little tough on them."
Verde Valley won their three games in the tournament in different ways. On July 6 they opened with a 12-4 win over Chino Valley after trailing early on. Then on Monday they finished the rain delayed Sunday game with a 22-5 run rule triumph over Wickenburg in 6 innings.
"I'm proud of the boys definitely got some work in, definitely grew for state, have a few things to work on before state and hopefully we make a strong showing there," Lynch said.
Camp Verde opened the tournament with a 17-16 loss to Wickenburg. The home team rebounded with a 16-13 win over Chino Valley but was knocked out by Williams 15-1 in the title game of the losers' bracket.
Verde Valley opens the state tournament on Monday at Paradise Valley High School against Winslow, the champions of District 1.
"This team's biggest competition is their own head, mentally," Lynch said. "If they could pick each other up and mentally be in every game they have a chance in every ball game, every opponent they face, they're their own worst enemy if they're in it, they're in it and they can go up against anybody so I'm looking forward to it."
More like this story