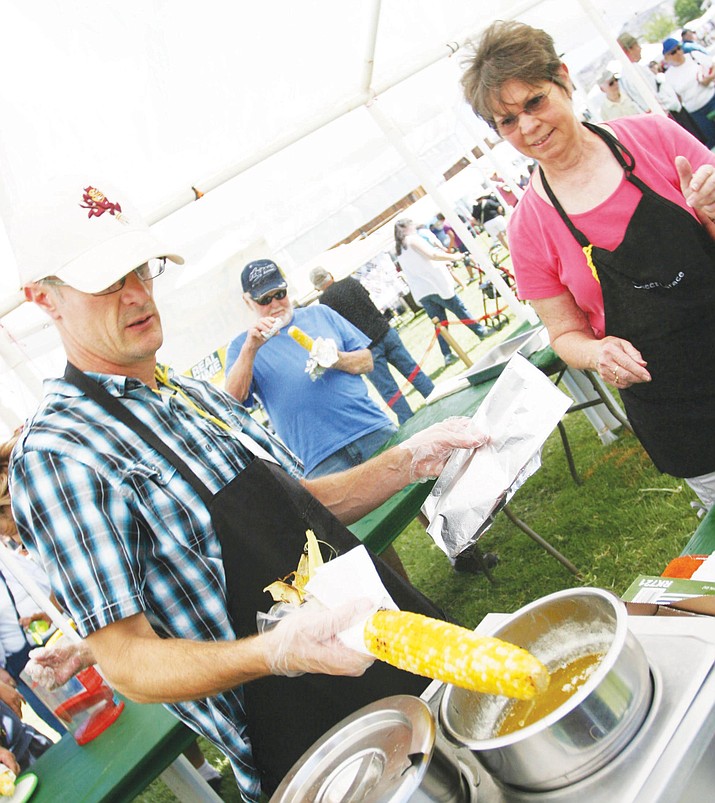 Originally Published: July 14, 2017 8:36 a.m.
CAMP VERDE – Please consider volunteering. With an exclamation mark.
That's how Camp Verde Promotions leads off the 'volunteer opportunities' page on its website.
Just hours before the Town of Camp Verde's 26th annual Confest, the volunteer organization is looking for dozens of additional volunteer commitments.
In two-hour time slots, to make things easier for its volunteers, Camp Verde Promotions is looking for people to sell tickets for corn, put corn in a tub of water, move corn to the roaster and then roast the corn, shuck the corn, dip the corn in butter and then serve it to corn lovers from both near and far.
"We are asking for a two-hour shift due to the heat," says Bobbie Tennant, secretary for Camp Verde Promotions. "Some are working a couple of split shifts, because we need lots more of you. Some shifts are easier than others. Our gate keepers just sit for two hours; we have umbrellas and watch that no alcohol leaves the field."
Volunteers are also needed to bag corn for folks who buy it by the earful, as well as volunteers to work the entrances/exits at Cornfest, to make sure pets stay off the field and make sure that alcohol stays on the field.
Says Nikki Miller, vice president of Camp Verde Promotions, it takes "about 15 people to set up and 15 people to breakdown" Cornfest.
"However, we set up two days for Cornfest as we have our run through on Thursday night for the volunteers and we must have the tent sent up Thursday so we need about 15 people to help us Thursday, too," Miller says.
And that doesn't count the four volunteers who help run the Cornfest games.
Camp Verde Promotions has made volunteering easy, with a sign-up page at the organization's website, www.campverdepromotions.org.
Click on to where it says 'sign up to volunteer' and follow the directions.
Or call Nikki Miller at (928) 592-9137, Bobbie Tennant at (928) 300-0179 or Carlie Androus at (928) 300-7077 to volunteer or for more information.
Volunteer hour time blocks for Cornfest
Friday, July 14
3 p.m. – 5 p.m.
5 p.m. – 7 p.m.
7 p.m. – 9 p.m.
9 p.m. to 11 p.m.
Saturday, July 15
9 a.m. – 11 a.m.
11 a.m. – 1 p.m.
1 p.m. – 3 p.m.
3 p.m. – 5 p.m.
5 p.m. – 7 p.m.
7 p.m. – 9 p.m.
9 p.m. to 11 p.m.
Cornfest schedule of events
(Schedule always subject to change)
Friday, July 14 (3 p.m. to 10 p.m.)
3 p.m. to 8 p.m. – Crafter's Fair: community center gym
3 p.m. to 10 p.m. – Food, drink, beer garden and other vendors: soccer field
3 p.m. to 10 p.m. – Corn sales, roasted and fresh: at corn station on soccer field
4 p.m. to 7 p.m. – Live Music by Dave Rice: main stage
6 p.m. to 10 p.m. – Corn Hole Competition for $$ prize: soccer field
7 p.m. to 10 p.m. – Live Music by Sweet Baby Ray: main stage
Saturday, July 15 (8 a.m. to 10 p.m.)
8 a.m. to 8 p.m. – Crafter's Fair: community center gym
8 a.m. to noon – Farmers Market: ramada
10 a.m. to 10 p.m. – Food, drink, beer garden and other vendors: soccer field
10 p.m. to 10 p.m. – Corn sales, roasted and fresh: at corn station on soccer field
10 a.m. – Vintage Baseball Game: Fort Verde State Historic Park
10 a.m. to 4 p.m. – 1933 Historic Rock Jail open
10 a.m. to 4 p.m. – Ancient History: Verde Valley Archaeology Center
10 a.m. to 4 p.m. – Camp Verde Historical Society museum open
10 a.m. – SLIP-N-SLIDE, with $5 ALL DAY WRIST BANDS: soccer field
Noon to 1 p.m. – Prince & Princess Contest for 3-5 year olds in front of the stage: soccer field
1 p.m. – Water balloon volleyball: soccer field
1 p.m. – Old-Time games for kids: soccer field
1 p.m. - Martha and Jack Summerhayes performance; Fort Verde State Historic Park
1 p.m. to 5 p.m. – Live Music by Steve Estes: soccer field
6 p.m. to 10 p.m. – Corn Hole Competition for $$ prize: soccer field
6 p.m. to 10 p.m. – Live Music by Cheap Sunglasses: soccer field