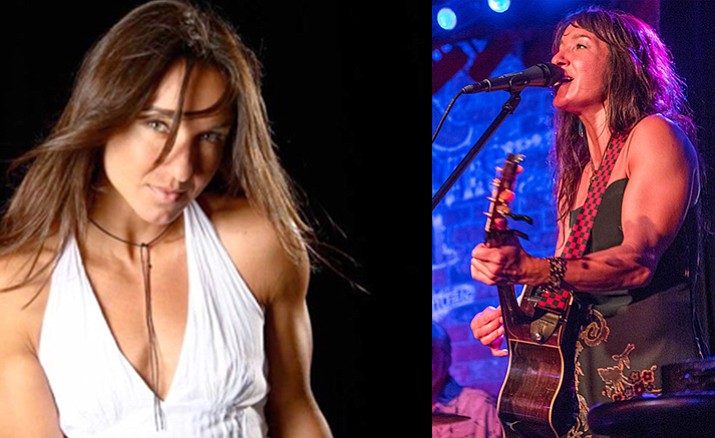 ---
---
A transplant from the East Coast, Jeordie immediately submerged herself into the Southwest music scene. Music is in her genes, and this 'natural born musician' has been performing since she can remember, sharing the stage and singing alongside her mother, 60's musical artist 'Melanie' (known for "Brand New Key"," Lay Down" &"Beautiful People").
She will perform with her band Friday, July 21, 7 p.m., in the show room at Sound Bites Grill, Sedona.
From a very young age, Jeordie witnessed the magic; healing power of music, and how it resonates with people all over the world (it's no wonder her favorite movie is Mary Poppins!). Jeordie's dream has always been to share her own original music with audiences everywhere throughout the world, taking her mother's advice, "make music your life".
Based out of Tempe, this talented young lady can write; sing and play her own instrument - without the help of studio magic. Her folk, rock and blues sound pleases audiences of all ages, as only a true entertainer can. Her music gives deep & friendly advice, on a sultry rock / melodic platform.

She has performed at multiple/diverse international venues, including festivals and arenas of all sizes.  Additionally, she has performed as a support act for Dido, Jewel, the Indigo Girls, and Sade.
Cover charge for the evening is $10 per person and the table is yours for the evening.
Saturday night, July 22, 7 p.m., the Sir Harrison blues band will perform. Harrison is an amazing blues guitarist and Arizona musician has an incredible following in the Phoenix and Northern Arizona regions.
Harrison Begay was born and raised in Tucson, Arizona, is full blooded Navajo (Dine'). His passion for blues music and the guitar have been the driving force in his quest for artistry. He started playing music at the age of eight. It would not be until the early years of high school that Harrison would pick up his first guitar.
He's been compared to Albert Collins, Stevie Ray Vaughn, Jimi Hendrix, Robert Cray, but Sir Harrison's guitar playing has his own unique sound.
Harrison continues to play with veteran musicians and brings new life to the stage each performance with rotating musicians when they are available.
This is a also a ticketed event, and admission is $10 per person.
In addition every Thursday evening Sound Bites Grill Show Lounge features Anthony Mazzella performing his "Legends of Guitar" tribute show at 7 p.m. This is 90 minutes of amazing renditions of guitar heroes.
Legendary guitarists who's music is featured in the show are Jimi Hendrix, Eric Clapton, Carlos Santana, Jimi Page (Led Zeppelin), The Edge (U2), Pete Townsend (The Who), David Gilmour (Pink Floyd), George Harrison (The Beatles), Dave Murray (Iron Maiden), Keith Richard (The Rolling Stones), Randy Rhoads (Ozzy Osbourne), Eddie Van Halen, Stevie Ray Vaughan and more.
The Legends of Guitar show reaches a very broad audience given the diversity of artists it pays tribute to. People love guitar music and are fanatical about the bands they play in. This show features the technical skills of the greatest guitarists and the music from some of the biggest bands. Tickets start at $20
Sound Bites Grill is located at 101 N. Route 89A in uptown Sedona (Shops @ Hyatt Pinion Point). SBGS offers a variety of live music seven nights a week.
For tickets and further information, call SBGS @ (928) 282-2713 or purchase tickets on our website at www.SoundBitesGrill.com