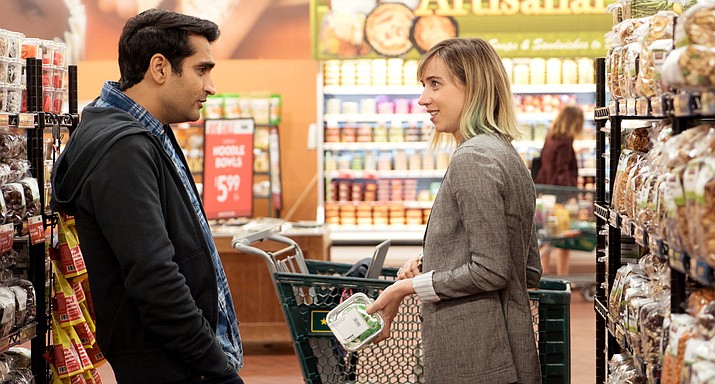 ---
---
The Big Sick is a story about a couple who meet and fall in love. They are of the 'millennial' generation and the story is embedded in that culture. As much as they feel for each other, we don't hear the words, "I love you" and there is no commitment or mention of marriage.
This atmosphere is not disturbing, nor does it detract from the fine quality of the film.
The Big Sick takes place in Chicago. The main character is Kumail, a Pakistani man who has chosen a career as a stand-up-comic, rather than as a lawyer or doctor. His family — mother, father, married brother — are middle class Americans with strong ties to their Pakistani roots and customs.
Kumail's mother often invites a young Pakistani maiden to dinner, presenting each one as a candidate for an arranged marriage to Kumail. It annoys and frustrates Kumail, especially after he meets and connects with Emily (Zoe Kazan), an American beauty.
He cannot tell his parents about Emily, because it would be a major sacrilege for him to marry a non-Muslim.
Kumail and Emily start their relationship in a series of humorous procedural steps. Emily states that she won't be with Kumail for more than the first date. But, Kumail points out, it is past midnight, so they are already in day 2, shattering her standard behavior pattern.
This kind of conflict continues for a while, until they settle into a solid relationship with no more time limits. But about halfway into The Big Sick, Kumail and Emily have a major argument when she finds out that he hasn't told his family about her, and Emily leaves — forever!
Kumail learns that Emily has contracted an infection in her leg. She is hospitalized and it is found to be a serious condition which is spreading. The medical team explains that the best procedure in this rare case is to induce a coma, so the patient can be stabilized and the affliction treated chemically.
Emily's parents, Terry (Ray Romano) and Beth (Holly Hunter), arrive from their home in North Carolina. They reject Kumail's presence, but gradually become friendly to him. They recognize his love for Emily and are grateful for all the support he gives them and especially to the unconscious Emily.
From there, The Big Sick offers a good deal of suspense as we don't learn the result of the medical strategy until much later in the film. (Unless you know the real story.)
Terry and Beth are colorful characters and beautifully portrayed by Romano and Hunter, with dramatic scenes added to scenes of their comic behavior. That is the essence of The Big Sick. The drama, is peppered with a lot of funny bits. Kumail's gig as a standup comedian puts him into a group of like-minded comics. Their off-stage dialog is often funnier than their on-stage routines.
Kumail (Kumail Nanjiani) and Zoe Kazan are perfect in their roles. The one reservation I have about The Big Sick is that it took a little while to get used to the attitudes, the relationships and the language of these young, intelligent, educated adults. It was worth the wait!
The Big Sick is at the Harkins Sedona 6 Theater.