Originally Published: June 1, 2017 1:05 p.m.
It can be hard enough changing schools, but Mingus Union football senior Martin Soria changed towns, levels and perhaps even sports, depending on how you look at it.
After starring at Williams, Soria moved to Cottonwood and Mingus Union and has continued to impress.
"He's been great," said Mingus Union head coach Bob Young. "A very coachable kid, he's come right in and transitioned into the school. He's a well-respected kid already."
Last year, Soria led the Vikings to the 1A state championship game and was first team All-State as a defensive back and second team as a quarterback.
Soria said it's a lot of hard work moving up to levels to 4A and from 8-man football to 11-man but he likes working hard.
"It's been good, they just have us working, working, working, really right now there's no days off," Soria said. "I try to spend time with my family but really there's no time for that. You just need to keep on working but that's good for you because it transitions onto the field."
So far for Mingus Union, Soria has been playing defensive back and receiver and will likely run the ball in the fall. He's a potential emergency quarterback after juniors Antoine Zabala and Chaz Taylor.
"He's an amazing kid, he's an athlete that you always want on your team," Zabala said. "He's fast, he doesn't talk back, he doesn't argue, he's just a hard worker and gets stuff done."
Williams was 1A North region player of the year and offensive POY.
In 8-man football, there are two less offensive lineman and one less skill player, usually a flanker or someone from the backfield. Usually, like in Arizona, the field is smaller too.
In Arizona 6A through 2A play 11-man and 1A 8-man. The 8-man games are pretty high scoring. Scottsdale Saguaro, with about 18 players that had NCAA Division I scholarship offers, scored 42 points in the state championship game, while Bagdad scored 60 in the 1A title game.
Soria said that while 8-man is quicker with less people on the field, the 4A players are faster and the holes close a lot quicker.
"You just have to make one guy miss and you know, it's to the touchdown," Soria said. "But here you have to make two, three guys miss."
Last year Soria threw for 1,548 yards, 18 touchdowns, six interceptions and was 99-for-188 through the air. He rushed for 981 yards.
Soria didn't mind giving up quarterbacking, he wanted to try something new and felt it held him back a bit.
"I was like 'where ever I fit on the field on the new school is what I'm going to do to help the team out,'" Soria said.
He was fifth in 1A in passing, fourth in points with 128, fourth in total yards (2,529), fifth in touchdowns (19) and sixth in rushing.
On defense he had 25 solo tackles and 21 assisted tackles to end the season with 46 total tackles. He made one interception, one fumble recovery and two pass deflections.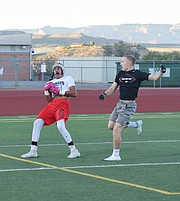 Young said Soria was a plesant surprise.
"I didn't know, I didn't really know anything about him," Young said. "I'm focused on who we play, so I didn't focus on that I'd heard some good things, but until you see the kid. Like I said, he's just a great kid."
Soria adds to a Mingus team that returned just six future seniors from the 2016 team.
"Seniors are important to your team and you look up to seniors for leadership," Zabala said. "I know that adding another one to this group is going to be amazing, it helps this team all through this year, not with numbers but all through the season, off the field and on the field."
With Soria fitting into Mingus so well, it takes some of the sting from away from moving.
Soria said it hurt leaving his family and friends at Williams and thought they could have won the state championship in 2017 but he thinks it's for the best, that he's making himself better through the hard work at Mingus.
"I feel like it was tough, especially for my family and friends because I build a legacy there and just to leave it like that," Soria said. "Next year I believe we could've won a state championship and throwing that all away it kinda like breaks my heart but really I just miss family and friends. I'm more like a family guy."