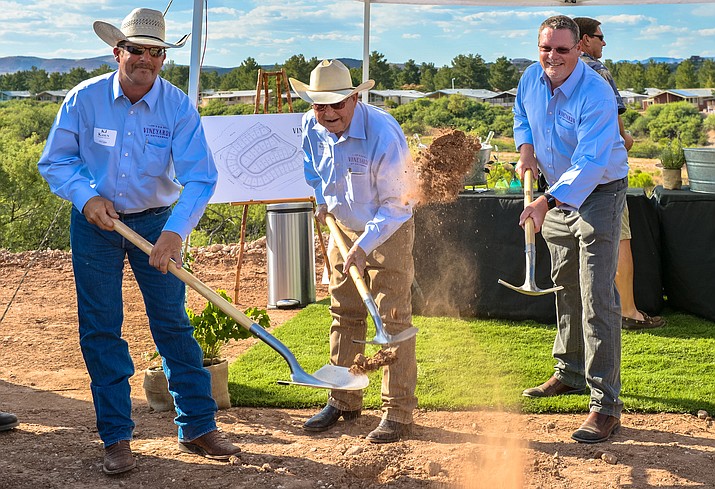 Originally Published: June 10, 2017 2:12 p.m.
COTTONWOOD – Local officials joined development partners and industry professionals to officially break ground on The Vineyards at Cottonwood – a multi-phase, residential development in Cottonwood. Co-hosted by Yavapai Title, the onsite event allowed attendees to preview Phase 1 plat and home elevations.
The Vineyards was designed to provide a sense of place that is rooted in Cottonwood's small town qualities and central presence in the Arizona wine community. Home designs incorporate front porches, inviting a "hometown" feel and allowing neighbors to meet and greet one another.
The first phase will consist of 41 single-family homes at the NE corner of 89A and Groseta Ranch Road. A main sewer line will be built to connect at Kendra Heights, and the project has committed to impact fees that will fund an additional, future lift station along with other Cottonwood infrastructure. Built in the American Craftsman style, construction should begin mid-summer and be ready for a Grand Opening this Fall.
"Phase I homes, ranging from 1,500 to 1,900 square feet, will be oriented toward views of the Mingus Mountains to the South, Jerome to the West and Red Rocks to the North. Tranquil spaces planted with vines and fragrant, drought-tolerant greenery will bring the vineyard theme to life." - Clark Pettit, Managing Partner
With a multitude of arroyos, ravines, flood plains and washes, a community trail system will offer natural, undisturbed settings for wildlife viewing. A short walk or bicycle ride will lead one to Main Street and Old Town.
"We aim to create a strong community experience with plenty of open space, walkways and public areas. The construction of a walking trail across the neighboring property will provide easy access to Old Town's wine tasting rooms, restaurants and shopping," said Clark Pettit, managing partner
A multi-phased project, The Vineyards has been approved for 555 homes over the next 8-10 years and is committed to building a long-term relationship with the city and community. Hiring local trades, buying materials locally and supporting the retail and service sectors of the community are a few of the key objectives in keeping revenues in Cottonwood.
The Vineyards at Cottonwood is managed by Granite Mountain Asset Management LLC. The Managing members - Clark Pettit, KJ Kasun and Swayze McCraine – have a 28-year history of developing projects in Northern Arizona, specializing in communities similar to Cottonwood (Prescott, Prescott Valley, Williams and Payson).