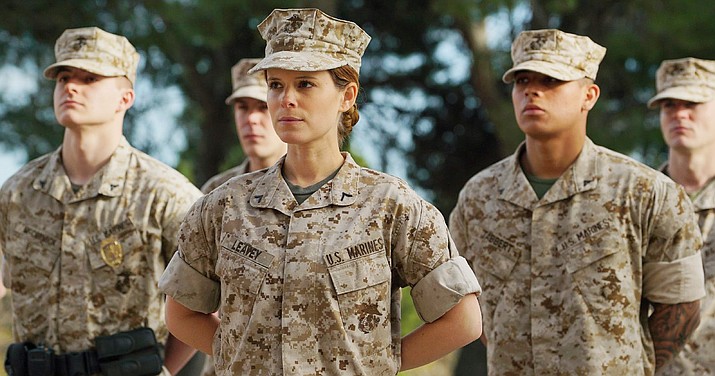 ---
---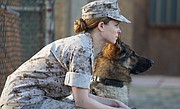 Megan Leavey is a movie based on the true story of a woman in the Marines and the dog she leads in detecting explosives and firearms.
It is an outstanding film with a great performance by Kate Mara who plays the title character. The war scenes are in local skirmishes, away from major battlefields, and introduced with nail-biting suspense.
We are introduced to Megan Leavey at the start of the film as a young woman who is very bored and unmotivated in her life. She lives in a suburban community in New York, with her divorced mother, Jackie Leavey (Edie Falco), and Jackie's useless boyfriend.
Jackie is not much of a positive influence on Megan.
Megan is on an errand in town when she spots two U.S. Marines, in full dress uniform walking by. A spark ignites in her and she signs up for duty.
Megan has the usual tough time in boot camp, but she perseveres with intense determination.
Megan is out on a drinking spree with some of the other recruits and she gets in trouble for being drunk. Her sergeant assigns her to clean out the kennels where the bomb-detecting dogs are housed.
Her attention is captured by one dog in particular, Rex. Rex is very aggressive and gives her a fright when he first sees her.
But Megan is attracted to Rex and when she finishes her preliminary training in the dog unit, she gets assigned to be his trainer.
Megan gets advice from the head of the K-9 unit, Sergeant Gunny Martin (Common), and she faces Rex with an attitude that tells him she will not back down.
Megan and Rex become friends and partners at first. Gunny tells Megan that her feeling for the dog travels down the leash to the dog's heart.
Before too long, Megan and Rex become bonded, as close as siblings.
They are part of the cadre of marines going to Iraq. Megan and Rex take part in more than 100 missions and save many lives. This part of Megan Leavey is focused on the battles where Rex's skills were vital for saving lives. In one mission, they are both injured and they are separated for a while — a hardship for both of them. But they are reunited for more work, although Rex's physical strength is diminished.
When Megan's tour of duty is complete and she is returned to civilian status, she wants to adopt Rex.
But the rules prevent that. Megan's post traumatic stress problem is exacerbated by her separation from Rex.
There is a lot of emotion in this part of Megan Leavey. Megan goes to Washington to plead her case and ultimately, she prevails.
All the players are good, with special praise for Kate Mara and Common.
The real Megan Leavey appears in a bit part as an NCO greeting the new recruits when they arrive at boot camp.
Megan Leavey is at Harkins Sedona 6 Theater.