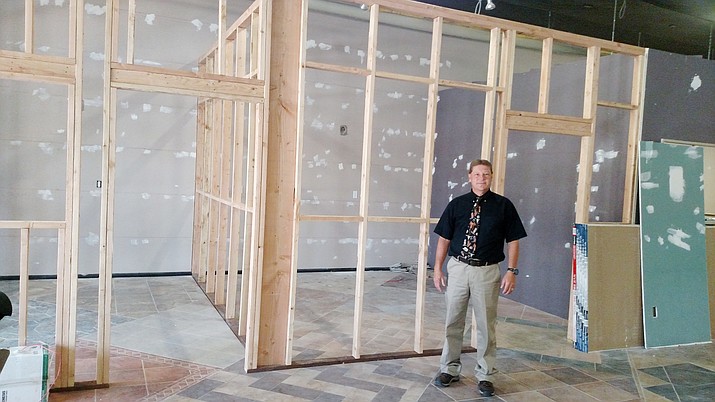 Originally Published: June 29, 2017 1:09 p.m.
COTTONWOOD – The question over the ideal approach for delivering vocational education in the Verde Valley has always been one of having a centralized campus vs. satellite services.
For the Valley Academy of Career and Technical Education, the answer to that question is a little of both.
In outlining the draft of V'ACTE's five-year strategic plan for the Mingus Union School Board Tuesday, V'ACTE Superintendent Bob Weir said the tech-ed district is in the process of relocating its administrative offices from South Main Street in Cottonwood to a spacious facility near the intersection of State Route 89A and Zalesky Road.
Weir said V'ACTE has entered into a three-year lease for the 7700-square-foot facility that was the former home to Flip City Gymnastics. He expects the transition to be complete sometime in August.
Since its formation in 2000, V'ACTE has been a school without walls, delivering satellite services to students at the high schools in Cottonwood, Camp Verde, and Sedona.
Now, V'ACTE will blend that philosophy with a central campus curriculum focusing on math-centric construction trades and heating and cooling installation and repair. When the move is complete, Weir said V'ACTE will lease the four suites it now owns in the Cottonwood Financial Center.
"This will now allow us to be located where our students are," said Weir.
Well, some of them.
V'ACTE will continue its satellite class offerings at Mingus Union, Camp Verde and Sedona-Red Rock High School as well as its nursing curriculum classes at Verde Valley Medical Center.
Those satellite class offerings include:
• In Cottonwood at Mingus Union High School: engineering, agriculture science, automotive technology, welding, film and TV, architectural design/drafting, business office management, sports medicine and theater tech.
• At Camp Verde High School: graphic and web design, agri-business, auto tech, culinary arts, cabinet making, audio-music recording and sports medicine. Weir said there is a possibility that CVHS also will offer theater tech and business office management next year.
• At Sedona-Red Rock High School: digital communication, digital photography, film and TV and theater tech. Sedona also will add a sports medicine program next year.
Mingus concerns
While complimentary of V'ACTE's current and long-range plans, some Mingus board members were hesitant to endorse the move to a central facility, especially given the fiscal and potential legal issues confronting the tech-ed district.
As for the move to a new facility, "I'm not sold on that being a priority until your other issues are resolved," Mingus Board President Anita Glazar told Weir. "We need to get this other thing out of the way."
As for that "other thing," Mingus board members cited the "trust" issues that still exist between Mingus and V'ACTE as well as the still-unresolved financial claim of more than $300,000 Mingus contends is owed to the high school by V'ACTE.
Board Member Robb Williams applauded Weir for "your non-defensiveness in dealing with us."
Glazar told the V'ACTE superintendent, "We understand that you inherited the problem."
Despite the good working relationship with Weir, Williams pointedly asked him how many members of the V'ACTE governing board were serving when decisions were made that have resulted in the conflict that exists between the two school districts, as well as the audit woes confronting V'ACTE.
Weir said two current board members of the five now serving have long-term ties to V'ACTE, while one other has significantly less time on the board.
"That's the elephant in the room," said Williams
To which Glazar replied, "It's bold of Robb to bring this up."
Weir admitted there are still obstacles to overcome for V'ACTE.
"Yes, there were 45 items. It was not a clean audit," said Weir. "I can't control past problems. We're doing everything we can to solve the problems, and we will."
V'ACTE Strategic Plan
Weir said V'ACTE's strategic plan is a moving target, subject to change based on the feedback it receives from Mingus and the other member school districts.
He added that every component of the strategic plan is focused on creating financial stability for V'ACTE, building enrollment, and to provide staffing, processes, procedures and policies to successfully resolve the legal and financial challenges facing the district.
"In short," said Weir, "we hope we're building trust."
Ultimately, in five years, the V'ACTE strategic plan envisions the construction of a cooperative career and technical education center with Yavapai College.