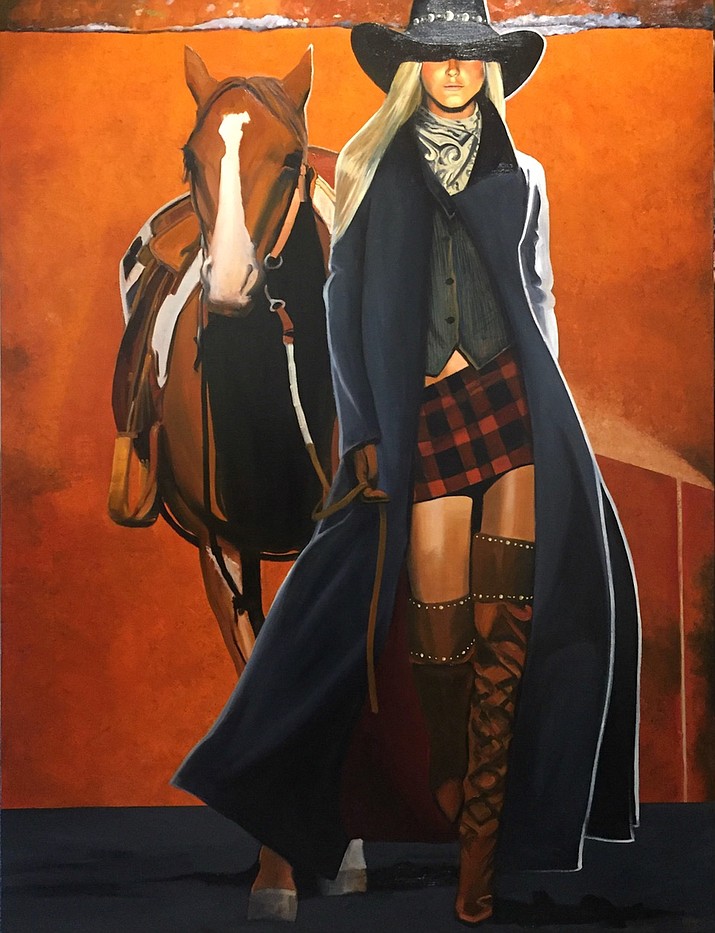 ---
---
Original artwork holds a living presence. It has the power to illuminate, to make us feel, to take us to a place beyond ourselves. In diverse mediums it opens hearts and minds and our response to it is visceral and personal.
Underneath this response lies the unspoken connection between the viewer and the artist that created the piece. Each work of art boldly distills the unique inner vision of the artist that created it innately imbuing it with this "living presence." In July the award winning Goldenstein Gallery celebrates this connection between artist, artwork and collector with "Independent Vision."
David DeVary believes that "Attitude is everything...for men and women. I want to capture the spirit of the American Dream, to evoke the hero in all of us." The myths of the American West captured his imagination and DeVary's paintings exemplify the power of attitude and adventure, personifying the cowboys and cowgirls he's met. Celebrating these American icons he paints them using the same technique that were used to create icon paintings of old; embellishing with gold, silver and copper leaf. This powerful series speaks to the "Hero" within all of us.
Acclaimed painter Adele Seronde, whose body of work spans more than eight decades, says, "I believe that art has the miraculous power of beauty which inundates and transforms both the creator and the world." Her work often literally cannot be contained to one canvas, as she finds that one will simply not express the vastness of the Southwest landscape she so loves. Her work is full of bold strokes and brushwork as she urges her viewers to expand their sense of awareness.

"Our humanity is found in our compassion for others and our willingness to engage in life, not just to float on the surface," states mixed-media painter Karyl Bennett. "My wish is that you stand before it and ask questions, not have all the answers with a quick glance." Her work is reflective of that desire using a technique and medium developed from years of experience. Perfecting a method to capture her emotions, she reverse paints with inks and metals on Plexiglas, which results in rich luminosity, depth and sense of movement.
Allegorical Art is a term sculptor James Muir uses to describe his art as being filled with symbolic meaning. Bridging the centuries from his historical military subjects to today's social, political and spiritual commentary, his sculptures speak eloquently of Duty, Honor, Courage, and Justice, but above all, Truth and the ultimate triumph of the Human Spirit. His pieces are in both public and private collections internationally.
"To bring light into the darkness, such is the duty of the artist," says Muir "The longest journey is the journey within." Muir believes we are all given a path of service to humanity and considers his talents as his own way for him to contribute in a meaningful way.

His newest work, a breathtaking monumental "Christ of the Holy Cross" commissioned for the 60th Anniversary of the Chapel of the Holy Cross, will be installed at the altar standing over 30 feet tall. Each element included in this sacred piece holds a special spiritual symbolism celebrating the Christ, his life and work. The maquette sculpture of Christ of the Holy Cross is now available to see and collect at Goldenstein Gallery.
Marilyn Bos use of layers, often 100 or more layers on a single painting, allows light and shadow to create the essence of the world she is creating. Each painting changes as the light reaches the various layers and the sculpted texture capturing the Canyons of the West and the abstractions of nature. She says, "I believe painting is the most nonintrusive way to heal ourselves and others, silently without word or sound, through the eyes into the soul. Painting is my love and responsibility, and the gift is sharing it with others."
Join these and other local artists at the opening reception for Independent Vision in Friday, July 7, from 5-8pm.

For more information on their artists, artwork, exhibitions, artists in residence and events please visit GoldensteinArt.com. You can sign up for their informative monthly E-zine, find them on Instagram and Facebook or call 928-204-1765. Open daily, Goldenstein Gallery's new address is 150 State Route 179.