The World of Ultra Running
It's not your typical weekend 10K; in fact try stringing 6 to 10 back-to-back and you've entered the world of ultra-marathoning
Originally Published: March 2, 2017 2:33 p.m.
Saturday February 18th, Magdalena Romanska, owner of the Be Fit Fit Studio in VOC, completed the 60K (38.5 Mile) Black Canyon Trail Ultramarathon.
The race is presented yearly by the Aravaipa Running company, and, along with the 60K, it features the 100K, which is the Western States Qualifier.
The organizers are well-known for the top-notch preparation, great aid stations, readily available information for the pacers and the crews, and their fabulous volunteers, without whom the races would not have been possible.
Typically, the race is a point-to-point in the Sonoran Desert and runs along the non-motorized National Recreation Black Canyon Trail and consists of single track trail, jeep roads, and pieces of an old stagecoach route.
This year, out of consideration for the safety of the runners, and due to the torrential weather, flooding of the Agua Fria river, rain, wind and mud, the course was altered into a loop, starting in Mayer, AZ, travelling all the way down to Bumble Bee and then coming back to Mayer. This way, the runners avoided multiple crossings of the high river waters. Due to the sudden change in forecast, the runners were advised to carry emergency gear, such as flashlights, emergency blankets, waterproof outfits, gloves and beanies. Due to the weather, multiple DNS (Did not Start) and DNF (Did Not Finish) were reported. The muddy conditions significantly slowed down all the runners, as running shoes would oftentimes simply stay in the mud, while the runner was attempting at their next step.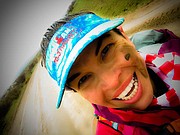 Magdalena completed the distance in 9:35:51hr and was the 36th woman and 63rd person overall crossing the finish lane. Magdalena's Garmin watch recorded 6,620 feet elevation change, 76,356 (muddy) steps taken, and more than 3,200 calories burned.
The organizers assured a warm shower and delicious post-race food at the Mayer High School, all of which was greatly appreciated by the rain-soaked and frozen runners. The overall winner was Cody Reed from Flagstaff, with the time of 4:41hr. Among women, Amanda Basham from Salt Lake City, Utah, claimed the number one with the time of 6:05hr.
More like this story
SUBMIT FEEDBACK
Click Below to: