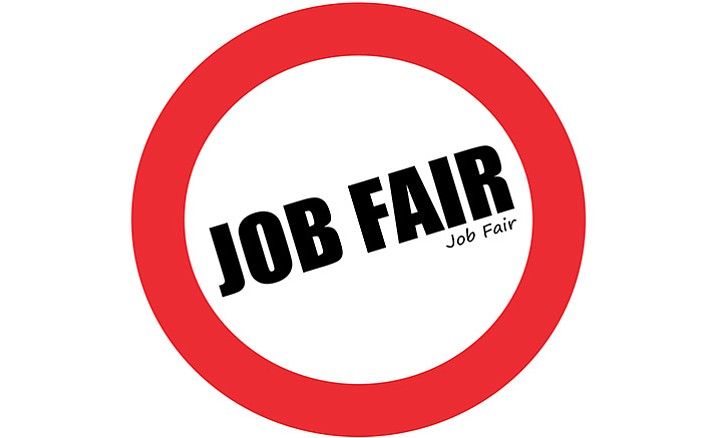 Originally Published: March 23, 2017 4:13 p.m.
2017 Verde Valley Job & Career Fair planned April 5
The 2017 Verde Valley Job & Career Fair will take place April 5, 9 a.m. to 1 p.m. at the Verde Valley Fairgrounds. The Job Fair is hosted by the Cottonwood Chamber of Commerce, Yavapai College, DES Employment Service, and NACOG – Arizona at Work.
2017 sponsors for the Job Fair include Spectrum Healthcare, Windsor Austin House, and Northern Arizona Healthcare.

Booth space is limited and will be reserved for hiring employers only. March 31, 2017 is the registration deadline for hiring employers.

There are hundreds of job openings being represented at this event. Please visit CottonwoodChamberAZ.org or yc.edu/redc for a list of participating employers and link to their websites to view their job openings.

For sponsorship and employer registration details, call Karen at the Cottonwood Chamber of Commerce 928.634.7593 or Katherine at Yavapai College 928-776-2008.
OLLI announces spring schedule and open house
Yavapai College's Osher Lifelong Learning Institute (OLLI) of Sedona and the Verde Valley is pleased to announce the start of the Spring term on April 10th. Over 90 offerings, both Learning Groups (classes that meet weekly) and Workshops (classes that meet once) are available, crafted by enthusiastic and dedicated facilitators who believe strongly in lifelong learning.
Prior to the start of the term, classes can be sampled at our open house event – "A Taste of OLLI" – on March 30th from 9:30 to 1:30 at the Yavapai College Sedona Center, room 34.  There will be refreshments and lunch provided, and samples of classes presented in 4 different classrooms throughout the day.  Come and decide what you want to take, meet facilitators and talk with OLLI members.
This Spring, learning groups (classes) and workshops take place at the Yavapai College campuses in Sedona and Clarkdale and in Camp Verde. Learning groups meet weekly for six weeks. There are traditional learning group favorites as well as new offerings in our catalog, local interest classes, various writing classes, News & Views, science, history, philosophy and metaphysical subjects, to name a few.
There are also free programs that are open to the public, including Arizona Humanities lectures, and our Lunch and Learn Program which meets Wednesdays at lunchtime on the Sedona campus, beginning April 12th. The Lunch and Learn series features speakers who are influential in our local community and beyond.
On Thursdays, beginning April 13th, a weekly keynote speaker series, Brown Bag Brain Buzz, will take place on the Verde Valley Campus from 12:30 to 1:30 p.m. These talks focus on great minds and ideas that have shaped human history.
For those who cannot commit to a learning group, fascinating and engaging workshops and presentations are offered. Workshops and presentations cover a wide array of themes such as history, politics, health and wellness, self-help, volunteerism, international relations, music appreciation, literature, metaphysics, philosophy, personal finance, language, and photography.
OLLI is a dynamic organization within Yavapai College created to meet the needs of intellectually active mature adults. What makes OLLI a unique learning experience is that it is based on the love of learning and there is no pressure of tests, grades, or papers. It is a gathering of people who are endlessly curious.
None of the learning groups, presentations, or workshops would be possible without the heart, passion, and steadfast dedication of the team of OLLI facilitators who volunteer to lead members in lively discussion and interaction. OLLI is always in search of individuals or groups that might be interested in sharing their knowledge, expertise, passion, or interests with others.
OLLI invites you to be a facilitator for Summer or Fall sessions in 2017. You do not have to be a retired professor from a university to facilitate a class. The main requirement is a passionate interest in a subject. If you feel that you have valuable life experience, have researched a topic well in your life, are a professional who might have valuable information for mature adults, or have a passion for a topic, you can be an OLLI facilitator! There is no greater reward than to share what you love with others. OLLI students come to class because they genuinely want to learn and meet new people.
The Spring catalog can be viewed online at https://www.yc.edu/ollisv.  For more information, please call 928-649-4275. Catalogs are available at many public locations (e.g. libraries, supermarkets etc) in Cottonwood and Sedona.
Meet and greet Jerome author at Camp Verde Community Church
At 1 p.m. until 3 p.m. Friday, March 24, Jerome resident and author Roberto Rabago will speak about his book Ghosts of Copper's Past at the Camp Verde Community Church, located at 480 S. 1st St. Rabago, born and raised in Jerome, is also the author of the book Rich Town, Poor Town, about his life growing up in the historic Arizona mining town, as well as the stories of other Jerome families.
After the presentation, Rabago will be available to sign copies of his book, which will be available for purchase. For more information, call 649-5449 or email mcep@verdenet.com.
Life and Fire Safety Awareness Night
The Verde Valley Fire Chief's Association and Yavapai County Sheriff's Department will present Life and Fire Safety Awareness Night, Monday, May 1, 6 p.m., at the Mingus Union High School Auditorium, 1801 E. Fir Street, Cottonwood.
All are welcome to the event that will feature fun skits about fire safety and crime prevention with Sparky the fire dog , Smokey Bear and Dudley Do Right.
Pickle-ball comes to Camp Verde
The national craze known as Pickle-Ball is sweeping through Camp Verde Parks & Recreation three mornings per week with three courts available. As many as 25 or more people per day are enjoying the fun. Volunteers set up the nets, sign in players and help introduce new players to the sport. Currently Pickle-Ball is offered on Tuesday and Wednesday mornings from 9:30 – 11:30 and Sunday mornings from 9 to 11:30 in the Community Center Gym at 51 E. Hollamon Street. Currently there is no charge for the experience but donations are accepted.

Volunteers have enabled the sport to grow and continue here in Camp Verde. With the approach of summer, many of our volunteers are leaving for the season. In order to continue to play over the summer in the air-conditioned Gym we are recruiting new volunteers. Volunteers would be issued a key to access the Gym and equipment to set it up and take it down for each day. The more volunteers the easier it is and we can continue to have the fun available all summer. If you are interested in being a volunteer or just want to play, stop by during any of the scheduled times and check it out.
New players are invited to come between 9:30 and 10:30 for some quick instruction and practice and then start playing. Pickle-Ball is played on a court similar in layout to a tennis court but smaller. The paddles are like oversized ping pong paddles and the ball is similar to a whiffle ball. This means a smaller court to cover and ball speeds that won't take your head off! We have three indoor courts available and our wooden floor is great for action. We provide all the equipment and there is no charge, but donations are accepted. Grab your tennis shoes and come see what all the fun is about! For more information contact Camp Verde Parks & Recreation at (928) 554-0829.
Fort Verde 'History of the Soldier' April 8-9 Fort Verde State Historic Park in Camp Verde will honor Veterans at its annual "History of the Soldier" event on Saturday, April 8, 2017 from 9 a.m. to 5 p.m. and on Sunday, April 9, 2017 from 9 a.m. to 2 p.m. Through living history interpretation, the Park will honor the dedication, commitment and sacrifice of military men and women from the Armed Forces of all eras. We invite veterans from around the state to attend this event.
At 1 p.m. on Saturday, Arizona's State Historian Marshall Trimble will provide an entertaining and informative appearance. Visitors will also experience military encampments through a living history timeline from all war eras. Other activities will include flag raising ceremonies and special memorial services as well as the drill calls, colors and retreat, the firing of the cannon and Gatling gun, and military tactics and demonstrations, all performed as part of the event. Don't forget to stop by the Dutch Oven Cookshack to see demonstrations held throughout the day.
The cost is the park admission fee of $7 per person for those aged 14 and up and $4 for children aged 7 to 13. (There is no charge for children 6 and younger). For more information, contact Fort Verde State Historic Park at (928) 567-3275 or visit AZStateParks.com/fort-verde. Learn about our Veterans Discount Program at AZStateParks.com/passes.
WHAT:  History of the Soldier
WHERE:  Fort Verde State Historic Park - Located in downtown Camp Verde, AZ at 125 E. Holloman St. Take I-17, turn right onto Highway 260 (east), turn left onto Finnie Flat Road, which becomes Main Street, turn left onto Holloman. The main entrance is two blocks on the right side.
WHEN:  Saturday, April 8, 2017 from 9 a.m. to 5 p.m. and on Sunday, April 9, 2017 from 9 a.m. to 2 p.m.
Montezuma Well needs volunteers for traditional use garden
Montezuma Well has reestablished their traditional use garden and is looking for a few regular volunteers to help keep it maintained on a weekly basis.  Volunteer opportunities are not limited to individuals.  Groups are also encouraged to participate.  Getting your hands dirty with fellow co-workers is a great team building exercise.  Educational programs will be offered to school and scout groups interested in assisting as well.
To learn more about the program, contact Volunteer Coordinator Krystina Isaac at (928) 567-3322x223 or email her at Krystina_Isaac@nps.gov.
Montezuma Well is a free site to visit every day from 8am to 5pm, with the exception of Christmas Day, when the site is closed.  The garden and picnic area close at 4pm.
Over 20,000 National Park Service employees care for America's 417 national parks and monuments and create close-to-home recreational and cultural opportunities.   Tuzigoot National Monument is located at 25 W. Tuzigoot Road, Clarkdale, AZ. For further information, call 928-634-5564, visit www.nps.gov/tuzi or follow us on Facebook, Twitter and Instagram.
GriefShare support group at Calvary Chapel Camp Verde
Struggling with grief? GriefShare support groups are led by caring people who have experienced grief and successfully rebuilt their lives. GriefShare seminars feature nationally recognized experts on grief recovery topics: "Is This Normal?" "The Callenges of Grief,"
"Grief and Your Relationships," "Why?", "Guilt and Anger," and others. These sessions are open to both those who have had a recent loss of a loved one or an earlier loss.
This GriefShare support group will meet at Calvary Chapel Camp Verde, Tuesdays, April 4th through July 4th, 6-8 p.m. The church is located at 514 Main St. in Camp Verde.
For more information contact Julie Scott at 928-963-1085
Verde Valley Vettes of Arizona meet March 26 The monthly meeting of Verde Valley Vettes of Arizona (Corvettes), a club composed of people who own, have owned, have thoughts of owning a Corvette will be held at 9:30AM on Sunday, March 26 at Annie's, 660 E Mingus Avenue, Cottonwood, AZ.  All are invited!  (Check the club website, http://verdevalleyvettes.com for more information.)
Gospel Truth seminars at New Hope Christian Fellowship
Join us at Gospel Truth Seminars Friday March 31st at 6 pm at New Hope Christian Fellowship 1760 Villa Drive in Cottonwood located near Cork and Catch. Seminar topics covered will be: What does it mean to be born again, learn how to hear God's voice, learn how to receive peace, joy and health, and how to live without fear. Audience participation with question and answers will follow the one hour presentation. For more information contact ty@cornerstoneranchaz.com.
Bridging gap between psychiatry and spiritual awakening
The Monday, March 27 program of the Mental Health Coalition Verde Valley will feature Katie Mottram 9:30AM-11AM addressing, via SKYPE from England, her transformative journey from suicidal despair to spiritual awakening, the subject of her book, Mend The Gap.   Having worked in the mental health field in England for 15 years, Katie realized that the system in which she worked could be doing things differently. 
The meeting will take place at Yavapai College, 4215 Arts Village Drive, Sedona. The program is free and open to the public. The presentation will be followed by the Coalition business meeting from 11AM-12:15PM. 
According to Lori Morrison, Director of the Education Committee, "The Coalition seeks to bring information to the community about all aspects of mental illness research and discussion. According to NAMI, one in 4 adults will experience a mental health crisis this year. We have to keep learning about these crises and what new thinking and treatments are out there."
The Mental Health Coalition Verde Valley is a 501C3 non-profit volunteer organization dedicated to building community support for families and individuals living with mental illness through education, advocacy, and community support services. For more information, contact Barbara Litrell 649-0135 or blitrell@aol.com. 
Craft show at American Legion Post 93 American Legion Post 93 will hold a craft show and craft supply fair from 9 a.m. until 3 p.m. Saturday, April 8. Quilts, bone pillows, jewelry, wood bowls and baskets, come early for the best selection of these home-made one-of-a-kind items and craft supplies.
For more information, call Mary Nordstrom at 928-567-6951. American Legion Post 93 is located at 286 S. Third St. in Camp Verde.
Safe river recreation workshops at Lower TAPCO
The first of two Safe River Recreation workshops will be held on Saturday, April 1, 10am – 3pm at lower TAPCO recreation area just off of Sycamore Road.  This popular event is sponsored by VRVNO http://vrvno.org/ and limited to 20 people.  Learn to kayak the Verde River.  Meet with local experts and river runners and learn which boats are appropriate for the area.  You will also learn about equipment and safety procedures. We'll practice getting in and out of a kayak, how to read river currents and use various paddle strokes to navigate river waters.  You will also learn how to avoid flips, how to self-rescue if you do, and swimming in moving water.  After a break for lunch it is time to paddle down a section of the Verde River.
Join expert kayaker Dylan Anderson with South by Southwest Adventures, http://sbsouthwest.com/ as he leads this workshop. All river-related gear will be provided including kayaks, paddles and life jackets - bring your own boat and gear if you wish.  Must be 13 years old and if under 18 accompanied by an adult.
Contact & Info:  928-300-3880 events@vrvno.org
Registration:  928-282-2202 │ registrar@vrvno.org
Register at: http://www.cvent.com/d/65qmpz
2nd annual Verde Valley Comic Expo
The 2nd Annual Verde Valley Comic Expo is Saturday, April 1 at the Cottonwood Recreation Center from 10 a.m. to 5 p.m., and it's shaping up to surpass the success of last year's event. The event is sponsored by the Cottonwood Public Library and is a fundraiser for the Bookmarks – Friends of the Library. Proceeds go to the Adult and Youth Services Summer Reading Program for the Library. Adults and children alike will have a great time meeting a wide spectrum of comic artists. Meet Mini Marvel artist and guest of honor Chris Giarrusso.
Writer of the Flash and Batman Gotham Brian Augustyn. Stephen Reid is an animator who worked on the movies Space Jam and Teenage Mutant Ninja Turtles. Michael Gallagher from Archie Comics. Local comic book creators including the Janimal, Danny Roberts and Russ Kazmierczak will be present as well. Many more artists will be in attendance to meet and be inspired by. Enjoy multiple cosplayers (costume players) doing performance art wearing their favorite comic book character attire. Food trucks, panels and the ever popular Artist Sketch-off are just a few of the things you can witness at this fun event.
Moderator Ed Harris will be facilitating a panel called "Art in Gaming" from 12—12:45 pm, as well as "Self-Publishing: How We Do It!" from 1:15—2 pm, and more panels are to be announced. Don't miss the Sketch-Off from 2:30—3:15 pm. This will be a fun filled event for family members of all ages so don't miss it!
Admission is $5 or $3 with 2 canned goods donation. Kids under 10 get in free. Canned goods will be donated to the Old Town Mission. The Cottonwood Recreation Center is located at 150 S 6th St in Cottonwood.
Verde Valley Leadership accepting applications for Class XII
Are you new to leadership or new to the Verde Valley? Verde Valley Leadership is looking for you.
Verde Valley Leadership (VVL) is a local comprehensive leadership program formed over 10 years ago providing professional and personal growth opportunities through leadership skills, community awareness and diverse influential networks.
VVL is a one year program inspiring servant leadership, desires to give back to the communities and to make a difference. Leadership is a practice; a challenge to realize one's potential. With over 100 program graduates, Verde Valley Leadership provides skills to an array of valuable contributors in private, public and non-profit organizations throughout our community.
Presently, VVL is accepting applications for Class XII from individuals who demonstrate the skills and interest to work toward the best possible environment for families, businesses, non-profit organizations, government and other systems that nurture strength within our communities.
To speak with someone about the program, find answers to your questions or learn more, please contact Krishan Ginige, Recruitment Committee Chairperson at krishan@sec-landmgt.com or call 928-202-6310.
If you are interested in joining Verde Valley Leadership Class XII or know of someone who you believe may benefit from this leadership program, complete the application on our website: vvleadership.org today.
Yavapai County community input for 2017 Community Health Assessment
Does your neighborhood need more room to run, bike and play? Do you have enough access to healthy food? Yavapai County Community Health Services (YCCHS) wants to know what you need in your community to make it a healthier, happier place to live. YCCHS is partnering with Pinnacle Prevention, a public health services nonprofit, to conduct the 2017 Community Health Assessment. YCCHS is required to complete the assessment every five years, and the last assessment was completed in 2012.
The health assessment is a comprehensive examination of health needs and opportunities for improvement across Yavapai County communities. It aims to identify pressing health concerns and needs by examining data and gathering input from the community. YCCHS and Pinnacle Prevention will complete the assessment between March and June, 2017.
All Yavapai County residents are encouraged to participate by providing input through the community survey (available in both English and Spanish) participating in a focus group, or providing insight through interviews. This Community Health Assessment will help YCCHS and community partners better understand health needs and establish priorities to address these needs to result in a healthier Yavapai County for everyone.
Community members can participate in the survey online at: English: https://www.surveymonkey.com/r/YavapaiCommunityHealth
Spanish: https://www.surveymonkey.com/r/EncuestaDeSaludDeYavapai
Learn more about Yavapai County Community Health Services: http://www.yavapaihealth.com/
A Course in Life and Faith: A Baháí perspective
The Cottonwood Baháí community will host a Course in Life and Faith to be held at the Cottonwood Public Library free to the public. This course will explore the existence of God, the need for religion, the oneness of Mankind, equality of the sexes, economic stability through spiritual solutions and many more topics.
If you are wondering about the path our world is taking, the causes of political strife and economic instability, this course may be for you.
The third class will be held on Saturday, March 25, 2017 at the Cottonwood Public Library from 12:30pm-1:30pm and will be titled: The Covenant and Man.

The Bahai Faith teaches "the well-being of mankind, its peace and security, are unattainable unless and until its unity is firmly established." Sponsored by the Cottonwood Baháí community.  No fees, no homework, all are welcome.  For further information, please call (928) 649-5845 or (928) 274-6289.
Randall Hauk Community Spirit Award
The Randall Hauk Community Spirit Award will once more be given to a senior at Mingus Union High School who exhibits characteristics focus on issues that effect the community and generosity with their time in those efforts. This award is named in recognition of Randall Hauk, owner of Randall's Restaurant in Cottonwood, who has exhibited great generosity in helping nonprofits and school programs by offering his culinary ability and business area free of charge.
All in the community and especially those programs who have benefited by Randall's efforts are encouraged to contribute to these funds. All proceeds will be be given in this 2017 Randall Hauk Community Spirit Award. This award will be presented at Mingus Union High School's honor assembly in May . Contributions will be collected at Randall's Restaurant or may be mailed to Kiwanis Club of Clarkdale/Verde Nonprofit Foundation, P.O.Box 1311, Cottonwood, AZ 86326 .
Clarkdale to present re-enactment of 1928 bank robbery
Want to see a little local history in action? The Clarkdale Historical Society and Museum proudly presents the 1928 Bank Robbery of the Clarkdale Branch of the Arizona Bank in full color and sound April 8 on Historic Main Street in Clarkdale.
The re-enactments will take place during the 8th Annual Clarkdale Historic Building and Home Tour at 10:30, 12:30 and 2:30. Come see your local friends and neighbors as they portray the infamous Willard Forester and Earl Nelson, bank robbers by profession; David Saunders, the bank manager; and the lawman Jim Roberts; and many others who just happened to be on Main Street that fatal day, June 21, 1928.
Community cleanup coming in March
Yavapai County Supervisor Thomas Thurman, working with the Public Works Department, is announcing a community cleanup in the Verde Valley.
The cleanup will be at the Camp Verde Transfer Station, 2600 E. State Route 260, 7 miles East of I-17.
The cleanup will be open to Yavapai County residents for no charge on:
March 25, 30, 31 and April 1, 6-8 from 8: a.m. to 4 p.m.
Accepted items include household appliances; bagged trash; automotive batteries; unmounted tires; furniture; and yard trimmings. Items that will not be accepted include loose trash; liquids; hazardous materials; cars; Ni Cad batteries; and dead animals.
This program is for residential use only. Commercial loads will not be accepted.
For additional information, contact the Yavapai County Public Works Department at 928-771-3183.
Brian Mickelsen Memorial –
A Run for Everyone
April 8 at Riverfront Park in Cottonwood, there will be four running event types to choose from for the 9th Annual Brian Mickelsen Memorial Run/Walk.
A full marathon, a half marathon, a 10K and 2 Mile races will give runners of all calibers a chance to participate in the City of Cottonwood's 25th annual running event. Register now at http://cottonwoodaz.gov/parksrec/bmm or at the Cottonwood Recreation Center beginning.
This race is a tribute to Brian Mickelsen, Cottonwood's beloved former city manager, who passed away suddenly on a training run in 2007.
Come share two of his passions - running and the Verde Valley - while experiencing this memorable and scenic course.
Please check out the website or contact Cottonwood Parks and Recreation at 928-639-3200 or email RBigelow@cottonwoodaz.gov for more information. Or contact Ryan Bigelow for volunteer opportunities.
April craft and vendor sale by Women of the Moose
The Verde Valley Women of the Moose will have a Craft and Vendor Show Saturday, April 1, 9 a.m. to 4 p.m., at the Moose Lodge 1449 Hall, 1051 S. Broadway, in Clarkdale.
The show will benefit Women of the Moose 1854 general fund and Moose charities.
Breakfast, lunch, coffee, ice tea, water and soda will be available for sale by WOTM.
For more information, email Janice Boblitt at vetswife58@yahoo.com or call 217-725-8934.
County road work to last through April
Yavapai County will perform construction work on Page Springs Road from Cornville Road to Purple Sage Road; Zalesky Road from Hwy. 89 to Savage Lane; Rolling Ridge Drive in Cordes Lakes; and Antelope Creek Road in Mayer, continuing through April 10.
Road construction will consist of asphalt overlay, shoulder work, and new striping. One lane of traffic will be open at all times in all locations.
12th annual Bob Dylan Birthday Party Concert in May
Old Town Center for the Arts is pleased to host, the 12th Annual Bob Dylan Birthday Party Concert. Bob Dylan was awarded the Nobel Prize for Literature on December 10, 2016, and he and his music will be honored right here in Cottonwood at the 12th Annual Bob Dylan Birthday Concert on Saturday, May 20, at 7 p.m., at the Old Town Center for the Arts in Cottonwood.
Get your tickets early for this historically sell out event. Dylan fans have known for decades that the songs and music of Robert Zimmerman have transcended what songs and music have always been, that they were poetry and commentary and more, and have endured with meaning for over half a century.
Verde Valley Equine Festival 2017
The annual Verde Valley Equine Festival will be held at the Verde Valley Fair Arena in Cottonwood April 21-23. This three-day event is full of professional clinics, a colt starting competition, magnificent exhibitions, shopping, and great food. Located just south of Sedona, the VVEF takes place in a town surrounded by multiple horse communities during Arizona's most beautiful springtime weather.
Exhibitions, training clinics, and informational sessions will take place in five different areas within the fairgrounds: two arenas, two round pens, and a "meet the expert" tent. Throughout the day you can roam from one area to another to experience all that the VVEF has to offer -- we have something happening at all five areas, all day, every day.
For more information, visit verdevalleyequinefestival.com and sign up for one of the participation clinics.
These special clinics give you and your horse a chance to get up close and personal with some of Arizona's leading equine experts. When it is time for a break from all the action, you and your family can enjoy browsing the many shopping vendors and pause for some great local food on site.
Katie Lee Folk Opera: Maude, Billy & Mr. D
From the heart and soul of the old Southwest comes a folk opera by Arizona's First Lady of song and sass, Katie Lee.
'Maude, Billy and Mr. D' is a timeless treasure that is being produced by The Blue Rose Theater of Prescott and will be performed on May 6 at 7:30 p.m. at the Mingus Union High School Theater in Cottonwood.
Tickets are $20 in advance, $25 at the door.

'Maude, Billy and Mr. D' whisks one away on a wild journey of romance, risk and revelation, destined to discover whether true love can overcome the power of death.
The show features performances by some of Arizona's premier musical talents including Tommy Anderson, Chloe Davis, Jody Drake, Peter McLaughlin and Kathleen Williamson.

Don't miss this opportunity to experience how the West was sung through the singular storytelling style of Katie Lee, one of the unique voices in the pantheon of great American folk singers, brought to life by an outstanding professional cast.

For more information or to purchase tickets, call 928-899-5472. Also visit our Facebook page at "Maude, Billy and Mr. D by Katie Lee."

Cowboy poetry at the Clemenceau
The Verde Historical Society welcomes the public to a recitation of cowboy poetry at the Clemenceau Heritage Museum on Friday, March 31, 2017 at 1 p.m. The museum, located at 1 North Willard, holds presentations of historical and local interest on the last Friday of each month.
At the March 31 presentation, Colin Connolly will recite poems by Waddie Mitchell, Baxter Black, Wally McRae, and Bruce Kiskaddon. Their poetry is an enduring chronicle of the people, places, and events in the lives of cowboys and ranchers.

Although cowboy poetry continues to be written, it began with the trail drives that followed the Civil War. According to Connolly, "cowboys sang songs and told tales for entertainment and to relieve the boredom and loneliness of the great trail drives."
For more information about the Last Friday series and upcoming events at the Clemenceau Heritage Museum, contact Betty Gaudy at (928) 634-2868.
Business support program offered for veterans
The Sedona Economic Development Office has teamed with the U.S. Small Business Administration to host a seminar for veterans and other Verde Valley residents interested in starting a business. In conjunction with the SBA's Veterans Business Outreach Centers (VBOC), the city will host a free, two-hour seminar on April 5, 10 a.m. to noon, at Sedona City Hall Vultee Conference Room, 102 Roadrunner Drive.

The session will be hosted by the Sedona Economic Development Office and led by Ed Molina, director of the Arizona VBOC, and business analyst and Air Force veteran Ken Anderson. Topics include the business ownership process, basics of recognizing marketplace opportunities and the competitive space, small business economics, legal and financial basics, and an introduction to business planning.
Molina, a retired Army CW4 with over 22 years of active duty, also has more than 23 years of business experience. He is a founding partner of Intelligence, Communication, and Engineering, Inc., a company with 230 employees in 22 states and two foreign countries.
This VBOC seminar is designed to provide general information to veteran entrepreneurs about upcoming ReBoot seminars that will be scheduled at a later date. The ReBoot seminars are provided under the umbrella of the U.S. Small Business Administration in an effort to stimulate more small business start-ups by exposing entrepreneurs to the resources that are available.
Community coaches needed for Yavapai Reentry Project
Are you interested in serving as a volunteer guide or mentor for someone reentering the community after serving in prison?  If so, the Yavapai Reentry Project is seeking your help as a Community Coach.  Volunteer coaches give these individuals the opportunity for community support, the ability to build healthy relationships and to create hope for their future. 
Community Coaches receive free training to learn needed skills for working one-on-one in helping provide referrals, emotional support and resources for former inmates.   No experience, prior qualifications or education is needed.  All that is needed is the desire to help.
The next Community Coach training will be held on Saturday, April 9, 2017 from 9 a.m. to 1p.m. at the Public Safety Building, 199 S 6th Street in Cottonwood.
To register call Ivy Rios at 708-0100 or email irios@matforceaz.org.
Agricultural Fun Day at Rusty's Morningstar Ranch in Cornville March 25
Rusty's Morningstar Ranch will host an Agricultural Fun Day on March 25, 9 a.m. to noon. The activities will include an FFA animal show and exhibit, Equine Care presentation (hoof protection, cleaning, grooming stations), tours of Rusty's Morningstar Ranch and ranch animals, and horticultural exhibits. Crafts made by the ranches will also be sold. The cost is $5/person (18+) and $3 for children. RMR is located on Libby Lane in Cornville. For more information contact Stacey at (928)634-4784.
More like this story