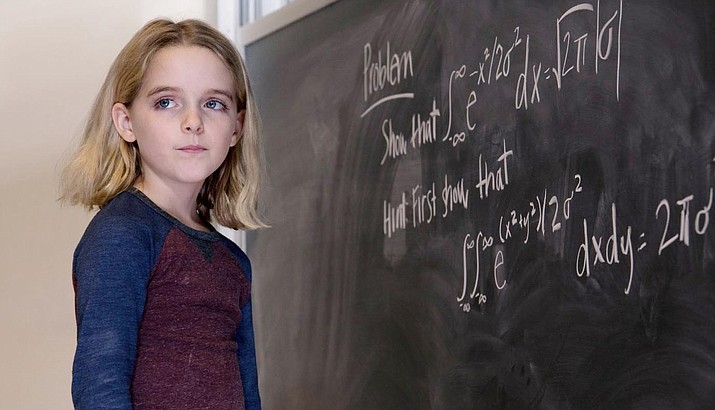 ---
---
Gifted is a movie that will satisfy the longing for good family fare, with very good acting, and scripted to keep us engaged and surprised throughout.
The 'gifted' one is a seven-year old girl, Mary Adler (MacKenna Grace), who is a math genius, matching and surpassing the ability of college math majors.
Her personality reflects her extraordinary talent, with insights that are often at a very mature level.
Mary's mother died by suicide when Mary was an infant; Mary's father has never been involved with her.
Mary lives with and is being raised by her mother's brother — Uncle Frank (Chris Evans).
They live in a community at a private boat harbor where he has a repair shop business.
Until the present time, Frank has been homeschooling Mary, not unaware of her prowess in mathematics.
He decides she should go to a public school, because she needs social contacts and experiences with other youngsters.
In first grade class, the teacher, Bonnie (Jenny Slate), is drilling the students in arithmetic, like "How much is 2 +2?" and "How much is 4 + 4?"
Mary is frustrated and the teacher starts throwing difficult problems at her.
Complex addition and multiplication examples are not a problem for Mary and the teacher quickly realizes her unique ability.
It is recommended to Frank that Mary should be registered, with full scholarship, in a special education school.
Frank refuses because he wants her to have a normal childhood.
Mary's mother was a math genius and she was always driven to reach the highest level of mathematical achievements.
In Franks mind, that is what drove her to suicide and he doesn't want Mary to feel that pressure.
Frank's mother, Evelyn (Lindsay Duncan), enters the scene. She has been absent from Frank for several years.
She learns about the situation and comes to insist that Mary should be allowed to pursue her passion for math.
Frank still refuses and the matter goes to court.
The drama gets played out as secrets and skeletons are uncovered.
The climax, infused with a bit of saccharine, is uplifting and surprising.
The acting is flawless, especially by Evans (Frank), Grace (Mary) and Duncan (Evelyn). Octavia Spencer plays a grandmotherly type neighbor in a less than notable role.
Overall, Gifted is a movie about people and their desires to get the most out of their lives.
The theme of Gifted — a child with genius ability who tries to fit into a normal life — has been done many times.
One of the films I think of most is Matt Damon's Good Will Hunting (1997).
Gifted is at Harkins Sedona 6 Theater.