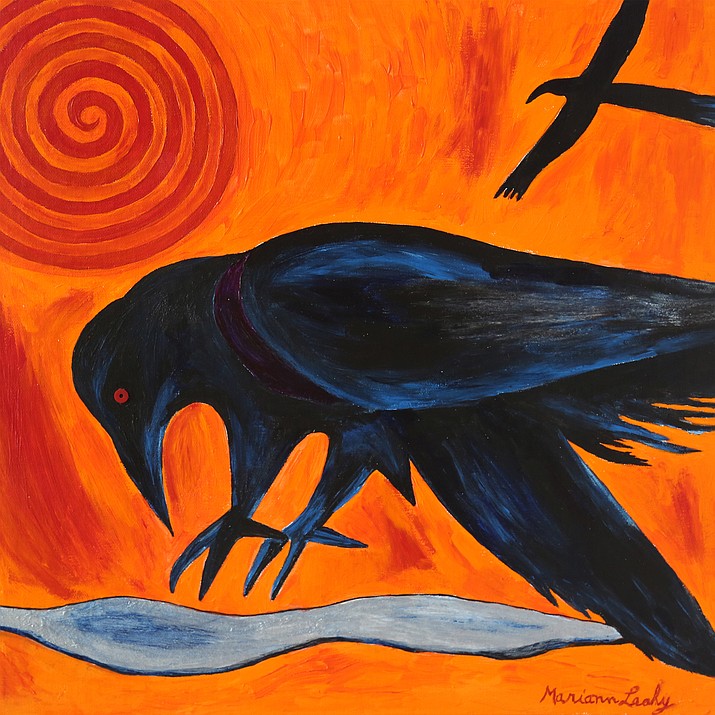 ---
---
What do you get when you invite hundreds of extraordinary artists to create new works within a 12-inch square space, and exhibit everything in support of Sedona's hometown cultural organization? The Arts Center has the answer in its Annual 12x12 Project and Fundraiser, scheduled for Friday, May 12 at 5:30pm in the historic Art Barn. Mark your calendar and get ready to collect some wonderful new works of art! 
The 12 x 12 Fundraiser invites artists and visual communicators from all over to create and donate a 12 by 12 inch work, which will be shown and offered at the event for $250—with proceeds going to support Sedona Arts Center's programs and operations. Art lovers will find painting, photography, fiber, ceramic, and even sculptural works. 
"This event is a fun way to support our valuable arts education programs and community arts outreach projects," said Debbie Winslow, the Arts Center's Operations manager. "As far as fundraisers go, it is the opposite of boring—made possible by and filled with wonderful creative people who care about our mission and our role in the community."
This year, all our wonderful contributing artists are also being invited to display one larger original work for sale in the Art Barn Theater during the weekend event—giving collectors a chance to view and acquire much larger works.  
Our 12x12 reception opens to the public at 5:30 pm on Friday, May 12, but get there early to beat the crowd. All 12x12 works will be offered for sale to the public for $250 each, and participating artists will be our honored guests at the reception. DuCharme Framing will be on site to frame 12x12 works directly after purchase, for an additional fee. This year, the exhibition and sale continue through Sunday, May 14—open to the public from 10am to 5pm.
Your Hometown Creative Place - About Sedona Arts Center
Sedona Arts Center has been bringing creative people together for the past 60 years. In 1956, a group of creative people decided to turn Sedona into a place of artistic learning and creative expression and began offering summer classes in painting, sculpture, and Native American crafts. The population of the area at that time was less than 400 people, most of whom were ranchers, orchard workers, and merchants. They shared a big dream to build a new creative community within the red rock landscape. 
In 1958, the Verde Valley School art department head, Egyptian sculptor Nassan Gobran, and a dozen other civic leaders founded the organization that would become Sedona Arts Center. A few years later, with support form the town's small Chamber of Commerce, we acquired a former apple orchard warehouse that became known as the Art Barn in what is now Uptown Sedona. The first exhibition featured works by Max Ernst and Dorothea Tanning, and the early years included arts education, lectures, exhibitions, film screenings, language and dance classes, and live theatre.
Throughout the 1960s and 70s, the barn and Arts Center became a genuine hub of creative activity, artistic development, cultural events, and community-building. Today, we keep that tradition and operate an expanded campus, a fine art gallery that represents 110 local artists, and a school that offers over 200 classes and workshops each year. Sedona Arts Center also presents innovative collaborative projects like the Business of Art series, Dirty Laundry, Loving Bowls, the 12 x 12 Project,Sedona Ukulele Posse and the Sedona Celebration of Landscape. We also develop and produce global projects like Sedona Summer Colony, Plein Air festivals, and the new Sedona Art Prize.  
Now six decades after the first arts experiment, channeling the same bold and fearless dream of creative community, we renew our commitment to creative placemaking in Sedona. Like Gobran and our early creative founders, we know the power of creative people, unexpected collaborations, togetherness, and efforts that express cultural identity. All of us at Sedona Arts Center are grateful for the past 60 years, and excited about all the creative ideas and projects that are yet to come! 
"Besides supporting our nonprofit organization, this project really is about promoting great artists and connecting them with the community," said Winslow. "The format challenged them to communicate visually in a new way, and results in wonderful one foot square visual statements."
For more information, contact Sedona Arts Center at 928-282-3809 or visit SedonaArtsCenter.org.