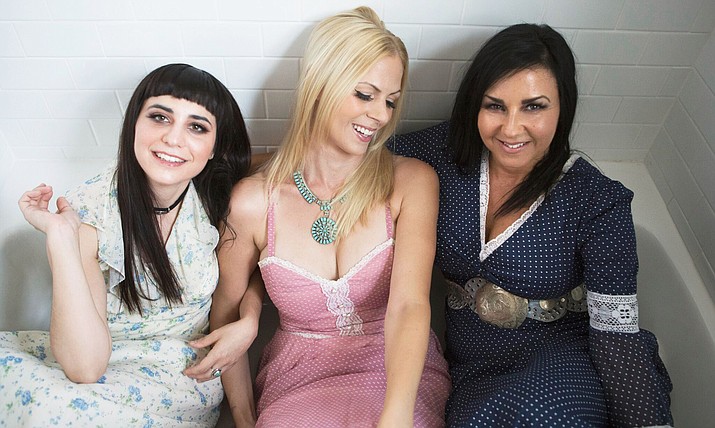 ---
---
Award winning band "Calico" is returning to Sedona on Saturday May 13th at 7pm at Sound Bites Grill for an evening of California Country as they like to call it.
The band headed up by Kristen Proffit and Manda Mosher have won Americana Album of the Year for Rancho California - 2014 Los Angeles Music Awards and National Touring Artist of the Year - 2013 Los Angeles Music Awards. The band is getting more and more recognition and love playing in the Northern Arizona region where they are building a fan base.
Calico the band is influenced by the love of Crosby, Stills & Nash, the Eagles, the Everly Brothers, Fleetwood Mac and, of course, the Beatles. Their songwriting touchstones include Joni Mitchell (whose "Ladies of the Canyon" they cover on the album), Bob Dylan, Neil Young, Jackson Browne, The Band and Tom Petty. Mosher and Proffit feel so connected to this classic music that they're able to bring it into the present tense and make it their own.
Mosher and Proffit have worked hard to keep the band alive and are the indigenous inheritors—and perpetuators—of a rich legacy, and their vision of California unfolds with widescreen Technicolor splendor on Under Blue Skies. "This state has been romanticized," says Kirsten, "but there's truth behind the mythology—the ease and diversity of the people, the weather, the natural beauty, the entertainment business and the liberal culture make it unique. As artists, we feel free to do whatever we want. And the music that has come out of California is the soundtrack to our lives." They will be performing with their band. Tickets are only $10/$15 and you may enjoy dinner, dance if you like and make an evening of it!
Sunday evening May 14th at 6pm treat mom to some fun classic music with "Music by the Classics" featuring Jeannie Carroll (vocals), Eric Williams (vocals and keyboard), Steve Douglas (upright bass) and George Bein (drums). The band presents classics and standards. Jeanie Carroll will sing dance-able songs that many of us are familiar with from the 60's, 70's and 80's. Also included with be some great up-tempo and Latin tunes to get you moving. So, bring your dancing shoes or just come to listen to and enjoy the music.
You will definitely want to be on the dance floor when you hear "When I Fall in Love", My Funny Valentine", "Moon River", "Over the Rainbow" and "Besame Mucho". And that's just a hint of the beautiful music planned for the evening. There is no cover for the evening. Show time is 6-9pm.
This Jazz Quartet has been playing together for a few years now and has acquired quite a following. Steve Douglas, Jeannie Carrol and Eric Williams all are enthusiastic about teaching music as well as playing it. They are all well-known musicians in Sedona. George Bein who is passionate about playing the drums has brought this group together with a lot of success.
Sound Bites Grill is located at the Hyatt Pinon Pointe Shops in uptown Sedona. Reservations are suggested. Hours of operation are daily from 11:30am to 9pm and Fri and Sat Nights until 10pm. For more information you can visit SoundBitesGrill.com or call 928-282-2713.