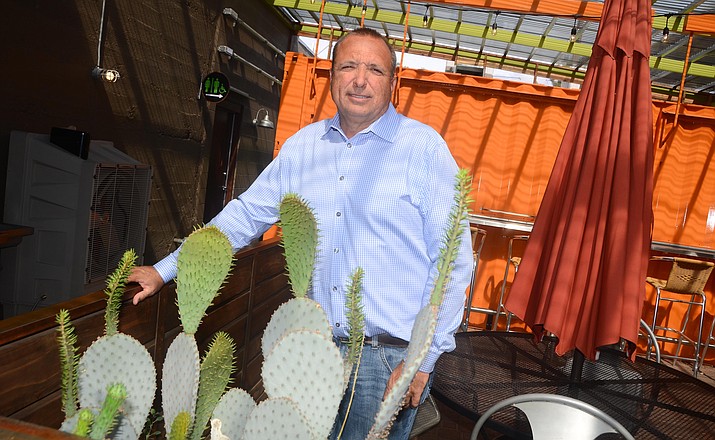 Originally Published: May 11, 2017 4:23 p.m.
COTTONWOOD – It's difficult to look in any direction in Old Town Cottonwood without seeing the positive impact that the Cottonwood Businessperson of the Year has had on the community.
Eric Jurisin opened his first restaurant in Old Town Cottonwood 14 years ago and he hasn't stopped since. Even today, construction workers will be completing the second-floor expansion of his Tavern Hotel.
When Eric was told about his award, he immediately pointed out that it should have been "businesspeople of the year award" crediting his wife Michelle, his business partner. "We've been partners for 30 years."
But the credit did not stop there as Jurisin also credited his employees: "We have the very first employee we hired, who still works for us today. "
"Me, being businessman of the year is really not true. I represent 230 people," Jurisin said about his employees.
Jurisin said he and Michelle moved to Jerome to raise their daughter in a "small town atmosphere." "Haunted Hamburger (in Jerome) opened May 3, 1994," Jurisin said. "We just celebrated our 23rd anniversary."
But his first restaurant on Old Town Cottonwood was Nic's Italian Steak & Crab House which he opened 14 years ago.
"At the time, Old Town was all kind of closed down and stuff," he said. A number of factors led him to open Nic's in Cottonwood, one being encouragement from city officials. Also, "Michelle and I wanted a place for date night. Without having to drive to the other side of the valley," he said with a smile. Then the Tavern Grille opened in 2005 where people love to sit in those prime seats along the sidewalk to view the scene in Old Town Cottonwood, 10 hours a day and seven days a week.
Jurisin said he opened the Tavern Hotel six years ago and then the Bocce Pizzeria five years ago which is at the gateway of Old Town.
If you didn't live in Cottonwood before the Bocce, you would never know it was a shut-down foreclosure before it was bought by Jurisin. The last thing was an old tattoo parlor.
"Our strategy is we take the ugliest building on the street, it seems like always, and restore it," he said. "The Bocce turned out well." "Each building has its own quirks, Jurisin explained. "That's the advantage of old buildings."
The Crema Craft Kitchen is the latest project and restaurant that the Jurisins opened last year.
The breakfast and lunch, and the courtyard really compliment the hotel for events like anniversary dinners and banquets, he said.
Jurisin said when the Tavern Hotel addition is complete and reopens it will have a total of 44 rooms complete with balconies and patios. Currently it has 12 rooms.
Jurisin said being involved in Old Town Cottonwood has become a passion for him. Something he is really "proud of" being part of. Cottonwood was "undiscovered at the time."
"Part of our reason for building restaurants was to keep our family of employees," he said adding that It's not a money thing. It's more of a people thing, he pointed out.
"This is a people business and if you want to keep your good help and you don't want them to go somewhere else, you got to give them opportunity."
"I believe for Cottonwood and the Verde Valley to grow, you need a great downtown," he said. "People want these great downtowns. We all look for them when we go on vacations."
Asked where he saw Cottonwood going five or ten years from now, Jurisin said: "slow and steady."
"I think Old Town, hopefully, will always be the heart of Cottonwood."