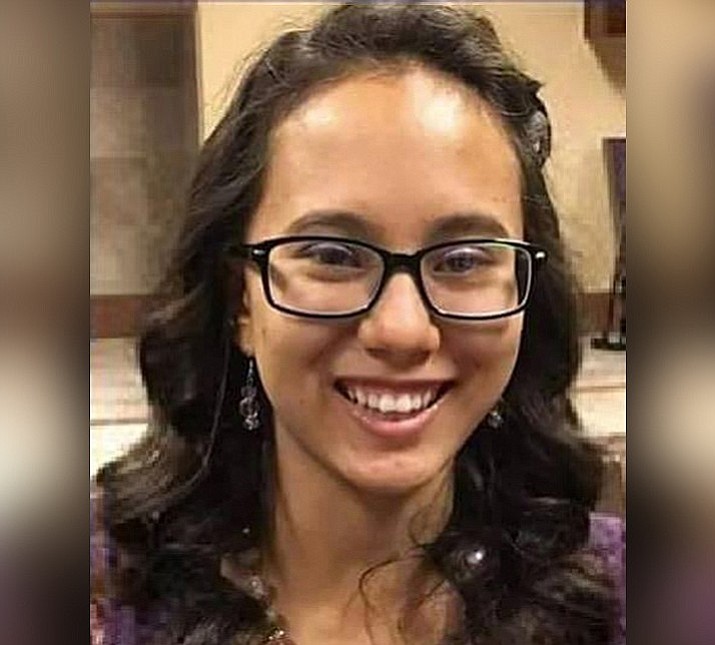 Originally Published: May 13, 2017 9:15 a.m.
The body of an 18-year-old woman – missing for two weeks – was found mid-day Friday, May 12, on Glassford Hill north of Diamond Valley, according to Prescott Valley Police spokesman Sgt. Jason Kaufman.
Lianna Lefler was last seen Saturday, April 29, at 1:30 p.m. at the Walmart, where she worked, on Glassford Hill Road in Prescott Valley.
Four Prescott and Prescott Valley officials were scouting routes for new trail links on Glassford Hill, when a member of the party found Lefler's body.
Chris Hosking, trails and natural parklands coordinator for the City of Prescott, said he and Prescott Recreation Services Director Joe Baynes, Prescott Valley Town Manager Larry Tarkowski, and Prescott Valley Public Works Director Norm Davis had met on Glassford Friday morning to check routes for new trails that are planned there.
Hosking said he was out front of the group when he discovered Lefler's body on the Prescott Valley side of Glassford Hill, about a half-mile off of Prescott Valley's existing trail to the top.
"It was pretty much in the middle of nowhere," Hosking said of the site. He added that there were no drop-offs or cliffs nearby.
Noting that he expected the site would become a crime scene, Hosking said he and others left fairly quickly and called the Prescott Valley Police Department.
"I saw what was going on and moved away right away," Hosking said.
Although he wasn't certain of the exact jurisdiction, Hosking said the group believed the site was on land identified as Prescott Valley's annexation area – on Arizona State Trust Land.
The matter is now in the hands of local law enforcement, Hosking said, adding, "I'm glad there is some closure to this. My thoughts and prayers are with the family."
Kaufman said, "Over the course of the last two weeks, various law enforcement entities, family members, and citizens of the community have searched various areas of Prescott and Prescott Valley areas with negative findings."
Lefler's mother, who had publicized the search on Facebook, said in posts that Lefler had "suicidal ideations."
A Prescott Valley police news release issued May 1 said she was "endangered," but did not elaborate.
On Friday, Kaufman said Lefler's next of kin have been notified and added that there were no signs her death was the result of foul play.
The investigation is continuing.