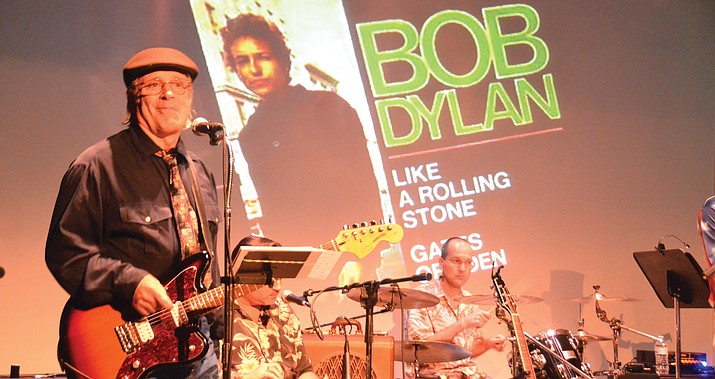 ---
---
Old Town Center for the Arts is pleased to host, the 12th Annual Bob Dylan Birthday Party Concert. Bob Dylan was awarded the Nobel Prize for Literature on December 10, 2016, and he and his music will be honored right here in Arizona at the 12th Annual Bob Dylan Birthday Concert on Saturday, May 20, at 7:00 pm, at the Old Town Center for the Arts in Cottonwood. Get your tickets early for this historically sell out event.
Dylan fans have known for decades that the songs and music of Robert Zimmerman have transcended what songs and music have always been, that they were poetry and commentary and more, and have endured with meaning for over half a century. The Swedish Academy honored Bob Dylan with its prestigious prize "for having created new poetic expressions within the great American song tradition."
This year's "Bob Bash" once again features some of the best musicians in the area, including Larry & Leslie Latour, Tyler Barrett, William Eaton, Tim Young, Gary Simpkins and Mike McReynolds, all performing acoustically. Local poet, Gary Every, will speak about the Nobel Prize. As is tradition, the popular Mystery Tramps, the electric band of Joe Neri, Gregg Gould, Hutch Hutchinson and Matt Fabritz, will rock the house.
"This concert has become a tradition for the Verde Valley and Sedona," remarked William Eaton, co-director at Old Town Center for the Arts. "Each year there are some surprises along with some of your favorite Dylan tunes. Joe has done a fantastic job of producing this event."
You're invited, too, but get your tickets early for this sell out event. Come on out and help celebrate the music that is Bob Dylan. Who knows? Dylan was unable to personally attend the award ceremony in Stockholm, maybe he'll stop by to party with us.
Tickets for the Bob Dylan Birthday Concert on Saturday, May 20th are $20 in advance, $22 at the door, and $25 priority seating in the first 3 rows. Tickets are available online at showtix4u.com. Tickets are also available in Cottonwood at: Desert Dancer and Mt. Hope Foods and in Sedona at Local Juicery. For upcoming events, visit www.oldtowncenter.org. For further information, contact Elena Bullard at 928-634-0940.
What: 12th Annual Bob Dylan Birthday Concert at OTCA
When: Saturday, May 20th 7:00 PM
Where: Old Town Center for the Arts, 5th Street & Main, Cottonwood
How Much: $20 in advance, $22 door, and $25 priority seating in the first 3 rows. Tickets at www.showtix4u.com, or outlets listed at www.oldtowncenter.org
More Info: www.oldtowncenter.org 928-634-0940