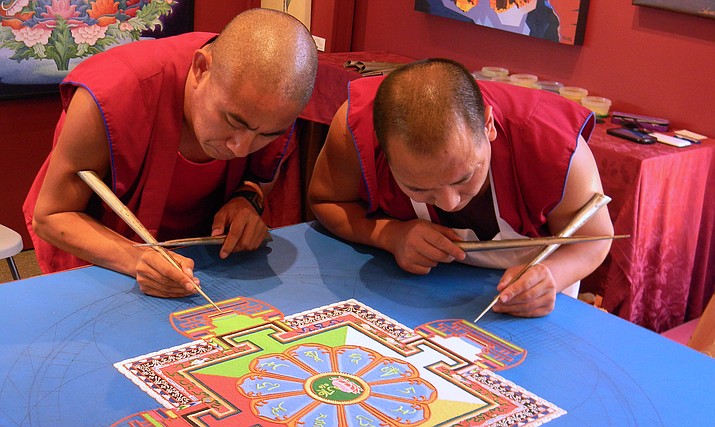 ---
---
Believing that art is a living-breathing encounter, Goldenstein Gallery has consistently championed opportunities to create a life enhancing experience for the public. From the special events in the gallery to satellite exhibits shown publicly citywide they have strived to involve people in interactive ways…bringing artist and collector together. One profound life enhancing experience is their ever-expanding Artist in Residence program and now they will be hosting the Gaden Shartse Monks at L'Auberge de Sedona to create a beautiful and sacred Green Tara sand mandala from Friday May 26 through Friday June 2nd.
For the past two years they have worked in partnership with L'Auberge de Sedona expanding the Artist in Residence program onsite at the renowned resort allowing hotel guests to not only view local artwork in changing exhibitions, but to watch the artists at work and learn more about their art. The types of artwork being created range from clay and wax sculpting for bronze casting to pointillist painting. Visitors can interact with the artists, ask questions about their work and preferred art medium. In the past year over 100 artists have participated in the acclaimed program.
Goldenstein Gallery has been honored to host the creation of the Tibetan Buddhist sacred sand mandalas multiple times in the past. Owner Linda Goldenstein says of this sacred work "From an artistic perspective, the mandala is created with extreme detail and studied precision to produce a stunning visual effect. Sand is not an easy medium to work; the monks lay each grain of sand down with purpose of creating a larger vibrant vision.  The making of the sand mandala is a culturally expanding opportunity to watch a centuries old art form being created today."

Mandalas appear in spiritual traditions around the globe but Mandalas formed from sand are unique to Tibetan Buddhism and are believed to effect purification and healing. The Monks begin construction of the sand mandala by consecrating the site with sacred chants. Over one week, they fill in the design with millions of grains of colored sand. While constructing a mandala, Buddhist monks meditate to invoke the divine energies of the deities residing within the mandala. The monks then ask for the deities' healing blessings. At its completion, the mandala is blessed. The blessed sand is swept up with small portions offered to those present. The rest will be taken to Oak Creek where, after a short ceremony, it will be poured into the water to bless and purify the environment and all beings.
Green Tara, a female Buddha, is one of the most revered figures in Tibetan Buddhism. Considered the "Goddess of Universal Compassion," Green Tara represents compassion in action. From a foundation of meditative ease she is ready to spring quickly into action for the benefit of all beings.
Painter and sculptor Sherab Khandro will be Artist in Residence each day during the creation of the Green Tara Sand Mandala from 9:30 am to 3pm, beginning each day with a short Guided Meditation on Compassion at 9:30 am which the public is invite to attend.

The Sacred Arts Director for the building of the Amitabha Stupa in Sedona, she is one of a handful of early western artists to receive formal training from Buddhist masters in exile in the US, bringing forth traditional sacred art in the way it has been done in Tibet for centuries. Using the neo-impressionist style of pointillism in her paintings, tiny dots of color create vibrant imagery; each stroke of the brush holds the intention of compassion. This healing intention also carries through in her sculpture and Intentional Jewelry line.
You can see more of Sherab Khandro's work including paintings, jewelry and interactive sculptures such as the Wheel of Compassion at Goldenstein Gallery.
The opening ceremony for the Green Tara Sand Mandala takes place on Friday, May 26th at 11am. Please join Goldenstein Gallery at L'Auberge and witness this sacred ancient ritual throughout the week from Friday, May 26th through Thursday June 1st from 10am-4pm. On Friday, June 2nd the closing ceremony takes place at 2:30pm. You can find a full listing of additional events with the Gaden Shartse Monks on Goldenstein Gallery's website.
Although Linda and the Gallery have worked with hundreds of artists including respected museums & community exhibitions, the award winning gallery now focuses on 50 fine local and regional artists. They have been named Best Gallery in Sedona for 9 years running and recently USA Today's 10 Best named them the number 1 place to shop in Sedona. Goldenstein Gallery's new address is 150 State Route 179, at the corner of SR179 and 89A and is open daily.
Visit www.GoldensteinArt.com or FaceBook to sign-up for their informative monthly E-zine, or call 928-204-1765 for information.