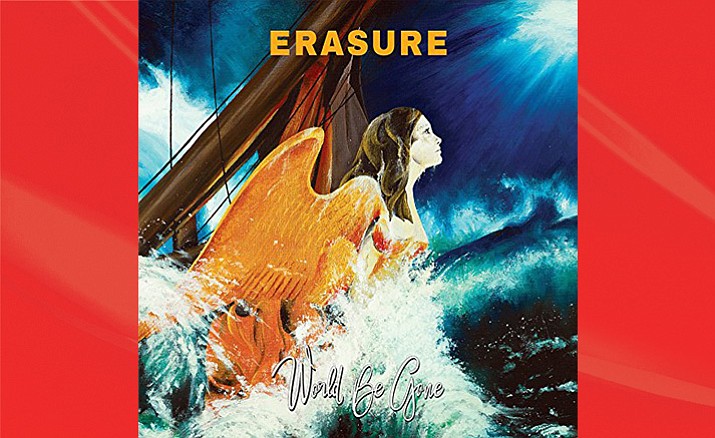 ---
---
Erasure – World Be Gone
Mute
"World Be Gone" is the 17th album from electronic pop pioneers Erasure, and their first album since 2014's acclaimed The Violet Flame (which debuted at #43 on the Billboard Top 200).
The album is produced by Vince Clarke and Andy Bel with mixing by Matty Green (Gwen Stefani, Selena Gomez, Ed Sheeran, TV on the Radio).
Tracks include: Love You To The Sky, Be Careful What You Wish For!, World Be Gone, A Bitter Parting, Still It's Not Over, Take Me Out Of Myself, Sweet Summer Loving, Oh What A World, Lousy Sum Of Nothing, Just A Little Love.
Linkin Park – One More Light
Warner Bros.
One More Light is a moment in time. It's built on personal stories, sweat-stained and reeling from injuries — the product of six voices, each coming clean about their lives and struggles, as if it were the first time.
We get an unobstructed view into what makes the band tick as people, fathers, husbands, musicians, and friends.
Tracks include: Nobody Can Save Me, Good Goodbye (feat. Pusha T and Stormzy), Talking to Myself, Battle Symphony, Invisible, Heavy (feat. Kiiara) [Explicit], Sorry for Now, Halfway Right, One More Light, Sharp Edges.
Rascal Flatts – Back To Us
Big Machine
With 16 career No. 1's to their name, superstar vocal group Rascal Flatts maintain their reputation for infectious anthems with their highly-anticipated 10th studio album BACK TO US. As the best-selling Country vocal group of the past decade, they have sold more than 23.4 million albums and more than 33.7 million digital downloads worldwide.
Rascal Flatts are also the most awarded Country group of the past decade earning over 40 trophies from the ACMs, CMAs, and more..
Tracks include: It Won't Last For Long, Breakfast Ethereal, West Gwillimbury, Who We Are Right Now, Dead End Dream, Man At The Gate (1913).
The Mountain Goats – Goths
Merge Records
The theme this time around is goth, a subject closer to my heart perhaps than that of any Mountain Goats album previous. And while John writes the songs, as he always has, it feels more than ever like he's speaking for all of us in the band, erstwhile goths (raises hand) or otherwise, for these are songs that approach an identity most often associated with youth from a perspective that is inescapably adult.
Tracks include: Andrew Eldritch Is Moving Back to Leeds, The Grey King and the Silver Flame Attunement, We Do It Different on the West Coast, Shelved.