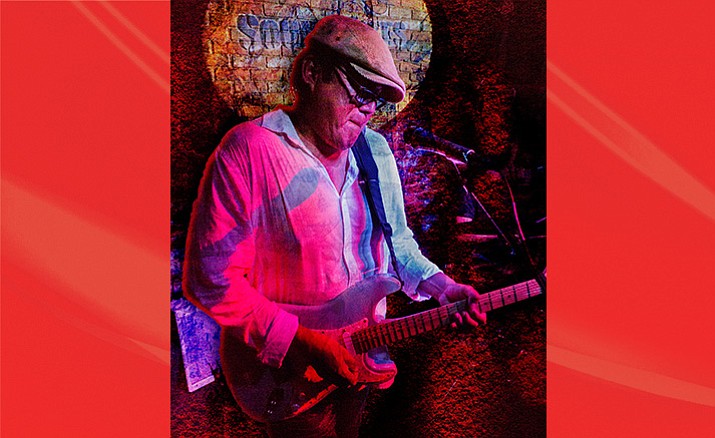 ---
---
Sound Bites Grill, an entertainment restaurant features an array of local and touring musicians weekly. This week is spectacular with some amazing Guitarists. Anthony Mazzella, a Sedona local, originally from New York will be kicking off the week on Thursday May 20tht at 7pm. Anthony Mazzella is a professional recording artist, concert guitarist and producer. BILLBOARD Magazine describes him as "the new generation of guitar hero" and GUITAR ONE magazine voted him "one of the top ten guitarists in the country".

Anthony is currently producing a new show called Legends Of Guitar which is a tribute show to famous guitar players and their music. Legendary guitarists who's music is featured in the show are Jimi Hendrix, Eric Clapton, Carlos Santana, Jimi Page (Led Zeppelin), The Edge (U2), Pete Townsend (The Who), David Gilmour (Pink Floyd), George Harrison (The Beatles), Dave Murray (Iron Maiden) Stevie Ray Vaughan, Segovia and more. Anthony Mazzella brings an array of amazing guitars to the shows including his one-of-a-kind 10 string guitar, 1974 Fender Stratocaster, 1991 Les Paul, Rodriguez Flamenco Guitar, Taylor Acoustics, Carvin Synth Guitar and other beauties.
The Legends of Guitar show tickets start at $20 and go up to $35 for VIP Seating. The venue is set up like a supper club where you enjoy the show at a table where you can enjoy a meal. Show time is 7-8:30pm Thursday evenings with a meet and greet with Anthony after the show.
Friday Night May 19th at 7pm The Sir Harrison's Blues Dance Band from Phoenix will be performing. Harrison Begay was born and raised in Tucson, Arizona, is full blooded Navajo (Dine'). His passion for blues music and the guitar have been the driving force in his quest for artistry. He started playing music at the age of eight. The clarinet being his first instrument, it would not be until the early years of high school that Harrison would pick up his first guitar. He is now considered one of Arizona's best blues guitarists. The cover for the night is $10/pp
The weekend finishes off with a 50's and 60's Rock n Roll Dinner Concert on Saturday May 20th at 7pm. Tom Tayback and the Daddy O's will be performing a 90 minute trip down memory lane. If you're a fan of the golden oldies from the 50's & 60's, you'll love this genuinely authentic blast from the past, fondly recalling the good old days of Juke Boxes, 45 Records, Soda Shops and Sock Hops in the gym. This is an enjoyable trip to the times of Fender Skirts, Tail Fins, Curb Feelers, and Drive-In Movies.
Tom Tayback also a very talented guitar player and vocalist, will guide you with tributes to Rock 'n' Roll legends like Elvis Presley, Bill Haley, Chuck Berry, Jerry Lee Lewis, Buddy Holly, Ritchie Valens, The Big Bopper, Little Richard, The Coasters, Fats Domino, Sam the Sham and more. Times were never better and the music was never better. Show time is 7:30pm Tickets start at $20-$35 depending on seating. Dinner packages are available. Call for tickets and more info.
Sound Bites Grill is located at the Hyatt Pinon Pointe Shops in uptown Sedona. For more information, tickets and reservations call 928-282-2713 or visit www.soundbitesgrill.com.