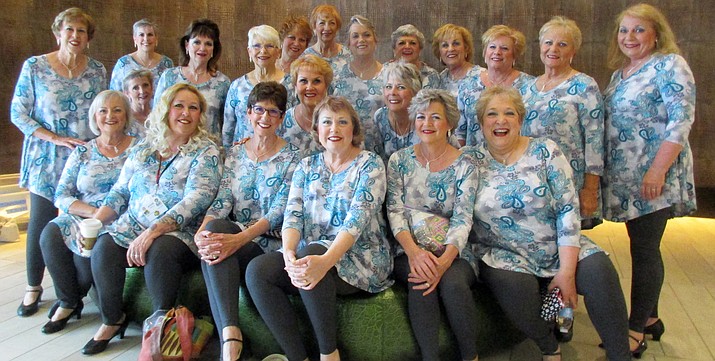 ---
---
Women of all ages who love music and like to sing are invited to Red RockAppella chorus's annual Membership Guest Night on Monday, May 22, 7:00 p.m., at the Sedona Winds Assisted Living Bldg., 475 Jacks Canyon Blvd. in the Village of Oak Creek.
Red RockAppella is an a cappella performing chorus that sings in four-part harmony, Barbershop style. Any woman of average singing ability, with or without vocal training, is invited to Membership Guest Night and is welcome to sing with the chorus.
There's a part to fit every voice range, and vocal training or musical experience are not necessary to participate. Voice development and coaching are valuable member benefits!
Members of Red RockAppella, a chapter of Sweet Adelines International, share a love of music, harmony, and friendship.
They experience increased self-confidence, renewed vitality, and the invaluable, unwavering motivation and inspiration of others. Above all, of course, they share the joy of singing and hearing the sound of beautiful four-part, a cappella harmony.
Red RockAppella performs regularly throughout the community, offering its talent at various civic events and charitable functions. An annual show, local Fourth of July and Christmas performances, and a Holiday "singing card" event are just some of the activities in which the chorus participates. Its next performance is a Memorial Day tribute at the Sedona Military Service Park on Monday, May 29.
All women in Sedona and the Verde Valley are invited to come and learn about the Red RockAppella chorus at Membership Guest Night on May 22. The festivities begin at 7:00.
Under the direction of Sandy Wingate, the chorus will demonstrate how four-part harmony works and sing a couple of songs.
Guests will participate in a few vocal warmups, and, with the chorus, learn a short, familiar song or a "tag," as it's called in Barbershop harmony lingo.
Light refreshments will be served, and there will be ample time for questions and mingling with Red RockAppella members.
"Bring a friend with you," director Sandy Wingate suggests, "and be part of the fun! Anyone who loves music and likes to sing will experience first-hand how beautifully we can all sing together!"
Red RockAppella meets every Monday evening from 6:30 to 9:00 at the Sedona Winds Assisted Living Building in VOC for music, fellowship, and fun!

Visitors are always welcome. For more information, call Sandy at 928-451-2566 or visit the chorus's website at www.redrockappella.org.