Beaver Creek School completes junior basketball season

By
Bill Helm
|
BillHelm42
Originally Published: May 16, 2017 12:38 p.m.
RIMROCK – With its March 31 tournament, Beaver Creek School completed its 2017 Junior Basketball Season for students in grades 1 through 4.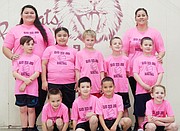 Each age group was represented by four teams, said Beaver Creek School District Superintendent Karin Ward.
The district's Junior Basketball league has been "such a great addition to the community these past three years, providing experiences for the students and great family fun on Fridays for the two months of the season," Ward said.
According to program director Micca Martinez, the winners for the school's first-grade and second-grade division were the Velociraptors, coached by Viola Logston and Mele Colston.
The Velociraptors won the end-of-season tournament and finished with a 6-1 record.
High scorers for the Velociraptors were Manny Tena, Jocelyn Ortega Caballero and Alex Loreto
The winners for the third-grade and fourth-grade division were the Huskies, coached by Fritz Mathias and Johnnie Orta.
The Huskies lost five of six regular-season games before they won the end-of-season tournament.
Four of the Huskies' regular-season losses were by two points, Martinez said. High scorers for the Huskies were Monyka Palmer, Patrick Ainsworth and Heyden Hernandez.
More like this story
SUBMIT FEEDBACK
Click Below to: