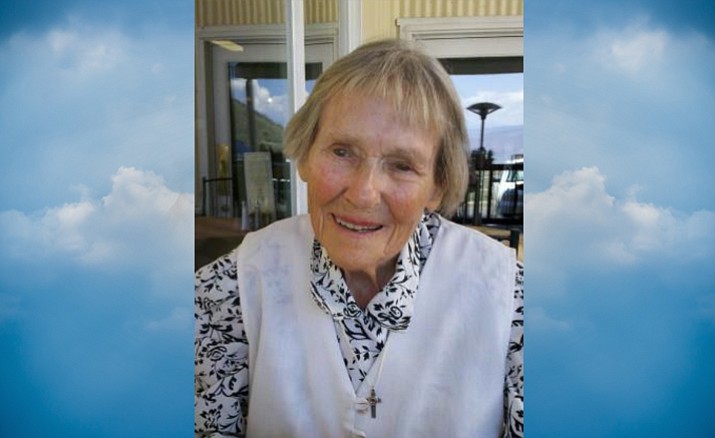 Originally Published: May 16, 2017 1:44 p.m.
The "Walking Woman" Ione Hazelton, age 95, started walking in Heaven May 10 after a short illness. Although recently at Austin House, for 10 years she was seen walking to the bank, her favorite stores, and Pepe's Restaurant.
Hundreds of caring people stopped to offer her rides. Every time she would smile and say, "Thank you, but I'm a walker." Ione considered Cottonwood the kindest place she had ever lived.
Born in Philadelphia in 1921, Ione was raised by her itinerant carpenter father during the Depression and attended 13 schools on the East Coast. Married to Carl Helbing for 32 years in Delaware, she had two daughters, Linda and Sandra. Ione also lived in Minneapolis and San Diego.
A stay-at home mother, her life centered on faith. Whether singing in the choir, taking teas to women at a local jail, or giving away her umbrellas, she actively demonstrated her Christian faith. Her ministry was on, "the highways and byways," being directed by God. She picked up dead birds and buried them with a prayer. With every insect killed there was a "Sorry, Dr. Schweitzer."
In her 50's, Ione started a career at the Minneapolis Star-Tribune Library and served there 15 years. Daily she filled a candy jar for the reporters. When she retired, all the reporters and the paper's owner came to her party.
Ione is survived by her daughters and their families including 10 grand/great grandchildren.
The family thanks everyone at Austin House for making her last years welcoming and easy. If you want to honor Ione's legacy, please do something nice for a stranger.
Information provided by survivors.
More like this story