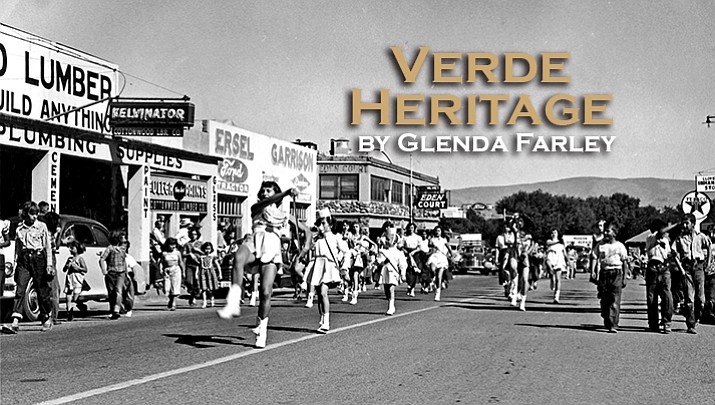 Originally Published: May 17, 2017 9:07 a.m.
"Jerome sportsmen and all others who wish to take a Summer outing on Oak Creek will be interested in a letter from W. E. Woodruff, special game warden of Cottonwood, which was received by the 'News' this week. Acting under instructions of State Game Warden Rogers, Mr. Woodruff made a trip along the entire length of Oak Creek, and reports that the outlook for an enjoyable angling and outing season is in store for all who like that sort of thing. Mr. Woodruff's letter follows:"
"Editor, 'Jerome News,'"
"Dear Sir:"
"The State Game Warden desired me to make a trip from one end of Oak Creek to the other in order to see if there was any fishing being done out of season and to attend to other matters in connection with the department. I have been an inveterate angler for Oak Creek trout for several years and in previous years at the beginning of the season there was always more or less evidence that fishing had been in progress prior to the opening day --- June 1. I found on my trip little or no evidence of any pre-season fishing having been done. It has always been hard to prevent this fishing out of season for the reason that parties could come into the creek at almost any point and fish a week and depart without being observed except by one or two families. This will hereafter be impossible owing to the building of a road from Jim Thompson's ranch to Lolomi Lodge, where it connects with the Flagstaff road."
"This road is now completed except for a short distance --- possibly a hundred yards --- right at Mimosa Falls. Just below the falls men are now at work bridging the canyon. It is hoped to have this short stretch completed by June 1. The opening up of this road will enable the Fish and Game Commission to patrol the entire creek as could not be done in the past. And, too, there is another factor that will aid very materially in preventing violations of the State laws and that is the ranchers and hotel-keepers who live along the stream."
"I talked with practically all of them and they show that they are just now awaking to the economic value to them of the fish in the creek. As one of them said, 'The trout in Oak Creek are worth more to us fellows than we realize, for they cause the product of our ranches to have value right at home.' If those who live on the creek permit flagrant violations of the fish and game laws it is evident that the cream of the fishing will be over when the season opens to the anglers who go to the creek to camp or to stop at the hotel, will go away in disgust --- to return no more. I find that the average Creeker feels this to be a fact and I think that the cause of fish and game protection will in the future profit by it."
"From present indications I think the coming season will be an enjoyable one. I saw more sizable trout in the creek and several times as I gazed deep into a pond the temptation came to flip a fly over there beside that big boulder. But thanks to my precaution I had left the responsibility of temptation at home; I had no rod. With the completion of this new road anglers will be able to penetrate the entire length of the creek and camp wherever fancy dictates. And this season hotels are going to be so thick that the rambling fisherman can secure lodging wherever night overtakes him."
"In addition to Lolomi Lodge and the Thomas place, one of the Purdeman boys will run a hotel on the upper part of the creek. At the falls Mr. Pendley has a fine garden and is a royal good fellow. While he does not run a road house, he will, in a pinch, allow an angler to share potluck with him at his bachelor's quarters. Thompson Park, (for the love of Mike quit saying 'Bacon Rind'!) has been swept and garnished and now a wagon road leads to it, so that the straining and packing stunt across the stream is done away with."
"At Sedona preparations for the season are on in full swing. Sedona Hotel with Charley Stemmer as proprietor will be open as in the past, while a new hotel under the management of E. M. Hart, of Flagstaff, will be operated across the creek at Elijah Lay's place. Mr. Hart recently purchased this place and will erect suitable buildings and tent-houses for the accommodation of his guests. At either of these places one will be able to buy vegetables, eggs, milk, strawberries, fruit, and horse feed. At Mr. Hart's place a full supply of groceries will be kept in stock. The prices at both of these hotels will be reasonable and the accommodations as good as can be supplied in any of our Western towns."
"Visitors from Jerome may reach Sedona by taking the Camp Verde stage to Cornville and from there travel in the Sedona stage to their destination. I understand that a reasonable rate will be made. Persons who wish to spend any considerable time on the creek should have their mail directed to Sedona. In case they intend to camp at Thompson's Park, or if they stop at Stemmer's or Hart's, to Cornville, in care of so and so."
"Here is hoping, Mr. Editor, that you and all of your readers may make a trip after the festive rainbow and that good luck may attend you."
"Very truly yours, W. E. WOODRUFF, Special Game Warden, Cottonwood, Arizona."
(Jerome News; Friday, May 8, 1914; page 1.)
See: The Verde Independent; "1892: OAK CREEK; Hunting and Fishing Party, July;" July 16, 2014.