Originally Published: May 18, 2017 3:12 p.m.
Camp Verde High baseball's season may have ended earlier than expected but they racked up the All-Region accolades.
After the Cowboys went 25-4 and 7-1 in the Central Region, they had eight All-Region selections, with six being first team
"It's voting, so all the coaches meet in room and we all vote," said Camp Verde head coach Will Davis. "I was in the room with them and I was lobbying hard for my kids (laughs). We won the region, we should have the most, so it worked out that way."
Northland Prep also went 7-1 in the region and had eight All-Region selections, but only four first teamers.
Additionally, senior Carson Zale was selected as region offensive player of the year and senior Wyatt Howe was picked as co-region player of the year with Jacob McDaniel of Northland Prep.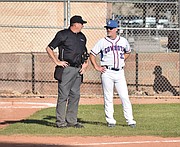 Howe batted .462, had an on base percentage of .563, 29 RBIs and 36 runs. On the mound he had a 0.85 ERA, went 5-0 and had a save. He was sixth in the state in ERA.
"He had an amazing year," Davis said. "He was our MVP all year, he pitched for us, played great offense. He and Carson could have been co-mvps but there was another team that had a good kid that was lobbying too."
Davis won co-coach of the year with Ryan Johnson of Northland Prep. He downplayed the honor though.
It was his second straight coach of the year award, last year taking the Division IV Section I honors.
"Oh that's a team award," Davis said. "That don't mean anything to me. The team wins those awards not me (laughs). The coach doesn't necessarily have much to do with that."
In addition to his region offensive player of the year award, Zale was first team All-Region, which is to be expected for the player of the year, but was on it twice, as a pitcher and position player.
"That's pretty awesome," Davis said. "I felt like he probably was the best offensive player on all the teams."
Zale hit .448, had an on base percentage of .515, 31 RBIs and 33 runs.
Joining Zale and Howe on the first team was senior Darren Franklin as a pitcher, senior Easton Braden as a catcher and senior Ryan Cain as a position
player.
Last year Camp Verde had four players make All-Section, three first team. This season sections were renamed regions.
Senior John Castillo and Dominiq Bruno were named to the second team.
"In a five or six team region like we have, every team should get one or two and the best teams are going to get multiples," Davis said. "So that's kinda how it went."