Originally Published: May 18, 2017 1:36 p.m.
JEROME -- The spirit of Don Robertson lives on at the Gold King Mine in Jerome, where his family continues to run the popular local attraction built by Robertson during his life-time.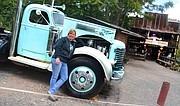 To remember Robertson who died last October, the family has been planning a memorial celebration of "Don's Love for all things American and Motorized" this Saturday in Jerome.
"We are asking everyone to drive, ride, haul, push or pull your antique equipment, motorcycle or truck" to the celebration at the Gold King Mine on Saturday, announces the Gold King Mine's Facebook page.
Jeannie Leffew, Robertson's stepdaughter who is current owner of the Gold King Mine with her husband Mike, said the popular and unique attraction will continue as a tribute to Don and her mother Terry Robertson. It will continue just as her parents wanted it to be when they started it 30 years ago, she said.
Leffew acknowledged that it's not the same without Robertson around, but all his trucks and cars and huge machines are still on site, explained Leffew. And there are going to be improvements - like making the experience more interactive, improve the animal petting and gold panning areas, and fixing and tuning up some of the large machinery.
"They are so happy that we are keeping it going," Leffew said of recent visitors. "They didn't know what was going to happen. You know I had a lot of people come up and say, you know this guy (Robertson) would just sit down and talk with me, pop a Coke or whatever, and they would sit for hours and talk about certain things," she explained. "That's what a lot of people miss (about Don)."
"Some people didn't know Don," she continued, "but they still love the place." Leffew encourages people to check out the numerous YouTube videos to learn about the famous Jerome resident or watch the DVD documentary at the Gold King Mine. And of course there are the "stories" of Don.
Robertson's business started out with one building -- a boarding house used by miners -- and a love for engines and trucks. Robertson built his dream with two bare hands, monkey wrenches and elbow grease.
Thirty years later, it has grown into "a dream come true," explained Robertson in an interview with the Verde Independent last summer.
Visitors are now flocking from all around the country and Europe to see Jerome's keeper-of-the-gold, his carriages and his merry minstrels who work for him.
From the sky, Robertson's ghost town looks like a child's playland with hundreds of tiny toy trucks scattered among tiny buildings in a sandlot.
In past interviews, Robertson estimated that he had about a 100 trucks and other vehicles. But a closer look reveals that the hundred trucks, cars, tractors, service trucks and buses lined up around the property are very real and very "rare." Some are restored, but many are rusted have been saved from extinction and are getting a second chance at life.
Leffew said Saturday's celebration is for her mother Terry Robertson also Terry opened the mine with Don, she said.
There will be an opening prayer by Pastor Jim Masters at 11 am and music by the "Cheap Sunglasses from noon to 2:30 with lunch, food venders, car show, meet and greet, slideshow and free admission to the Gold King Mine.
At 2:30 engines will be revved for Don and Terry followed by a parade and a closing of "Amazing Grace."
"Saturday is Don's big Memorial," explained Leffew. There was a small memorial at the time of death but now his family is coming and all his old friends have been invited to bring their old equipment and camp and stay.
"Kind of a handing of the baton I think too, remembering them, but letting everybody know the place is going to go forward. It's always going to be what they wanted to be."
"People love this place. It will never be the same without Don, but all things go on." The family and staff will continue to improve on Don's dream, Leffew promised.