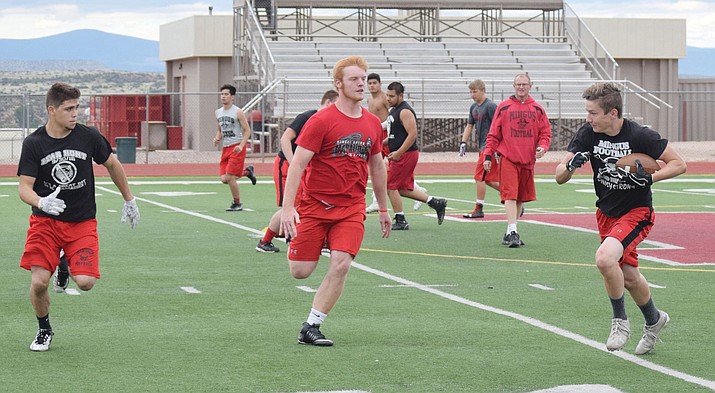 Originally Published: May 18, 2017 3:35 p.m.
Spring football kicked off last week for Mingus Union and the Marauders liked the early returns.
Mingus Union head football coach Bob Young said the Marauders had a good first practice, had a lot of energy and worked hard.
"We've been doing a lot of agility stuff, so it shows," Young said. "We look pretty good that way."
Mingus' first practice was in shorts and t shirts, though some players went shirtless in the 60 something degree weather, with out helmets.
"It's amazing," said running back/linebacker Lucas Svoboda about starting spring practice. "Knowing this is my senior year, all out, everything, it's all or nothing."
Mingus Union is coming off a 6-5 season in 2016, where they made the 4A state tournament.
The defense will remain the same, thought the offense may change.
"We'll see, it just depends on what personnel we wind up having, but not a whole lot of changes," Young said.
Mingus Union has to replace all eight of their 2016 All-Grand Canyon first team selections, though kicker/punter Trey Meyer was on the team twice. He was also All-State.
They also lost defensive end Trevor Galloway, the region defensive player of the year, to graduation.
Senior to be and running back/linebacker Justin Link said being back on the field definitely brings back memories.
"Realizing this is my senior year, it's definitely all worth it," Link said. "Coming back here again, it brings back tons of memories but I'm excited, definitely."
Young said the focus of spring football is fundamentals.
"What we try to do right now, because we do so much 7 on 7 in June, we're trying to install most of our passing offense and defense, it's a lot of what we're dong right now," Young said.
The Marauders will practice three times a week during the summer.
Spring football also saw the Marauder debut of senior to be Martin Soria, who was quarterback/cornerback for Williams last year.
"I just got here myself from Williams, everything is new," Soria said. "This feels like a real program, like they make you work hard and stuff, in school too."
Last year Soria was first team All-State as he lead Williams to the 1A title game. He threw for 1,548 yards, 18 touchdowns, six interceptions and was 99-for-188 through he air. He rushed for 981 yards.
He was fifth in 1A in passing, fourth in points with 128, fourth in total yards (2,529), fifth in touchdowns (19) and sixth in rushing.
On defense he had 25 solo tackles and 21 assisted tackles to end the season with 46 total tackles. He made one interception, one fumble recovery and two pass deflections.
Williams has about 280 students and Mingus about 1,2000.
"It's a big difference," Soria said. "It's more competition but to all the camps I've been to, I feel like I've fit in pretty good but they make you work hard."
Svoboda, who moved to Cottonwood before his junior year from Minden, Nebraska, said Mingus Union is like a big family. That it is fun and strict, they make you work hard.
"I've grown to love it already," Svoboda said. "From the past seniors, you can tell all the seniors go hard."
Young said they didn't have anyone come in with an injuries left over from spring sports.
The Marauders are young but they like their chances in 2017.
"We're a bit young," Soria said. "We have a few seniors, but those seniors that we have, including myself, we gotta push those guys to make them work hard because if not, they're going to fall into bad habits and we don't want that. So I continue out to teach them how it's really done."
Mingus Union will have to replace their offensive line if they want to contend for the Grand Canyon title again.
"We lost a lot of guys, we gotta replace our line, that's our big concern," Young said. "We play a tough schedule early and hopefully by the time we get to Bradshaw and the region, we should be in good shape, that's our goal."
More like this story