Originally Published: May 18, 2017 2:57 p.m.
Mingus Union senior Rachel Valentine will be taking her talents to Lyndon State College.
The cross-country and track and field athlete signed with the liberal arts school Vermont on Monday.
Lyndon State was founded in 1911 and has about 1,200 students, 55 percent of which are in-state and 45 percent from out-of-state.
"I wanted to go back east to college and they have a really good program for my major, which is electronic journalism," Valentine said.
The Hornets compete in NCAA Division III in the North Atlantic Conference.
"I'm really excited, it's been a dream of mine since I was little, so to be able to run in college, is just really exciting for me," Valentine said.
This season the Lyndon State's women's cross-country team finished 57th in the NCAA Regional/New England Championships. Their women's track and field team finished fifth the NAC Championship in their inaugural season.
Valentine also considered ASU, NAU and a few colleges in New York like Manhattanville College and Syracuse.
The oldest building on Lyndon State's campus was built in 1964.
Valentine took an unofficial visit to Lyndon State last summer and an official visit a month and a half ago.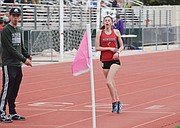 "It's a smaller school, it's up in the mountains, in a small town, in Lyndonville, Vermont," Valentine said.
Valentine competed for Mingus Union track and field at the 13th Annual NPA Skydome Classic, the Friendship Invitational, 2nd Annual Small School Invite and the NIKE Chandler Rotary. She finished 12th in the 800 meters at the Skydome Classic, third at the Friendship Invite in Sedona and was on the 4x400 relay team that finished fourth at the Friendship and sixth at the Chandler Rotary.
She competed in seven cross-country meets, finishing 30th in section I and 101st at the state meet.
Valentine said the 2016-17 went pretty well for her.
"I do lot of training with a personal coach and on my own," Valentine said. "I've been running club cross country and track since like middle school, so I run a little bit I did a few track meets with Mingus and a few cross country meets to get some good times but I do a lot of work with my personal coach."