Originally Published: May 18, 2017 11:30 a.m.
CAMP VERDE – The first pickleball match was played in 1965 on an island off Washington State as an improvisation to badminton.
As the story goes, the name actually came from the term "pickle boat," which is the last boat to return with its catch.
Despite the noticeable lack of boats in the Verde Valley, pickleball is slowly becoming one of Camp Verde's leisure activities. And the Town's Parks and Recreation Department is facilitating the craze.
Winning doesn't matter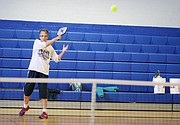 Some days, there might be close to a dozen pickleballers at the Town's Community Center gym. Wednesday, Camp Verde residents Bobby Corcorran and Janet Jones spent the morning improving their racket work.
Since the early part of the year, both Jones and Corcorran have played the game each week, oftentimes as much as three times in a week.
Corcorran, a Camp Verde resident for the past 12 years, remembers first playing pickleball in 1993 with a friend.
"I like [pickleball] because it's similar to badminton," Corcorran said. "A lot of running around. Not a difficult game to do well at."
Truth is that Corcorran does very well at racquet sports. And pickleball is a racquet sport that combines elements of badminton, table tennis and tennis.
Having played competitive racquetball from 1978-1993, the former Phoenix resident was written up in Sports Illustrated Magazine's Oct. 5, 1992 issue's Faces in the Crowd section for winning the "world senior racquetball crown in the 35-39 age group for the second straight year."
He had also earned three U.S. senior titles by the time of the publication.
A humble man, Corcorran said that he's competitive – but it's not about the final score.
"I know the hard work it takes to achieve levels," Corcorran said. "I just like to play, getting out there, the struggle. Winning doesn't matter. It never really did."
Pickleball introduction
Thanks to part-time Rimrock resident John Parsons, the idea of pickleball was first brought to Camp Verde Parks and Rec.
"He came in and talked to us," said Parks and Recreation Coordinator Shawna Figy. "He is our main pickleball volunteer. Sets up nets, helped people learn how to play. He's exactly what we were looking for. It was a good meeting when he came in."
After a little tinkering with the schedule, pickleball is served in Camp Verde two days and one evening each week at the Community Center Gym, from 9:30 a.m. until 11:30 a.m. Wednesdays and Sundays, and from 5:30 p.m. until 8 p.m. Thursdays.
Pickleball is played on a court similar to tennis, but smaller.
"You can hit the ball really hard, and it doesn't go all over the place," said Janet Jones, who in 2009 played pickleball in the Senior Olympics.
Jones said that the Senior Olympics was a great opportunity for pickleball in that there were quite a few outstanding players.
But after putting the sport down for several years due to what she says a limited amount of pickleball courts, she picked the sport back up when she heard that the Camp Verde Parks and Recreation Department had started the new program.
"I was tickled pink," Jones said. "Now I don't have to beg, borrow or steal to play on a court."
Paddles resemble ping pong paddles, but larger. And the ball is similar to a whiffle ball. Parks and Recreation will supply all equipment.
Though there is no charge to play, Parks and Recreation will accept donations.
Parks and Recreation is also looking for volunteers to help facilitate the games. Anyone interested in participating, or for more information, call Shawna Figy at 928-554-0829.
-- Follow Bill Helm on Twitter @BillHelm42