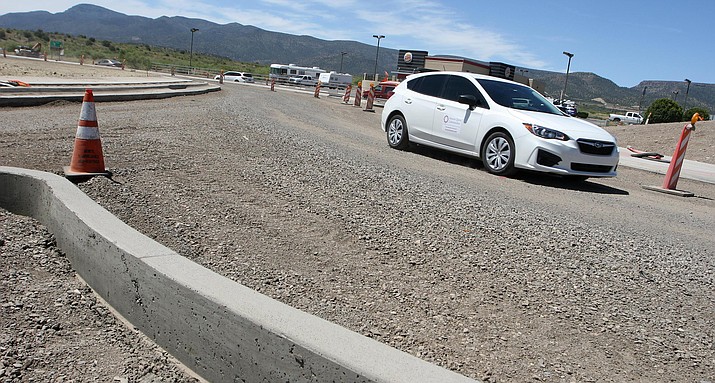 Originally Published: May 27, 2017 10:49 a.m.
CAMP VERDE – It was Arizona Department of Transportation's goal to finish all work on the roundabout at SR 260 and Industrial Drive/Goswick Way by July 4.
According to ADOT Community Relations Officer Coralie Cole, the traffic circle at the area locals know as Junk Food Junction should be finished a month earlier.
NGU Contracting from Phoenix, the company that has been building the traffic circle, will begin two nights of paving on Tuesday.
According to Cole, paving will commence from 6 p.m. May 30 until 6 a.m. May 31, then again from 6 p.m. May 31 until 6 a.m. June 1.
"We'll work with the traffic as it takes place," Cole said. "If there are car issues, they'll pull back and do it at night."
Cole also said that only vehicles 10 feet in length or less will be allowed to travel through the roundabout during the paving process.
"Anything more than 10 feet will be diverted to alternate directions," Cole said. "We're not anticipating any issues. There will be message boards warning people in advance."
After paving, NGU will stripe the roundabout, according to Camp Verde Public Works Director Ron Long.
"And that should be the end of the big stuff, except for landscape work."
Cole also said that she expects workers "should have everything more or less done" by Saturday, June 3, with the exception of any final striping.
In March, ADOT began constructing the two-lane roundabout at a cost of close to $1.3 million.
The Town of Camp Verde contributed $424,350 through Northern Arizona Council of Governments and another $39,900 through the Town's Highway User Revenue Fund.
For more information, visit www.azdot.gov/projects/northcentral-district-projects.