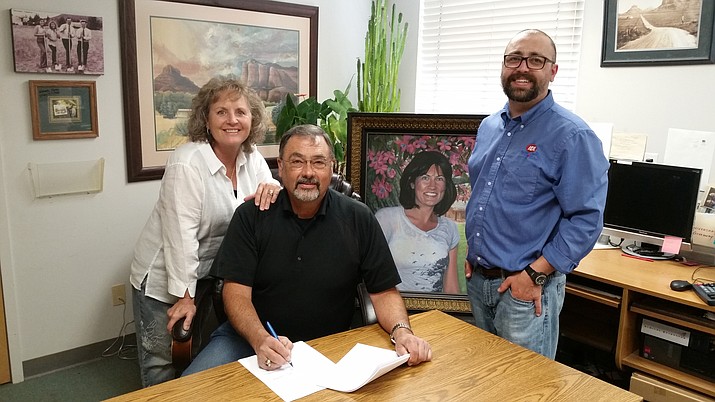 It's official! As of June 1st, Weber's IGA, our "Hometown Proud" Market, is now a Clark's Market. This is the first Arizona store for the Clark's Market family, which is headquartered in Aspen, Colorado. They own and manage six other locations in Colorado and one in Utah, all in rural and/or resort communities. Clark Markets are affiliated with the network of Associated Food Stores.
In talking with The Villager, Jake Weber, longtime owner of Weber's Food & Drug, stated that Tom Clark, owner of Clark's Market, and his family will take over management effective June 1st and they will retain current staff. They will also be "refreshing" and updating the store and continue pharmacy services.
While Jake will retain ownership of the Weber's Shopping Plaza, he felt it was finally time to semi-retire and spend more time with family and helping to raise his grandchildren. In fact, this sale, he said, "was the answer to my prayers." He wouldn't sell it unless he could hand off his store to another good family that would be equally "hometown proud," who would care for and even improve his store, who would take good care of his staff and who would love and serve this community as he has for so many years.
Jake's "love affair" with this community started in 1981 when he & his wife Leann were young with 2 small children but looking to fulfill a dream: find a foothold in the supermarket business, by starting with a small market with a meat counter somewhere in Central or Northern Arizona.

So when he happened to walk into an Uptown Sedona market called Oak Creek Market, it was almost exactly what he was looking for and he ended up buying it. The owner, who was ready for retirement, told Jake, "you know, you're the answer to my prayers." Jake always remembered that phrase and when it came time to sell his store, he knew he wanted to be able to pass on his fulfillment of a dream with the same heartfelt sincerity and gratitude.
Weber's Market was opened by Jake and Leann Weber in 1985 in the Village and quickly became a central part of the Village/Big Park community as the first full service grocery store in the area. Weber's grew right along with the Village, adding the IGA banner in 1987 and moving to a larger Village location and adding a pharmacy in 1998.
Giving back to the community has not only been Jake and Leann's passion, it's also been their way of thanking customers and letting them know they have sincerely appreciated their patronage.
Over the years, Weber's IGA and its owner Jake Weber have won many, many accolades and 5-star awards from the Independent Grocer's Alliance (IGA), and their tagline "Hometown Proud" says it all. Jake and his family are renown for their generous support of our most needy community causes – and the most coveted spot in the Village was a table at Weber's entrance. Veterans need support? You got it, anytime. Girl Scouts need a place to sell their cookies? No problem. A Big Park School or Community event need food, need help? Weber's was there for you. Jake wanted Villagers to know, it is a passing of the torch here in the Village, from one community-focused family to another, and that Villagers should be very pleased with this sale to Tom Clark and his family. "It will be good for the Village, and we welcome the Clark Family to our family of Villagers," he said. We'll soon learn more about the Clark family plans for the Clark Market here; they've bought a store that is more than a store – they've bought a store that is a community hub with a big heart.