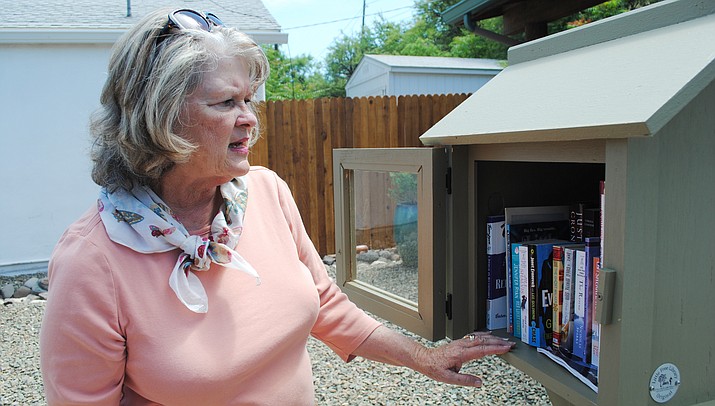 Originally Published: May 30, 2017 1:55 p.m.
COTTONWOOD – Two weeks ago, Village of Oak Creek resident Victoria Clark put up a Little Free Library in front of her Green Shed Antique store in Old Town Cottonwood.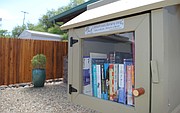 The idea generated after a visit to Patagonia last year, where she saw a red, blue, and yellow Little Free Library, sitting low to the ground with a sign that said "open me."
"It's like Alice in Wonderland; you have to open it. And when I did, to my delight, there were a lot of books in there."
She said there must have been a lot of children in that community, and surmises that was why the Little Free Library was low to the ground – so that kids can reach in.
At the time, Clark was busy with other projects, but wondered if there were any Little Free Libraries in Old Town or Cottonwood in general. There is one in the Grey Fox development that borders Clarkdale, she said.
But when she asked the Cottonwood Public Library staff if there were any others, they told her no - but would love to see one.
"Because, of course, promoting reading for kids and adults today is tough when everything is electronic. It interests me greatly because it promotes literacy, but it is also a fine form of recycling," she said.
Clark, an author, sells books, but takes pleasure when people share books.

She wants to see more individuals trading books, recycling books, and taking part in book clubs and book clubs for kids.
Getting started
Clark highly recommends "The Little Free Library Book" by Margret Aldrich. The book is rich with ideas and inspiration to get one started on their own "take a book, leave a book" project.
Also recommended is the Little Free Library website, https://littlefreelibrary.org/.
Clark explained that there is no limit to the variety of fun ways a Little Free Library can be made.  
While building plans are available, the website also offers a ready-to-assemble kits and a variety of prebuilt designs for purchase that can be customized.
Clark ordered a pre-built model. Her husband painted it the same color as their Green Shed Antiques building. She said she'd like to see something painted on both sides of the Free Little Library, and perhaps incorporate in some decorative tin.
"Right now, it's a little plain Jane waiting for some artistic direction," she joked.
The Free Little
Library of Old Town
Clark is a steward - the person who establishes and checks the Little Free Library. She began the library with books from her own collection, and the idea is to take a book to read while leaving a book for someone else. She'd like to see a variety of books for kids, and both fiction and nonfiction of all kinds. The lineup has already changed since the first day.
"It's kind of like opening surprise box every time, to see what's there," said Clark.
Wednesday afternoon, there were 23 books total with four children's books, three tween books, and hardbacks and paperbacks. Clark notes that fiction dominates most of the Free Little Libraries she has seen in the southern Arizona.
She said she will throw in three or four more books this weekend, explaining that she likes to keep the Free Little Library fairly full. Clark added that some tourists may not be able to leave a book while on vacation, and she will probably need to replenish it from time to time. She also anticipates children utilizing the Free Little Library as well.  
"Teachers love them because it promotes reading," said Clark, who is a former teacher.
She describes herself as a big reader who always has books.
No matter what troubles a person is going through, reading a book is an escape "that's good for your vocabulary and your mind."
The Little Free Library is located 802 N. Main St., Old Town, next to Crazy Tony's.