Preventative measures: Verde Valley implements Stage 1 Fire Restrictions

By
Bill Helm
|
BillHelm42
Originally Published: May 31, 2017 2:49 p.m.
VERDE VALLEY – Due to conditions both dry and windy, the Prescott and Coconino national forests have announced that they will implement Stage 1 fire restrictions effective 8 a.m. June 1.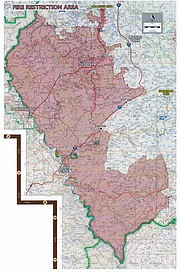 Under Stage 1 restrictions, fires, campfires, charcoal, coal and wood stoves are only allowed in developed recreation sites.
Stage 1 restrictions also limit smoking to inside enclosed vehicles or buildings, or in developed recreation sites.
According to Pete Gordon, Fuels, Fire and Aviation Staff officer for the Prescott National Forest, the decision to implement the fire restrictions was made with its partnering agencies, such as the Bureau of Land Management, Arizona Department of Forestry and Fire Management, Yavapai County Emergency Services, and "all the municipal and volunteer fire departments in the Verde Valley."
"Just as we collaborate in training together, we also communicate frequently this time of the year specifically to understand the conditions and coordinate the need for fire restrictions," Gordon stated in a May 30 U.S. Forest Service news release.
Restrictions – and preventions
This isn't a ban on using public lands, says U.S. Forest Service's Scott Spleiss. But there are restrictions – "also preventions" – to what can and cannot be done on national forest lands during the restrictive period, says the fuels prevention and detection battalion chief.
Stationed at the Verde Ranger District on SR 260 in Camp Verde, Spleiss says that Prescott National Forest lands and a portion of the Red Rock Ranger District will observe Stage 1 campfire and smoking restrictions.
"There are still areas on the [Red Rock Ranger] District where people can have a campfire," Red Rock Ranger District Ranger Nicole Branton stated in a May 31 U.S. Forest Service media release.
"But those are at higher elevations or within certain developed recreation sites."
Fire restrictions within the Coconino National Forest include national forest land in the Verde Valley on the east side of the Verde River, Oak Creek Canyon, lower Sycamore Canyon, lower West Clear Creek, Fossil Creek and Bullpen.
Land southeast of I-17, east of Forest Road 618 and north of Forest Road 214 is not restricted at this time.
In the Prescott National Forest – Verde Ranger District – campfires will be allowed in metal fire rings and/or metal pedestal grills provided by USFS in the following areas:
-Mingus Mountain campground
-Playground group campground
-Potato Patch campground
-Powell Springs campground
-Beasley Flat day use
-White Bridge day use (Coconino National Forest)
-Summit day use
-Copper Canyon trailhead
-Sycamore Cabin rental
Preparing for fire restrictions
It's not as if Arizona is a moist climate with the occasional dryness. But when there's less and less humidity, "it's a recipe for disaster," says Jon Davis, Fire Marshal with the Sedona Fire District.
Having moved to Sedona about six months ago from a small town in Western Oregon, Davis says the firefighters at SFD "train for this."
"We're not looking forward to a fire," Davis says. "But we're ready for it. This isn't our first rodeo."
Not only do fire departments prepare for fire season, so should the general public, Davis says.
"People need to make their houses fire-wise," Davis says. "The biggest thing is that people think 'It's not going to happen to me.' But it can.'"
Threshold
Wednesday, the U.S. Forest Service spent much of the morning posting signs before fire restrictions begin.
Spleiss approximates that the Verde Ranger District has "thousands of pounds of signs" that the U.S. Forest Service uses, only some are for restriction periods.
"It's not just camp fires and smoking [that cause forest fires]," Spleiss says. "It's also shooting. Shooting is also a cause of fires. We have a lot of shooting enthusiasts. I'm one. You just have to be aware."
The U.S. Forest Service observes five fire danger levels – low, moderate, high, extremely high, and extreme. Wednesday, the level was high at the Verde Ranger District. Though Spleiss says the danger level could just as soon be changed to extremely high.
"Right now, we're in the threshold," Spleiss says. "Even with showers, it doesn't take much for us to dry out. It's safe to say that that most every fire in the onset of monsoon season is human caused."
As conditions warrant
According to Order Number 09-236 signed on May 30 by Jessie Berner, acting forest supervisor for the Prescott National Forest, the Stage 1 Fire Restrictions will remain in effect "until Aug. 15 or until rescinded, whichever occurs first."
Though Spleiss says that the restrictions would not be lifted until "we receive enough moisture across the greater restricted area that would cause us to feel comfortable enough to lift the restriction."
According to the May 31 media release, restrictions are implemented based on criteria that includes "current and predicted weather, fuel moisture, fire activity levels and available firefighting resources."
"Additional restrictions may be applied as conditions warrant," the media release also stated.
Building and/or maintaining a campfire in a national forest during restrictive periods carries a mandatory appearance in federal court, with violations punishable by a fine not to exceed $5,000, six months in jail – or both.
More like this story
SUBMIT FEEDBACK
Click Below to: